Movie Trilogy Series Optimus Prime
Key Driver, Only Domestic Movie Trilogy Series Release

Transformers Dark of the Moon Figure
Item No.: No. 38840
Manufacturer: Hasbro
Includes: Trailer
Action Feature: Transforms into robot
Retail: $29.99
Availability: February 2012
Other: Repainted 2011 Dark of the Moon Optimus Prime from Walmart

PREVIOUS
RSS
NEXT

It's OK. If it's on clearance, or cheap, it's OK-er.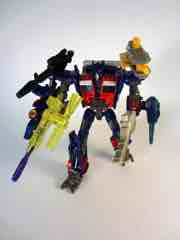 The debut (and only) part of his line, Movie Trilogy Series Optimus Prime is a nicely decorated and unarmed action figure. Looking at it, I can't help but wonder if it's Hasbro responding to the fandom, as many have been vocal about their disapproval of the trailer's absence in most Optimus Prime toys since, roughly, 2005. The trailer has been historically iffy as a toy, but we've seen some pretty nifty executions of that piece in lines like Armada and Energon. This one... this one is basically a container for weapons. Weapons, I should reiterate, that are not included.
The robot/truck is the real toy here, and he's still pretty good. The hitch has been retooled slightly to better accept the trailer, which is great. Hasbro doesn't always focus on accessory compatibility, so seeing them make sure the trailer actually connects is something I applaud. I realize this may sound facetious, but let me assure you it is not. If you collect Star Wars, vehicle/figure compatibility is a rage-inducing.shtmlect of the line even if you have the entire back catalog of figures. Seeing this one fit, with the holes kept for 5mm-peg accessories, is fantastic. If you've got old Battle Beasts playsets, MechTech weapons, Energon weapons, Mini-Cons, or any of the countless nifty accessories out of the many Hasbro/Takara lines from over the years they may be at home here.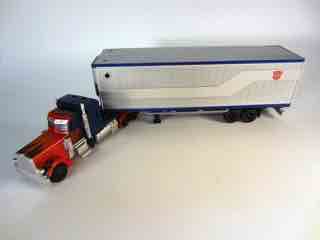 The truck is basically a toy truck. It rolls, has a great paint job, and some pretty swell detail. Hasbro got a whopping three squeezes out of this mold, all of which are pretty similar. It makes sense, as it's a pretty good mold and probably too good to waste on Walmart exclusivity. The problem is that by the time the container version was announced, most fans made up their mind on the 2011 MechTech release and bought it (or not) accordingly. It's arguably not worth re-buying just for the container, particularly as a vehicle, but on clearance it's pretty fun to plug in all your other toy guns to this thing. Had Hasbro included one or two weapons with this set, and made it a debut 2011 product, I'm sure the whole MechTech weaponry element would have been much more important to kids and in the marketing than it actually was.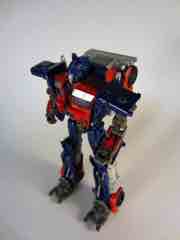 The robot is still plenty tight in the joints and now has richer colors. The gray is darker, the blue is darker, and the red feels a little glossier. It's absolutely not different enough to make you mad, either version of this mold is pretty much A-OK with none having a clear edge. It just boils down to things like cost, availability, and weapons. There's plenty of articulation here and the engineering, while not perfect, is really good. It's not as annoying to transform as the previous release.
Of course, that's not why you're here. You want to know about the container. Is it worth it? Ehhhhhh maybe.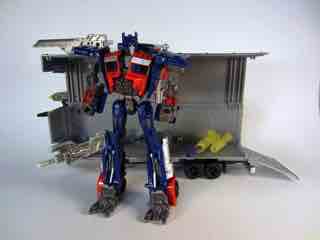 It doesn't make a lot of sense, as it's a weak battlestation on its own, and even with guns it's too small for your other figures to "man" it. Unless you're swimming with vintage Battle Beasts or Cyberverse toys, anyway. You can plug about 5 weapons to it, and open it. Mine came warped in the box so I had to try to "melt" it back into shape with boiling water when I got it last year as part of a late-summer clearance, and now that I go check it again... (this is me going back and checking) it seems to be more or less in shape still. Other than the rolling wheels, the back ramp opens and the side opens to reveal a lot of storage space. The trailer itself doesn't look expensive in terms of engineering, but in terms of paint it really hits the high marks. It's molded in gray and painted in metallic silver with a few other blue details, plus has an Autobot symbol on one side. Even if you don't like it, it's hard to deny that Hasbro did a good job presenting it to look nice on your shelf. It's also the cheapest way to get a movieverse trailer, and significantly cheaper than any of the many non-licensed "third party" trailers produced in Asia these days.
At $30-$35, it seems like a bad deal since just the Optimus Prime cab part sold for about $10 and it had a weapon. The trailer isn't really $20 worth of interesting, but if you want a Prime to display in vehicle mode this one is perfect. If it had a gun (even a one-piece gun with no moving bits) I'd say it was probably a pretty good deal. Since the trailer makes no attempts to be a fun toy, and Optimus (and the trailer) rely on you stealing weapons from other toys which don't have spare weapons in the first place, I'd say go with whichever version of this toy is cheapest. If you get it at all, I mean. I like mine for what I paid for it, but I don't know if it would have entered the 16bit.com archives were it not for writing for you fine people.
(If you have any spare Japanese Mini-Cons/Microns and a few bucks, though, go ahead and get this set and have yourself a great time powering up Optimus here. See the verrrrry last pic at the bottom.)
--Adam Pawlus
Additional Images


Click here to see more Hasbro figures in Figure of the Day.
Click here to see more Transformers figures in Figure of the Day.

Want to buy this figure? Check Transformers availability at our sponsors:
Entertainment Earth