Captain America
Battle Shield!

Avengers Assemble
Item No.: Asst. A4432 No. A4433
Manufacturer: Hasbro
Includes: Shield
Action Feature: n/a
Retail: $5.99
Availability: August 2013
Other: This is the cheap one.

PREVIOUS
RSS
NEXT

"If we can't be free, at least we can be cheap." - Frank Zappa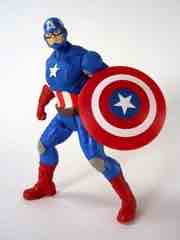 With a name that sounds like a sarcastic insult, Captain America has fared acceptably, but not quite as well as his teammates. The character is a bit of a throwback, a Boy Scout sort of like Superman in a team of youth-appealing green rage, quippy sarcastic geniuses, and of course, a little something for the ladies. I've gone through lots of these trying to find a good paint job - this is particularly difficult when any company opts to paint the skin tone rather than mold it in the desired plastic color - but after a few weeks, I found one and snagged it. It's pretty sharp for six bucks, and about a year ago I picked up an Avengers 8-pack at Target lamenting the lack of a nice cheap figure just like this. And now I have it! Ain't I something?
If you were a kid in 1985, this is not unlike your Secret Wars Mattel figures. The 3 3/4-inch hero has joints at the shoulders and hips, plus fists in an action pose for punching. I appreciate this, because it's fun and yes - I started punching my other figures with him. The head is a ball joint, so you can pose it pretty much any way you like. Cap's shield sports an articulated clip so it can be plugged into his back or snapped on his wrist, which is a nice option to have. My sample had no problems standing, which is pretty much the one thing I expect out of Hasbro's new 5-jointed figure initiative. If it can't stand, it's crap. It can stand, and it's Cap - so that's a good reason to shell out.
Deco on these guys - and the Marvel guys as a whole - should require you to take a close look in a brightly-lit store. The eyes and face on my sample are great, but the flesh must be applied thick to overpower the blue plastic behind it. You might see 8 figures, and 2 or 3 are on the happy side of great - and the red paint does an OK job covering the blue for his gloves and boots, but it isn't perfectly distributed. Such is the crisis of a cheap figure in this day and age, paint still needs work. (Memo to fans: plastic should usually be lighter than the paint.) From a short distance the figure is great, but Walmart's bright lights and/or a camera's macro function can expose flaws you didn't need to see. The eyes are pretty good, but at this scale such fine details continue to provide a challenge to Hasbro at the lower price points.
We're now at a point where Hasbro's $6 figures from Avengers, Iron Man, Star Wars, and Wolverine straddle a line between a cheap thrill and what would've been an above-average Burger King toy in 1993. Many of the figures are posed like Star Wars in the 1970s, at attention with little action. Cap may as well be a PVC Collectible Figure in his pose, as he's a little more dynamic and punchy. I find him to be fun, and between this and my movie Cap I don't assume I'll be wanting another one. Well, maybe a 6-inch Legends one if they make the movie guys easy to get again. But I digress - this is the Cap I want on my desk. It stands well and I don't have to screw with it to find his center of gravity, or "sweet spot." I want him to stand, and he stands. Nicely done Hasbro. I liked this figure enough to want to go out and consider grabbing his companions Hulk, Iron Man, and Thor but Thor has been lacking in quality paint jobs so far. (I once went through about 60-80 Adi Gallias in 1999 and probably 100+ Crystal Skull Indiana Jones in 2008. I can be picky.)
--Adam Pawlus
Additional Images


Click here to see more Hasbro figures in Figure of the Day.
Click here to see more Marvel figures in Figure of the Day.
Want to buy this figure? Check Avengers availability at our sponsors:
Entertainment Earth