Manglord - Standard
One of Three Debut Colorways

Manglors Action Figures
Item No.: n/a
Manufacturer: ToyFinity
Includes: 21 total parts - 4 switch pins, alternate Democrusher arm, Eye of Elzyrioth, armor
Action Feature: Pull-apart, combine with other figures (works, unlike the Ideal releases)
Retail: $26.00
Availability: January 29, 2023
Other: This is better than your father's Manglord. Kaisyriax parts sold separately.

PREVIOUS
RSS
NEXT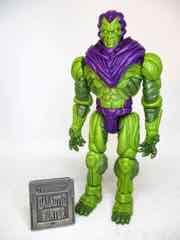 Apparently you can not only shame the Jolly Green Giant but you can also out-Hulk the Hulk. The early 2023 debut of the 3 3/4-inch scale (but much larger) Manglord - Standard was something of a surprise, I only found out it was actually coming a couple of days early. While Ideal's original toy was sort of a jolly green giant of a Hulk x Swamp Thing hybrid, the new one sculpted by Erwin Papa and Matt Doughty is less fragile and not junk. This is important - it's a hefty guy with lots of parts. At $26 it wasn't too outlandish compared to some of Hasbro's bigger 3 3/4-inch scale offerings, and the extra wacky limbs for $7 was a sort of no-brainer upsell.

Three flavors were on the menu - Standard (Green/Purple), Manglosaurus (red, bundled with upgrade parts), and Core Manglor (light purple.) As of my writing this, I have no idea if any of the dinosaur or dragon characters are planned to be future molds or not, but I sure hope so. Glyos dinosaurs would be fun.

The original promise of Manglors 40 years ago was that you can tear apart and re-assemble various monster figures, including one that looks like The Hulk and Swamp Thing had a baby. It looked sort of like a Play-Doh Stretch Armstrong and the promise of mixing and matching parts resulted in something of an awful mess - but Onell Design went on to invent Glyos in the '00s and pulled off the gimmick well. After 10 years in development, ToyFinity's John Kent, along with Onell Design's Matt Doughty and sculptor Erwin Papa conspired to make a 3 3/4-inch scale (actually 4 1/4-inch) giant that can terrorize your other figures. He's about the same size as the "Kenner" Hulk or Venom, and comparable to the likes of The Outer Space Men Colossus Rex or Cyclops in many respects. If you collect Star Wars, he's on the bigger side of most humanoid figures - tall enough to stand around in the Sail Barge, but too big to fit in a lot of ships.

Articulation is more or less the same as your average The Outer Space Men figure with swivel forearms, shoulders, knees, ankles, waist, wrists, hips, and neck. Each joint pops apart and can be swapped for other pieces - like the included mutant arm, or the weird eye accessory. You can rip him apart and build other creatures, and they found some doozies here. The head has a secondary face on the back of the hair/helmet, plus you get a neat scarf-like collar piece you can remove. The joints are generally good, but when you start adding heavy things to his hands for him to throw around, they sag quickly. It's a well-made figure that works wonderfully under his own weight, but if you want to have him throw around Walrus Man with a Democrusher arm, he may need extra support. Swapping limbs is a breeze, as always, and the quality and feel of the plastic is good. Nobody cut the detail here.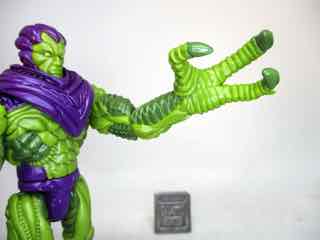 When you get in close to this figure, you can see frankly absurd amounts of tiny details. There are lots of veiny areas with bony breaks that would be at home on a Xenomorph. There's a muscle-like armor over the whole thing. He has claws on his hands and feet, monster muscles, bony kneecaps, and some unusual lines in the back of his shorts. Some of his muscles look like scales, others like coconuts - it's really kind of crazy that so much of this humanoid creature is up to interpretation when you get in really close. The quality of the cuts and the depth of the detail is the kind of thing you see more on Onell Design figures than you would on, say, a typical modern Hasbro release - and I like that.
ToyFinity is good about cramming a lot of good builds in a release, and the Manglord follows this pattern with gusto. The default build has two similar arms. You can swap out one arm for a claw-like, pteranodon-esque Democrusher arm. You can tear him apart and rebuild him as a "crawler, which is something of a crouched-down nightmare creature. There's also a Manglosaurian Warrior mode that uses the alternate face, reversed torso, and some Kaisyriax arms.
As is tradition with new Glyos-compatible figures, especially ones from revived retro brands with drama, this one sold out. A rerun went up the same day mine showed up in the mail, which is unusual - but I'm glad people had a second crack at what is probably going to be the go-to version of the mold. Now I should get around to reviewing the eggs I got back in 2013! If you collect 3 3/4-inch scale figures or Glyos, this is a pretty awesome release. Onell Design also put out two translucent Manglors recently, which also sold through. And hopefully, you can get the next colorway without a fight, whenever that will be.
--Adam Pawlus
Additional Images


See more ToyFinity in Figure of the Day:
Day 680: ToyFinity Mordles Crawler (Blue) Mini-Figures
Day 690: ToyFinity Mordles Standard Edition (Yellow) Mini-Figures
Day 733: ToyFinity Mordles Solar Storm (Hot Pink) Mini-Figures
Day 787: ToyFinity Mordles Club Mordle Packet Mini-Figures
Day 790: ToyFinity Robo Force Genesis Edition Action Figure
Day 794: ToyFinity Mordles Rampaging Storm Edition (Green) Mini-Figures
Day 798: ToyFinity Mordles Imbalance of Blood Vinyl Figure
Day 859: ToyFinity Mordles Geihoza Vinyl Figure
Day 896: ToyFinity Mordles Quinhozs Vinyl Figure
Day 941: ToyFinity Mordles Geist Mordles
Day 975: ToyFinity Mordles EGD Vinyl Figure
Day 1,026: ToyFinity Mordles Night Mordle Vinyl Figure
Day 1,105: ToyFinity Robo Force Basic Edition Action Figure
Day 1,124: ToyFinity Mordles Electra-Geist Mordles
Day 1,152: ToyFinity Mordles Deluxe Flesh with OMFG Logo Mordles
Day 1,168: ToyFinity Mordles Club Mordle Packet
Day 2.527: ToyFinity Manglors Manglord - Standard Action Figure

Click here to see more Glyos Compatible figures in Figure of the Day.