Stegosaurus
Style B, not Isle B

Dinosaurs Old School Toys
Item No.: n/a
Manufacturer: Louis Marx Toys
Includes: n/a
Action Feature: n/a
Retail: est. $1.00
Availability: ca. 1961
Other: Chocolate brown, charming

PREVIOUS
RSS
NEXT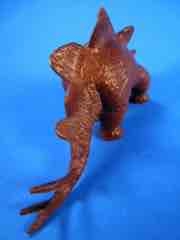 Another entry in the Pawlus toy collection - originally procured by one Arthur Pawlus - is this Stegosaurus. It is also of the later mold group, as you can see with the four holes in his feet, the wavy tail, and the wording on the tail - as far as I can tell. The MPC one had a straight tail, was a bit smaller, and had more sold feet. I'm also willing to bet knock-offs of it are in those bags at the grocery store. (You know the ones.)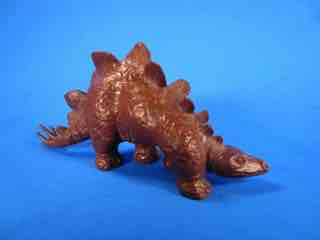 There's no obvious Marx logo, but it's obviously a Stegosaurus. The configuration of the plates, tail, and spikes changes on occasion but it's basically the same four-legged format with alternating plates and a tail club with four spikes. The head is much lower to the ground than modern models, giving it a more lethargic feel. The head has a mouth that is somewhere between dopey and disgruntled - there's no sign of the beak we see on some of the more recent illustrations, either. It's cute. You'll like it.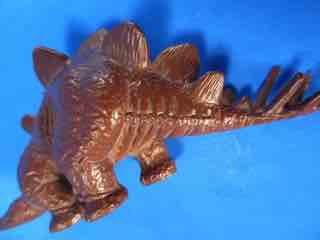 Detail is light and the plastic has a light feel. The MPC version of the mold was downsized a bit and has skin with what looks like better texturing, but the tail's curve on this Marx release looks a little bit better. One side of the tail has his name, while the other says "20 FEET" - 30 feet may have been more accurate, but hey, that's science for you. Toy companies are not always concerned with providing kids the utmost in authenticity or accuracy, just ask any advocate of feathered dinosaur toys. They're both very upset that the older lizard form takes the spotlight, and will continue to do so in Jurassic World and probably a bunch of other dinosaur movies until people from our generation die off or are out of making important decisions in Hollywood. My apologies, today's kids. We don't mean any harm.
The figure held up particularly well when you consider it was never well-treated. My dad had this when he was a kid. I played with it when I was a kid. It spent most of the past 30 years in cardboard box being banged against other dinosaur toys, and it looks pretty dang good all things considered. I see no broken tail spikes, no discoloration, no stress marks. Other figures tend to gain or lose paint with a couple of knocks, or just look worn and nasty. But not this guy - he's a survivor. A survivor that looks like a Hershey's bar.
If you've made it this far in life without any Louis Marx unarticulated dinosaur toys, you probably won't be impressed by them or need one. They're not cheap, and their descendants by Schleich or Safari are easily available at a store near you - for even more money - and are arguably more impressive specimens. I have no desire to trade up because these are incredibly important to me, and I figure anything that can survive 50 years of play and neglect deserves a medal. Gold star to you, Louis Marx Toys. You did wonderful, durable work.
--Adam Pawlus
Additional Images

See more Louis Marx Toys figures in Figure of the Day:
Day 990: Louis Marx Toys Dinosaurs Trachodon Figure
Day 1,019: Louis Marx Toys Dinosaurs Brontosaurus Figure
Day 1,073: Louis Marx Toys Dinosaurs Stegosaurus Figure

See more Dinosaurs figures in Figure of the Day:
Day 990: Louis Marx Toys Dinosaurs Trachodon Figure
Day 1,019: Louis Marx Toys Dinosaurs Brontosaurus Figure
Day 1,023: Schleich Dinosaurs Kragensaurier (Triceratops) Figure
Day 1,034: Schleich Dinosaurs Mammut (Mammoth) Figure
Day 1,062: Tim Mee Toys Green and Yellow Prehistoric Dinosaurs Figure Set
Day 1,073: Louis Marx Toys Dinosaurs Stegosaurus Figure
Day 1,126: Schleich Dinosaurs Ursaurier (Dinosaur) Figure
Day 1,418: Jesse Narens Stegoforest Brown Stegoforest with Acorn Warrior
Day 1,419: Wendy's Playskool Definitely Dinosaurs Triceratops
Day 1,420: Tootsietoy Dinosaurs Stegosaurus Action Figure
Day 1,421: Imperial Dinosaurs Styracosaurus
Day 1,434: Wendy's Playskool Definitely Dinosaurs Anatosaurus
Day 1,446: Wendy's Playskool Definitely Dinosaurs Apatosaurus
Day 1,726: Unknown Wind-Up Brown Tyrannosaurus Rex
Day 1,990: Playmobil 2013 Toy Fair Dinos Explorer Figure
Day 2,023: Boley Nature World Edaphosaurus, Allosaurus, Styracosaurus Action Figures
Day 2,026: Unknown Diplodocus Figure
Day 2,051: Hasbro Dinosaurs Baby Sinclair Action Figure
Day 2,057: Half Toys Dino Series T-Rex
Day 2,065: Lanard Primal Clash Mammoth with Shrapnel Action Figure
Day 2,120: Creative Beast Beast of the Mesozoic Dromaeosaurus Action Figure
Day 2,126: Boley Nature World Mosasaurus Action Figure
Day 2,167: Boley Nature World Apatosaurus Action Figure
Day 2,305: Creative Beast Beast of the Mesozoic Glow-in-the-dark Dinosaurs Zuniceratops Action Figure
Day 2,394: Glow-in-the-dark Dinosaurs Dimetrodon Action Figure
Day 2,398: Playmobil 2013 Toy Fair Dinosaur Explorer Figure
Day 2,550: Blip Toys Animal Planet Electronic Battling Dinos Set