Edaphosaurus, Allosaurus, Styracosaurus
Three Separate Toys

Nature World Dinosaurs
Item No.: No. n/a
Manufacturer: Boley
Includes: Tag
Action Feature: Cheap, sits there
Retail: $1.00 each
Availability: January 2018
Other: These ones were marked "January 18"

PREVIOUS
RSS
NEXT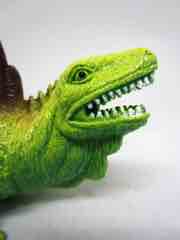 I saw a bunch of dinosaurs, including the Edaphosaurus, Allosaurus, Styracosaurus and a bunch of others, at a Walmart in July. The Edaphosaurus - which I thought was a dimetrodon - was sitting on a bicycle pedal, and I was taken by the coloring and level of detail. I thought "If this is under a couple of bucks, I'll buy it" and then I stumbled on a bin of cheap, old-looking animal and dinosaur toys. At $1 each, I dug through it and picked up a Triceratops (labeled "Styracosaurus" on the belly") as well as an allosaurus, for reasons. I should have bought one of the saurpods, but there's something for next time.
The Edaphosaurus immediately grabbed my attention thanks to the sculpting, color, and bizarre placement by accident. It looks a lot like the old, cheap dinosaurs you'd see from Imperial or other toy companies, but it's a little bit better. It's 7-inches long and a dollar, with surprisingly sharp sculpting, painted teeth, a dot for an eye, and green soft plastic painted yellow on top with a brown sail. Looking at more expensive designer sofubi figures, it's kind of refreshing to see someone bring back the genuine article for kids. The cheap vinyl figure lost the "cheap" along the way, so I see all kinds of high-end sofubi toys out of Japan or the art market that are beyond what any sensible parent might splurge for a child.
But this is $1, in the age of Jurassic dinosaurs. It's a bargain, even if it is a little on the so-ugly-it's-beautiful side of things. The neck has a bit of loose skin like many lizards, the jaw is a little flexible and opens with a wide cut. The paint does wonders to highlight the sculpting - you see deep cuts around the face, weird loose skin on the head, and amazing sagging, scaley, and otherwise a bizarre mix of what the highest-end vinyl toys today can offer with the lowest-cost toy you're likely to find in a store that's not clearance fodder. I'd advise you to track this one down.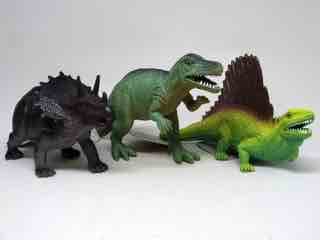 While labeled as a Styracosaurus, I assume the dark grey Triceratops with glossy black on top is just sharing parts with another ceratopsian. It's sturdy, springy, and loaded with detail - there are all kinds of folds, plus a scaly head that looks superb. The red eyes pop nicely and are an interesting twist for a dinosaur not generally presented in "night" colors. It has no problems standing upright, and has an open mouth with sharp, unpainted white teeth inside. The coloring isn't as impressive as on some of the other figures, but given that teeth are not the key feature of this one I'm fine with that. It's a nice toy for the price, and I assume other color variants will exist soon if not already.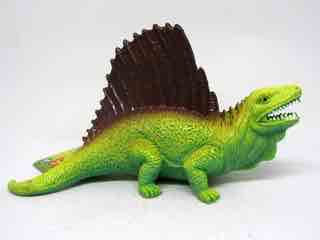 I almost passed on - but ran back to get - the Allosaurus. The detail impressed me - the lines are kind of deep and sharp, with lots of texture and a decent slathering of paint to bring out the personality of another pretty good, if old-hat, design. These are by no means truly modern models of the ancient creatures, but you do get a dragging tail, bit white teeth, and a brown vinyl figure with green and very dark green paint bringing it to life. It stands nicely, with extra claws coming out of the back which just happen to add a little balance to the design. It reminds me a lot of a roadside attraction - something left out in the elements, weathered slightly, from before we knew what things were supposed to look like. It pose is just about right to menace the other dinosaurs in the line, as the shorter ones tend to be designed to look up. The hands stick out a bit, but that's fine. It's both dynamic and dorky, the kind of toy you can display with pride or with a hint of irony. It's a dollar. It's a dinosaur. And I've seen lots of these - for the price, this is about as good as you'll get.
Amazon sells bundles of these things for slightly more than Walmart charges, but you have a bigger selection of them. The selection ranges from random dinosaurs to some choices which very specifically seem designed to tie in to recent blockbuster films, so it's meant to get you to part with your money - for less - for cheap dinosaur toys. So far, these ones have proven sturdy and haven't fallen over - Mattel's offerings are all over the map, and most of Kenner's and Hasbro's were great at standing. Some of you will see these as hideous, laughable abominations. Some of you will be charmed and reminded of toys you had as a kid. Fewer of you will see something beautiful here with what these are - a true rarity. Toys made for kids, cheaply, with zero consideration of winking to any sort of adult collector or existing fan. That's what every collector doesn't know that they want, and why so many of us are here. Nobody collecting toys got their start because of Masterpiece Transformers, they probably got some G1 robot that was just another toy in 1984, or maybe a generic dinosaur as a skee-ball prize, or some weird vinyl alien.
Things like this is why we're here, and hopefully how kids of today might take an interest in "old toys" down the road. You know, things from the old times of 2013.
--Adam Pawlus
Additional Images

See more Boley toys in Figure of the Day:
Day 2,023: Boley Nature World Edaphosaurus, Allosaurus, Styracosaurus Action Figures
Day 2,126: Boley Nature World Mosasaurus Action Figure
Day 2,167: Boley Nature World Apatosaurus Action Figure

See more Dinosaurs figures in Figure of the Day:
Day 990: Louis Marx Toys Dinosaurs Trachodon Figure
Day 1,019: Louis Marx Toys Dinosaurs Brontosaurus Figure
Day 1,023: Schleich Dinosaurs Kragensaurier (Triceratops) Figure
Day 1,034: Schleich Dinosaurs Mammut (Mammoth) Figure
Day 1,062: Tim Mee Toys Green and Yellow Prehistoric Dinosaurs Figure Set
Day 1,073: Louis Marx Toys Dinosaurs Stegosaurus Figure
Day 1,126: Schleich Dinosaurs Ursaurier (Dinosaur) Figure
Day 1,418: Jesse Narens Stegoforest Brown Stegoforest with Acorn Warrior
Day 1,419: Wendy's Playskool Definitely Dinosaurs Triceratops
Day 1,420: Tootsietoy Dinosaurs Stegosaurus Action Figure
Day 1,421: Imperial Dinosaurs Styracosaurus
Day 1,434: Wendy's Playskool Definitely Dinosaurs Anatosaurus
Day 1,446: Wendy's Playskool Definitely Dinosaurs Apatosaurus
Day 1,726: Unknown Wind-Up Brown Tyrannosaurus Rex
Day 1,990: Playmobil 2013 Toy Fair Dinos Explorer Figure
Day 2,023: Boley Nature World Edaphosaurus, Allosaurus, Styracosaurus Action Figures
Day 2,026: Unknown Diplodocus Figure
Day 2,051: Hasbro Dinosaurs Baby Sinclair Action Figure
Day 2,057: Half Toys Dino Series T-Rex
Day 2,065: Lanard Primal Clash Mammoth with Shrapnel Action Figure
Day 2,120: Creative Beast Beast of the Mesozoic Dromaeosaurus Action Figure
Day 2,126: Boley Nature World Mosasaurus Action Figure
Day 2,167: Boley Nature World Apatosaurus Action Figure
Day 2,305: Creative Beast Beast of the Mesozoic Glow-in-the-dark Dinosaurs Zuniceratops Action Figure
Day 2,394: Glow-in-the-dark Dinosaurs Dimetrodon Action Figure
Day 2,398: Playmobil 2013 Toy Fair Dinosaur Explorer Figure
Day 2,550: Blip Toys Animal Planet Electronic Battling Dinos Set