T-Rex
Red, Splits

Half Toyss Dino Series No. 02
Item No.: No. HD002
Manufacturer: Half Toys
Includes: Interior skeleton, paper diorama
Action Feature: Splits apart
Retail: $18.99
Availability: September 2018
Other: Sample provided with request for review, we said "sure"

PREVIOUS
RSS
NEXT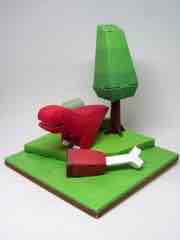 Late in 2018 I got an unsolicited email to review the Dino Series Half Toyss, asking if I wanted a sample. I didn't think it'd be a good fit here as I assumed it was primarily for little kids, but hey - free toy, and I need new stuff to review so I don't get bored. They sent me a T-Rex. It's cute! To my knowledge you can get them on Amazon or direct, but they aren't yet in stores.
These started on Kickstarter. The gist is that the red dinosaur toy is held together with fairly strong magnets, which clamp over a puzzle of a dinosaur skeleton that slides together. This is not a toy for children - it says it's not for kids under the age of 3 on the box, but due to how it fits together with the clever paper display, I would nudge this as a neat desk toy. The price point is also more on the designer toy realm, so if you want a cool dinosaur for your desk keep reading.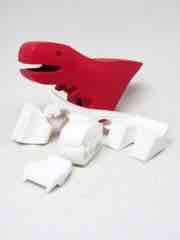 This unpainted toy is molded in red for the skin with a bone white color for the interior. There's minimal sculpted detail with 16 magnets in each half holding it together. The interior bones slide apart in 5 pieces. The exaggerated eye sockets are cute, and the gaps in the skin allow claws and teeth to show through. It's a good, solid design that works well. Everything fits together perfectly on my sample, and I'd even go on to say they may have put too many magnets in here. And I love magnets. You can even stick each half of the toy to a refridgerator.
I'm not crazy about the papercraft. Seven sheets of cardboard let you build a rock, a tree, meat, and some hills. A few of the tabs are so small that they fray as you fold them, and many tabs need to be slotted in at pretty much the same time. I don't love it, but it does fit the mold of being something for a young executive more than something a kid might enjoy.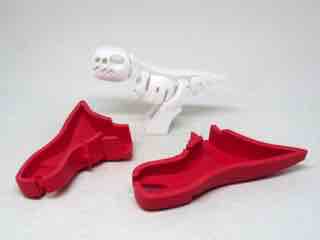 This little guy is a delight, but he's small for the price. If they crammed a bigger dinosaur in the package for about the same price, it might sting a little bit less. As it stands I'd be unlikely to collect them all, but I'd be happy to see one or two more in my toy box. This is the kind of thing I'd like to see sold at museums - high-quality, kind of expensive, cute, and not the kind of thing that's going to get shelf space in a big box store. If they can do more designs like this with other zoo or aquarium animals, I think they've got a really good idea on their hands. Now, I say that as a collector - as a one-off, it's nice. I like it. I just might struggle to afford to collect them all.
--Adam Pawlus
Additional Images


See more Half Toys figures in Figure of the Day:
Day 2,057: Half Toys Dino Series T-Rex

See more Dinosaurs figures in Figure of the Day:
Day 990: Louis Marx Toys Dinosaurs Trachodon Figure
Day 1,019: Louis Marx Toys Dinosaurs Brontosaurus Figure
Day 1,023: Schleich Dinosaurs Kragensaurier (Triceratops) Figure
Day 1,034: Schleich Dinosaurs Mammut (Mammoth) Figure
Day 1,062: Tim Mee Toys Green and Yellow Prehistoric Dinosaurs Figure Set
Day 1,073: Louis Marx Toys Dinosaurs Stegosaurus Figure
Day 1,126: Schleich Dinosaurs Ursaurier (Dinosaur) Figure
Day 1,418: Jesse Narens Stegoforest Brown Stegoforest with Acorn Warrior
Day 1,419: Wendy's Playskool Definitely Dinosaurs Triceratops
Day 1,420: Tootsietoy Dinosaurs Stegosaurus Action Figure
Day 1,421: Imperial Dinosaurs Styracosaurus
Day 1,434: Wendy's Playskool Definitely Dinosaurs Anatosaurus
Day 1,446: Wendy's Playskool Definitely Dinosaurs Apatosaurus
Day 1,726: Unknown Wind-Up Brown Tyrannosaurus Rex
Day 1,990: Playmobil 2013 Toy Fair Dinos Explorer Figure
Day 2,023: Boley Nature World Edaphosaurus, Allosaurus, Styracosaurus Action Figures
Day 2,026: Unknown Diplodocus Figure
Day 2,051: Hasbro Dinosaurs Baby Sinclair Action Figure
Day 2,057: Half Toys Dino Series T-Rex
Day 2,065: Lanard Primal Clash Mammoth with Shrapnel Action Figure
Day 2,120: Creative Beast Beast of the Mesozoic Dromaeosaurus Action Figure
Day 2,126: Boley Nature World Mosasaurus Action Figure
Day 2,167: Boley Nature World Apatosaurus Action Figure
Day 2,305: Creative Beast Beast of the Mesozoic Glow-in-the-dark Dinosaurs Zuniceratops Action Figure
Day 2,394: Glow-in-the-dark Dinosaurs Dimetrodon Action Figure
Day 2,398: Playmobil 2013 Toy Fair Dinosaur Explorer Figure
Day 2,550: Blip Toys Animal Planet Electronic Battling Dinos Set