Ursaurier (Dinosaur)
It's... orange

Dinosaurs
Item No.: No. 12607
Manufacturer: Schleich
Includes: n/a
Action Feature: n/a
Retail: est. $2.00
Availability: ca. 1982
Other: Orange

PREVIOUS
RSS
NEXT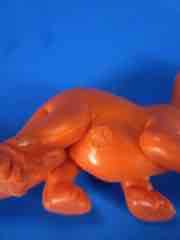 I've had this Ursaurier (Dinosaur) for decades and I'm not completely sure what it is. It's orange, Sauropod-like, and seemingly not a word that appears in various translation guides or dictionaries. I saw it in German Wikipedia in another entry and I wasn't quite sure I g.shtmled what it meant. One toy listing defined it as a "early Dinosaur" which sounds about right - perhaps the people at Schleich were shooting for Gertie?
It seems specificity is something that comes and goes in dinosaur toys. Sometimes we get bags of plastic creatures called "dinosaurs" where any resemblance to an actual model dinosaur is coincidental, although it seems there are a number of basic forms that are popular for toys. For all I know this is the German take on the "Brontosaurus," or perhaps a nod to some other pop culture reference.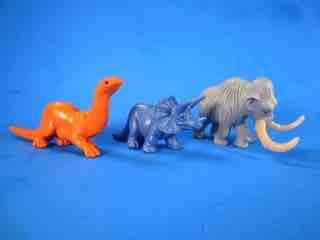 Like the others I've shown, this one has black eyes and no other decorated details. He's just under 2-inches high and 4-inches long. The eyes are set wide and the face is somewhat froglike, making this flatter-headed creature seem a little more alien than other toys in this category. The toes seem a little more mobile, and the pose seems to lack the gravity of a multi-ton behemoth.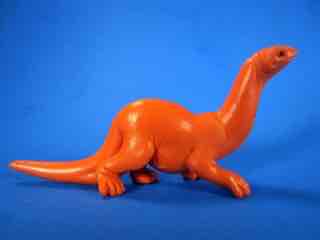 Despite being from one of the top dinosaur manufacturers of our day, this one ain't so great. This is from the era of Smurfs, and for a couple of bucks this rubbery little guy is quite nice. If I could go to the store now and buy more like this, I probably would - the quality is there and the figure feels like a nice take on the "little rubber guys" toys of the 1980s. This is by no means the best example of this kind of toy from the era, but it's nothing if not striking. He'll set you back a decent chunk of change if you find one for sale relative to other toys in this class, so maybe you should just take that $10-$15 and get a modern Schleich dinosaur instead.
--Adam Pawlus
Additional Images

See more Schleich figures in Figure of the Day:
Day 1,023: Schleich Dinosaurs Kragensaurier (Triceratops) Figure
Day 1,034: Schleich Dinosaurs Mammut (Mammoth) Figure
Day 1,126: Schleich Dinosaurs Ursaurier (Dinosaur) Figure

See more Dinosaurs figures in Figure of the Day:
Day 990: Louis Marx Toys Dinosaurs Trachodon Figure
Day 1,019: Louis Marx Toys Dinosaurs Brontosaurus Figure
Day 1,023: Schleich Dinosaurs Kragensaurier (Triceratops) Figure
Day 1,034: Schleich Dinosaurs Mammut (Mammoth) Figure
Day 1,062: Tim Mee Toys Green and Yellow Prehistoric Dinosaurs Figure Set
Day 1,073: Louis Marx Toys Dinosaurs Stegosaurus Figure
Day 1,126: Schleich Dinosaurs Ursaurier (Dinosaur) Figure
Day 1,418: Jesse Narens Stegoforest Brown Stegoforest with Acorn Warrior
Day 1,419: Wendy's Playskool Definitely Dinosaurs Triceratops
Day 1,420: Tootsietoy Dinosaurs Stegosaurus Action Figure
Day 1,421: Imperial Dinosaurs Styracosaurus
Day 1,434: Wendy's Playskool Definitely Dinosaurs Anatosaurus
Day 1,446: Wendy's Playskool Definitely Dinosaurs Apatosaurus
Day 1,726: Unknown Wind-Up Brown Tyrannosaurus Rex
Day 1,990: Playmobil 2013 Toy Fair Dinos Explorer Figure
Day 2,023: Boley Nature World Edaphosaurus, Allosaurus, Styracosaurus Action Figures
Day 2,026: Unknown Diplodocus Figure
Day 2,051: Hasbro Dinosaurs Baby Sinclair Action Figure
Day 2,057: Half Toys Dino Series T-Rex
Day 2,065: Lanard Primal Clash Mammoth with Shrapnel Action Figure
Day 2,120: Creative Beast Beast of the Mesozoic Dromaeosaurus Action Figure
Day 2,126: Boley Nature World Mosasaurus Action Figure
Day 2,167: Boley Nature World Apatosaurus Action Figure
Day 2,305: Creative Beast Beast of the Mesozoic Glow-in-the-dark Dinosaurs Zuniceratops Action Figure
Day 2,394: Glow-in-the-dark Dinosaurs Dimetrodon Action Figure
Day 2,398: Playmobil 2013 Toy Fair Dinosaur Explorer Figure
Day 2,550: Blip Toys Animal Planet Electronic Battling Dinos Set