Styracosaurus
One of Many - Deco Variations Aplenty

Dinosaurs Vinyl Figure
Item No.: No. n/a
Manufacturer: Imperial
Includes: n/a
Action Feature: n/a
Retail: ???
Availability: 1985
Other: Well-painted and hollow

PREVIOUS
RSS
NEXT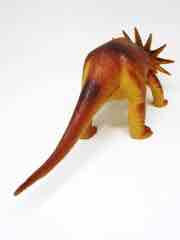 The Triceratops is eternally popular, so variations on it like Styracosaurus managed to score some real popularity in the 1980s. I had a few - this one, the Dino-Riders Styracosaurus [FOTD #212], Robostrux Brutox [FOTD #364], and some little guys. And of course the Protoceratops, Monoclonius, and other similar creatures - I liked dinosaurs, as most kids probably did. I'll even buy new dinosaur toys if they work for me, like Xtractaurs Styracosaurs [FOTD #35] which is a neat toy from a failed Mattel line that I got for a dollar. Cheap dinosaur toys are a proud American tradition, and this one was an evolutionary stage in the right direction.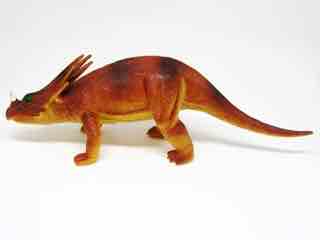 The 11-inch long beast looks more like a lizard than a dinosaur, but that's in line with the thinking and books aimed at kids at the time. This is a terrible lizard, with a rather svelte body and his head looking up to attack. He's hollow, his tail isn't dragging, and the sculpting is pretty phenomenal. There are lots of wrinkles and textures, plus surprisingly good deco for 1985. The eyes have two colors. The horn is painted white. The body has more than one shade of brown on it, including stripes! Someone who designed this did a pretty good job with the deco budget, when they probably could have gotten away with a barely-painted dinosaur and sold it without much of a fight.
The figure is sturdy, but not indestructible - the nose horn has some paint wear. Considering that this was a toy I got when I was 6 that more or less got banged around in a toy box for years (and years) I would say it held up remarkably well. It's a decently sized figure for the current asking price, and I couldn't tell you what it ran in the 1980s. I swear I've seen reissues in new colors too, but heck of I can find evidence of them.
The figure has no real articulation - a hallmark of most dinosaur toys in the 1980s and before - but you will find a little crown and the words "1985 IMPERIAL MADE IN HONG KONG" on his yellow belly. The vinyl pieces don't fit together perfectly - you can see the seams - and if you give his belly a squeeze you will hear air puff out of a tiny hole in his lips. It's fun, it's for kids, and it's pretty sizable too. Looking at these dinosaur toys shows me that I could have probably had another, pretty decent career covering dinosaur toys were it not for the really likely fact that nobody would have ever paid me to write about them. Sure, he's probably not exactly scientifically accurate but it is big enough that you can fight other toys with it and it's hard to misplace. While I love Jurassic World toys they certainly aren't big, so it's neat to see meatier toys from a bygone era. It would even be nicer to see more of them make a return at the toy store.
--Adam Pawlus
Additional Images

See more Imperial Toy in Figure of the Day:
Day 1,421: Imperial Dinosaurs Styracosaurus

See more Dinosaurs figures in Figure of the Day:
Day 990: Louis Marx Toys Dinosaurs Trachodon Figure
Day 1,019: Louis Marx Toys Dinosaurs Brontosaurus Figure
Day 1,023: Schleich Dinosaurs Kragensaurier (Triceratops) Figure
Day 1,034: Schleich Dinosaurs Mammut (Mammoth) Figure
Day 1,062: Tim Mee Toys Green and Yellow Prehistoric Dinosaurs Figure Set
Day 1,073: Louis Marx Toys Dinosaurs Stegosaurus Figure
Day 1,126: Schleich Dinosaurs Ursaurier (Dinosaur) Figure
Day 1,418: Jesse Narens Stegoforest Brown Stegoforest with Acorn Warrior
Day 1,419: Wendy's Playskool Definitely Dinosaurs Triceratops
Day 1,420: Tootsietoy Dinosaurs Stegosaurus Action Figure
Day 1,421: Imperial Dinosaurs Styracosaurus
Day 1,434: Wendy's Playskool Definitely Dinosaurs Anatosaurus
Day 1,446: Wendy's Playskool Definitely Dinosaurs Apatosaurus
Day 1,726: Unknown Wind-Up Brown Tyrannosaurus Rex
Day 1,990: Playmobil 2013 Toy Fair Dinos Explorer Figure
Day 2,023: Boley Nature World Edaphosaurus, Allosaurus, Styracosaurus Action Figures
Day 2,026: Unknown Diplodocus Figure
Day 2,051: Hasbro Dinosaurs Baby Sinclair Action Figure
Day 2,057: Half Toys Dino Series T-Rex
Day 2,065: Lanard Primal Clash Mammoth with Shrapnel Action Figure
Day 2,120: Creative Beast Beast of the Mesozoic Dromaeosaurus Action Figure
Day 2,126: Boley Nature World Mosasaurus Action Figure
Day 2,167: Boley Nature World Apatosaurus Action Figure
Day 2,305: Creative Beast Beast of the Mesozoic Glow-in-the-dark Dinosaurs Zuniceratops Action Figure
Day 2,394: Glow-in-the-dark Dinosaurs Dimetrodon Action Figure
Day 2,398: Playmobil 2013 Toy Fair Dinosaur Explorer Figure
Day 2,550: Blip Toys Animal Planet Electronic Battling Dinos Set