Brown Tyrannosaurus Rex
What Are You?

Wind-Up Cheap Toy
Item No.: No. n/a
Manufacturer: Unknown
Includes: n/a
Action Feature: Wind-up motor
Retail: ??
Availability: 1970s?
Other: Toy Box Fodder

PREVIOUS
RSS
NEXT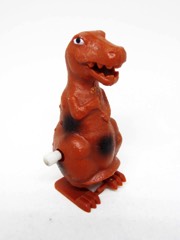 While going through boxes that were set for the thrift store, I pulled out this Brown Tyrannosaurus Rex and decided to keep it. I also tried to figure out what it is - there are no copyright markings, no years, no manufacturer symbols. I had to have gotten this in the 1980s and it looks like it's in great shape except the wind-up motor no longer works. I assume I may have gotten it as a Skee Ball prize at a pizza place, but I don't know - heck, if you know I'd love to know.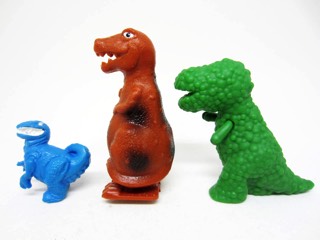 Cast in brown plastic, this little guy stands a hair over 3-inches tall. His hands are folded in, holding on to his belly. His tail wraps around his body, and at first glance it seems like they left it off entirely - but no, it's there. The eye paint is surprisingly sharp, and he has about eight black spots of paint on his person. All I could find online was a single picture from an auction, which does me no good when it comes to actually tracking down what this is.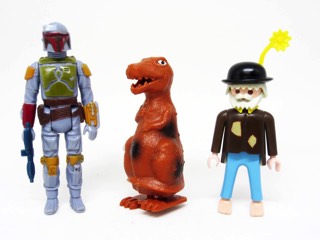 When you pick it up, it's hard to not admire the skin texture - a little rough - with some raised dots on the back that give it a little life. It's not like most modern dinosaur toys, which are known for things like having detailed creases near joints or dino-damage or painted teeth. No, it's just a little guy who looks almost more like a man in a cheap dinosaur suit than a realistic model of the creature. It's light an airy, and a fairly decent looking fellow given that it's a cheap toy. If you were a child of the 1980s there were countless cheap dinosaur products, from the ridiculous to the sensible to even a line of child's school supplies and t-shirts from Sanrio. Really! Unbranded dinosaur stuff seemed a lot easier to come by, with stuff ranging from far fancier and far crappier than what I see in toy aisles lately. There were lots of licensed kid apparel, but it seemed more companies were interested in producing dinosaur stuff in part because you could do it without having to pay anyone a license for anything, and kids dug it. Nowadays you can still find stuff, but you're more likely to see Jurassic Park-adjacent stuff if it's of a decent quality, or it's a Papo/Schleich thing, or it's cheap drug store toy fodder. And of course apparel, but seemingly nothing like Sanrio's suite.
All I could find online of this one is an auction on eBay for "Vintage KN Hong Kong Wind Up Walking Dinosaur Walker Tyrannosaurus T Rex 1970s", with no actual description beyond the name. The funny thing is that this appeals to the parts of me that aren't a toy collector - this is the kind of thing I'd expect to see on a window sill of a good record shop, just hanging out with the clerks as a mascot. It's not fancy, it's not big, and it has nothing to really say to the rest of the world. It merely exists, it helped put food on someone's table, but nobody decided that it was good enough to take credit for during the tooling phase. Unlike some of the other toys I was unloading, this one is going to stick around for a while - possibly permanently. He's on my desk right now, because in all honesty I have no better place to keep him. He seems happy there.
--Adam Pawlus
Additional Images


See more Unknown Manufacturer toys in Figure of the Day:
Day 1,726: Unknown Wind-Up Brown Tyrannosaurus Rex

See more Dinosaurs figures in Figure of the Day:
Day 990: Louis Marx Toys Dinosaurs Trachodon Figure
Day 1,019: Louis Marx Toys Dinosaurs Brontosaurus Figure
Day 1,023: Schleich Dinosaurs Kragensaurier (Triceratops) Figure
Day 1,034: Schleich Dinosaurs Mammut (Mammoth) Figure
Day 1,062: Tim Mee Toys Green and Yellow Prehistoric Dinosaurs Figure Set
Day 1,073: Louis Marx Toys Dinosaurs Stegosaurus Figure
Day 1,126: Schleich Dinosaurs Ursaurier (Dinosaur) Figure
Day 1,418: Jesse Narens Stegoforest Brown Stegoforest with Acorn Warrior
Day 1,419: Wendy's Playskool Definitely Dinosaurs Triceratops
Day 1,420: Tootsietoy Dinosaurs Stegosaurus Action Figure
Day 1,421: Imperial Dinosaurs Styracosaurus
Day 1,434: Wendy's Playskool Definitely Dinosaurs Anatosaurus
Day 1,446: Wendy's Playskool Definitely Dinosaurs Apatosaurus
Day 1,726: Unknown Wind-Up Brown Tyrannosaurus Rex
Day 1,990: Playmobil 2013 Toy Fair Dinos Explorer Figure
Day 2,023: Boley Nature World Edaphosaurus, Allosaurus, Styracosaurus Action Figures
Day 2,026: Unknown Diplodocus Figure
Day 2,051: Hasbro Dinosaurs Baby Sinclair Action Figure
Day 2,057: Half Toys Dino Series T-Rex
Day 2,065: Lanard Primal Clash Mammoth with Shrapnel Action Figure
Day 2,120: Creative Beast Beast of the Mesozoic Dromaeosaurus Action Figure
Day 2,126: Boley Nature World Mosasaurus Action Figure
Day 2,167: Boley Nature World Apatosaurus Action Figure
Day 2,305: Creative Beast Beast of the Mesozoic Glow-in-the-dark Dinosaurs Zuniceratops Action Figure
Day 2,394: Glow-in-the-dark Dinosaurs Dimetrodon Action Figure
Day 2,398: Playmobil 2013 Toy Fair Dinosaur Explorer Figure
Day 2,550: Blip Toys Animal Planet Electronic Battling Dinos Set