Nightbird
WFC-GS07 - Shared Online Exclusive

Transformers Generations War for Cybertron Siege Selects
Item No.: No. E8368
Manufacturer: Hasbro
Includes: Venomizer Blaster, Flash Grenades, Nightshock Baton
Action Feature: Transforms from Robot to Car
Retail: $19.99
Availability: September 2019
Other: Second Edition

PREVIOUS
RSS
NEXT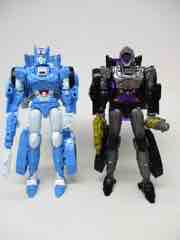 This is the second take on Nightbird as a toy in recent years. This one is Chromia with a new head, and Nightbird Shadow [FOTD #1,323] was a Japanese exclusive retool of Arcee. I like that one a bit more because it has better accessories and a torso that looks more like the cartoon, but the Siege edition is more fun to transform and a lot shinier. Get the one you like better, or that is cheaper.
This is the first US release of this character as a toy. Hasbro and Mattel have been increasingly good about squirting out toys of cartoon- and comic-only characters of their iconic 1980s toy tie-ins as of late.
Her robot mode is just like Chromia's, with new colors and a new head. It works. The weapons can be reconfigured into a makeshift baton, a far cry from the ninja weapons we saw in the original cartoon. I know there are budgets for tooling and pretools on these guys, but it would have been nice to see more interesting armaments here. Thankfully she has no problems carrying or storing them. The figure is loaded in an abundance of technical details, and they really stand out with the glossy black paint. With about 18 points of articulation she's ready for combat. Or she would be, if you had a good display for these things. She's abusing other toys on my desk right now. She is incorrigible.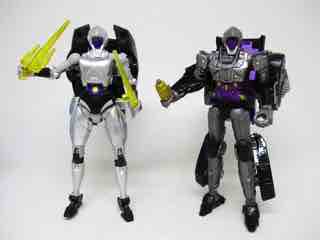 Transforming the toy is easy, just like Chromia, who is a lot like Lancer, Greenlight, Moonracer, and Novastar. The latter four share a lot of tooling, while Chromia and Nightbird don't have the combination ports and are that similar-but-different vibe that's kind of neat and maddening. It's new tooling, but it feels like we've been here before - at least the transformation is fun.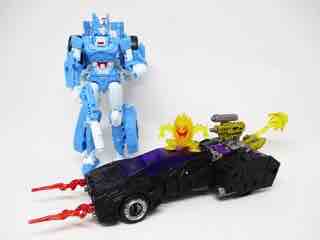 The toy relies on a glossy black paint to cover a lot of the plastic, giving it a really out-of-this-world finish that may distract you from the visible robot chest behind the windshield. The car is covered in 5mm ports and 3mm pegs, allowing you to use your C.O.M.B.A.T. weapons and blast effects to decorate the purple and black car. In many respects I think it's a better use of the mold than Chromia. The wheels roll and it looks like a mutant 1980s toy that jumped into the present. This is what you want in your sci-fi vehicles from other planets.
The character in the cartoon was created by man, but was sized similarly to the Cybertronians. I suppose this figure may be Cybertronian now, but it's hard to know for sure as Hasbro fudged (or left off) biographical information for the pre-Earth toys, allowing you to take your imagination where you see fit. I just like the idea that there's a Decepticon woman in that crew as a toy now.
This version of Nightbird is a perfectly nice toy, but so was the other one. The 2019 Siege toy features no Decepticon markings that I could see outside of the instruction booklet, so give her a faction as you see fit. If you are happy with your existing Nightbird toy, you may not need this one. It's sturdy, the articulation is good, and it's cheaper than the Takara-Tomy Legends toy, which may be enough to make you want to get her right away. I love that the Hasbro people painted the wheels, and the coloring is largely true to the original animation. Unfortunately the sculpting is not, and since we never saw her transform on the cartoon we really don't know which alt mode is more correct so just choose the version of the toy you like best.
--Adam Pawlus
Additional Images

Click here to see more Hasbro figures in Figure of the Day.
Click here to see more Transformers figures in Figure of the Day.

Want to buy this figure? Check Transformers availability at our sponsors:
Entertainment Earth