Ghostbusters Stay Puft Marshmallow Man
001 Knit Series

Handmade by Robots Collectible Vinyl Figure
Item No.: No. GHBL911
Manufacturer: The Coop
Includes: n/a
Action Feature: n/a
Retail: $11.99
Availability: October 2019
Other: What did you do, Ray?

PREVIOUS
RSS
NEXT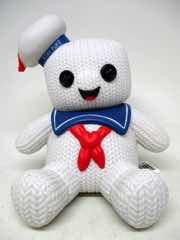 Before I got to announce the Ghostbusters Stay Puft Marshmallow Man at Comic-Con last year, The Coop sent me a 3-D printed protoype. Sadly they made me send it back - I loved that thing. Their sample - pictured below with a black background - was all extruded and painted by hand, with a blank tag. That's not how the final product is. Production samples include a flexible, silicone tag that helps stabilize the figure, with a barely-flexible plastic body. I know it looks like it's a sock, but the figure is actually plastic with tons of fabric textures.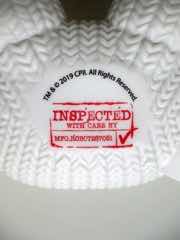 Molded in white, you can see buttons, stitching, yarn, and other materials that don't actually exist. The exquisitely sculpted plastic figure has that knit pattern nailed down pretty well. It's possible there's something wrong about it, but I am not a knitter - to my eyes, it's perfect. I love the collar's stitching. The red tie pops nicely. Unlike Slimer's recessed mouth, Mr. Stay Puft's mouth is sculpted to look like an extra bit of stitching over the white knit body - it's all about the details. For all I know they 3-D scanned an actual plush toy, it sits just so perfectly that I have a hard time believing it was completely handmade by robots top to bottom.
The sculpting on the 4-inch figure will trick the eye as a person unwittingly lifts it. The limbs are frozen as you see them - they don't actually dangle as it isn't a real plush toy. The only floppy bit is that tag. Everything else is as stiff as your other toy figures, although the box clearly calls this one a "decoration." Whatever you call it, it's really cool and a good place to re-engage with Ghostbusters if you didn't score the Playmobil toys. Or even if you did. The stylized approach is definitely the way to go with these spooky characters.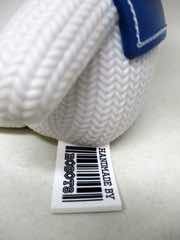 My eyes say "soft" but my hands say "plastic." It's a weird one - but it's pretty fantastic. The format keeps the "cute" design of the movie character but brings it into a strangely timeless form factor that I hope continues cranking out new licensed figures for a while. There should be a lot more in store for Ghostbusters in 2020, but let it not be said there wasn't anything good in 2019. It's a gem, especially for the price.
--Adam Pawlus
Additional Images


See more The Coop and A Crowded Coop figures in Figure of the Day:
Day 2,144: The Coop Handmade by Robots Ghostbusters Slimer
Day 2,168: The Coop Handmade by Robots Ghostbusters Stay Puft Marshmallow Man

See more Ghostbusters items in Figure of the Day:
Day 498: Mattel Ghostbusters Zuul Action Figure
Day 801: Mattel Ghostbusters Slime Blower Ray Stantz Action Figure
Day 1,164: Funko Hikari Vinyl Ghostbusters Pink Stay Puft Marshmallow Man
Day 1,538: Mattel Ghostbusters Ecto Mini Rowan
Day 1,543: Mattel Ghostbusters Ecto Mini Cockroach Ghost
Day 1,576: Mattel Ghostbusters Ecto Mini Ray Stantz
Day 1,731: Playmobil Ghostbusters 9222 Slimer
Day 1,791: Playmobil Ghostbusters 9221 Stay Puft Marshmallow Man
Day 1,813: Playmobil Ghostbusters 9223 Venkman and Terror Dogs
Day 1,861 Playmobil Ghostbusters 9224 Spengler and Ghost
Day 2,076: Playmobil The Real Ghostbusters 9387 Zeddemore with Aqua Scooter
Day 2,082: Playmobil The Real Ghostbusters 9386 Spengler with Cage Car
Day 2,101: Fisher-Price Imaginext Series 7 Collectible Figures Buster of Ghosts
Day 2,144: The Coop Handmade by Robots Ghostbusters Slimer
Day 2,168: The Coop Handmade by Robots Ghostbusters Stay Puft Marshmallow Man
Day 2,197: Hasbro Transformers x Ghostbusters Collaborative Ectotron Action Figure
Day 2,310: Mattel Ghostbusters Walter Peck Action Figure
Day 2,328: Playmobil The Real Ghostbusters 9388 Stantz with Sky Bike
Day 2,375: Playmobil The Real Ghostbusters 9385 Venkman with Helicopter