Healey Made Raider (Shadow) Action Figure
First (I think) painted release

Raider Action Figure
Item No.: No. n/a
Manufacturer: Healey Made
Includes: 2 bonus rockets, alternate head, blaster
Action Feature: Swappable parts
Retail: $25.00
Availability: November 2019
Other: Legend has it old Kenner guys may have been involved.

PREVIOUS
RSS
NEXT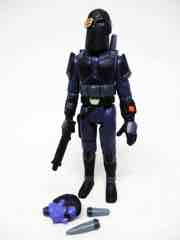 I haven't bought many of Mr. Healey's work, but I did see Healey Made stuff at New York Comic Con ages ago with some pretty gorgeous Glyos heads. He's since moved on to artist figures that look a lot like famous things, but the Raider (Shadow) Action Figure shifts to a tantalizing place, particularly if you're a toy fan in your 40s (or maybe 50s.) This Raider is the first painted release of the mold which was designed to function very much like an old Kenner figure, with sharper sculpting and Glyos-compatibility. Unlike fancier figures like Chakan, the Knights of the Slice, or the Outer Space Men, he's very much a 5-points-of-articulation figure. The neck, shoulders, and hips all swivel - and that's it. The rockets in the backpack can also twist, but they are kind of tough to pry out so I'll leave them be. Two extra rockets were also included.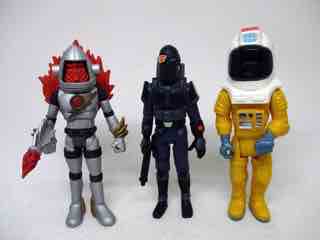 I have little doubt you'll see recolors of this figure for years, and you should absolutely consider getting one. The mash-up of so many old figures in one is just a shining strange little gem. The armor reminds me of Boba Fett - as do the hand poses and jetpack - while the heads look sort of like Cobra Commander and also Peter Cushing. (If this wasn't a Tarkin nod, I'll be surprised.) There's a Lobot-esque wrap-around on the back of the hooded head to the cybernetic eye patch, and the blaster looks like a lot of Kenner weapons from the 1990s. You'll even see a texture to recall Darth Vader in the figure's pants. On the pant legs, I mean. Not... in his pants.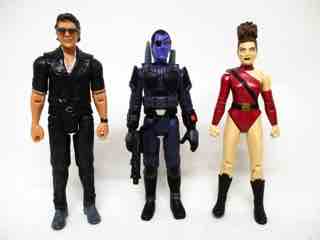 I've very much enjoyed the 3 3/4-inch figures put out in the Glyos collective, but this one is the most overtly retro of the bunch. It feels old - the hands are posed to grip a gun, and also to not grip a gun, very much like Kenner's old offerings and the better faux new efforts. He can stand and sit without obstructions, and were it not for the great paint and amazing textures on the pants and body you'd probably assume this was a genuine old action figure. It lacks copyright markings and foot holes, which may be another tip-off, but it's a gem.
It doesn't do anything other than push my old man toy buttons. It looks like it would be at home with Adventure People, Star Wars, and so many other older similarly sized figures. Much like Hasbro's own 2019 "Kenner" Grand Moff Tarkin and the Funko/Super7 ReAction line, this is a collectible that will mostly just make the old people happy and confuse the kids - and it's priced accordingly. At $25 for painted figures and $20 for unpainted/lightly painted ones, the Raiders are not a bargain toy and I probably can't hope to collect them all - but I'm game for a couple more, in other colors. Or glow. Let's see some blue glow here.
--Adam Pawlus
Additional Images

See more Healey Made figures in Figure of the Day:
Day 2,157: Healey Made Raider (Shadow) Action Figure
Day 2,209: Healey Made Raider (Hunter) Action Figure
Day 2,334: Healey Made Assassin (R-Complex) Action Figure
Day 2,383: Healey Made Raider (Revenge) Action Figure
Day 2,406: Healey Made Raider (GID) Action Figure
Day 2,418: Healey Made Assassin (GID) Action Figure
Day 2,456: Healey Made Assassin (Trando) Action Figure
Day 2,502: Healey Made Trooper (Bulloch) Action Figure
Day 2,559: Healey Made Trooper (Shadow) Action Figure

Click here to see more Glyos Compatible figures in Figure of the Day.