Alien Queen
Purple Nurples, Arms, Neck, Tail, Everything Else

Alien Collection Walmart Exclusive
Item No.: Asst. E3431 No. E3555
Manufacturer: Lanard
Includes: Tail for one-time assembly
Action Feature: Retracting jaws when head is tilted back
Retail: $19.87
Availability: January 2020
Other: Chomp

PREVIOUS
RSS
NEXT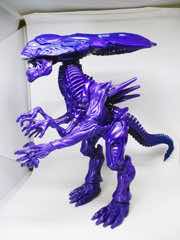 If you told me 10 years ago that Lanard would be licensing all sorts of old and new movie properties, I wouldn't believe it. Positioning itself as a sort of 21st century Kenner, they kicked off an Alien Collection line with a bunch of reused humans and some new creatures like this Alien Queen! I found her on New Year's Day, and I find her very odd. When pictures first surfaced it was tough to tell how and indeed why this exists, a 12-inch figure in a 3 3/4-inch scale line, wholly the wrong color, and more than a little off-model. It's an odd gem, to say the least.
It's too big, too weird, and too purple - but considering that Lanard's line seems to have zero interest in recreating the movie designs exactly, we can all just appreciate this beautiful mutant for what it is, rather than what it isn't.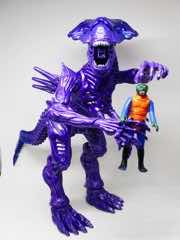 The wildly unnecessary but weirdly compelling 12-inch figure has bend-and-swivel joints all over the place with about 20 total points of articulation. Other toy companies should take note of the quality of some of these joints, as ball-jointed ankles - if they're stiff enough - can do wonders on keeping a figure standing. And if they're weak, she'll just flop over. So far she's great. The feet are huge and stable this time, unlike Kenner's weird growths or the high-heel like feet in the movie. My sample has no problems standing or assuming any of a number of poses, but I do find myself wishing she had wrists or slightly more useful chest arms.
In terms of proportions, it seems she's a cross between Kenner's Alien Queen - a bit deformed and off-model - and what we see in the movies. The head feels a bit closer to Kenner's interpretation, but with a few really nice features. The jaw can open and close, with retractable jaws in the mouth that shoot out when the jaw is open and the head is tilted back. Her teeth are painted a dark silver color, which brings the figure to life - otherwise she's purple with metallic purple highlights on the head and tail.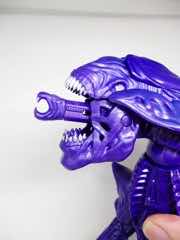 While the design does take a few liberties with the movie design, some of them do make for a better toy. The movie prop sported a longer head, which would probably cause balance issues. The movie design had tiny feet that would probably not be able to hold the weight of the queen figure upright - I'm not even certain if her ankles will hold over time, but she seems stable. She doesn't seem quite as grotesque as the prop or NECA's figures, but it does feel like someone at Lanard decided to make some sort of high-end designer vinyl figure at Walmart-friendly prices. The ball-jointed elbows and lateral shoulder movement should do a lot to menace other figures, plus those inner jaws seem designed to hold on to smaller accessories. Much like the even more impressive Lizzie [FOTD #1,912], this shows that a toy company can make a really big really satisfying toy on the cheap.
Lanard's queen is about 3 inches too tall and maybe a decade too late to make a lot of sense. I could also see them rereleasing her in black and selling a ton of units, but I'm incredibly charmed by the strange purple coloring - I can't assume a lot of other fans will flock to the stores to get one like I did. She really feels like someone sculpted her from memory rather than reference, and the result is the best licensed knock-off you could ever hope to see. If you see one, and it's not too big for you, go get it - she might be more at home tormenting your 6-inch scale action figures. It also feels like a lost cousin from the Kenner line form the 1990s, which is the biggest selling point of all.
I should also note the packaging, which doesn't seem to follow any specific trade dress. Much like the very late-era Hasbro "classic" Jurassic Park stuff, it seems to borrow a bit from caution tape with lots of green and a logo that looks sort of like latter-day sequels. Other than a few sock ties, it's all cardboard - virtually no plastic, with no window. This is probably the future.
Most of Lanard's more recent efforts come and go in short order - as such, I'd advise you to pick these up since they don't last long once the markdowns hit. This feels like a real toy, which isn't something we can say of a lot of increasingly collectible-and-for-collectors figure releases lately.
--Adam Pawlus
Additional Images

See more Lanard figures in Figure of the Day:
Day 1,912: Lanard Rampage The Movie Big City Brawl! Lizzie
Day 2,065: Lanard Primal Clash Mammoth with Shrapnel Action Figure
Day 2,167: Lanard Alien Collection Alien Queen Action Figure
Day 2,171: Lanard Alien Collection Xenomorph Drone, Egg & Facehugger, and Research Scientist Xenomorph Swarm Action Figure Set
Day 2,173: Lanard Alien Collection Advanced-APC Vehicle and Colonial Marine Sargent Xenomorph Attack Action Figure Set
Day 2,175: Lanard Alien Collection Xenomorph Runner, Planetary Rover Bike, and Weyland Commando Action Figure Set
Day 2,178: Lanard Alien Collection Power Loader, Colonial Marine, and Warrior Alien Xenomorph Attack Action Figure Set
Day 2,274: Lanard Toy Alien 7-Inch Drone Xenomorph Action Figure
Day 2,278: Lanard Toy Predator 7-Inch Jungle Hunter Predator Action Figure
Day 2,286: Lanard Toy Predator 7-Inch City Hunter Predator Action Figure
Day 2,292: Lanard Toy Alien 7-Inch Warrior Xeno Action Figure
Day 2,308: Lanard Alien Collection Xenomorph Warrior, Rotating Sentry Gun, and Colonial Space Marine Xenomorph Swarm Action Figure Set

See more ALIENS figures in Figure of the Day:
Day 195: Kenner ALIENS Arachnid Alien Action Figure
Day 234: Kenner ALIENS Scorpion Alien Action Figure
Day 250: Kenner ALIENS Panther Alien Action Figure
Day 256: Kenner ALIENS Gorilla Alien Action Figure
Day 261: Kenner ALIENS Bull Alien Action Figure
Day 285: Kenner ALIENS Hive Wars Warrior Predator
Day 317: Kenner ALIENS vs. Predator 10-Inch Alien Action Figure
Day 359: Kenner ALIENS Hive Wars Acid Alien Action Figure
Day 365: Kenner ALIENS Vasquez Action Figure
Day 381: Kenner ALIENS Action Masters Ripley
Day 397: Kenner ALIENS Mantis Alien
Day 792: Super 7 ALIEN SDCC Exclusive Sales Samples
Day 821: Super7 x Funko Alien ReAction Ripley
Day 844: Super7 x Funko Alien ReAction Dallas
Day 852: Super7 x Funko Alien ReAction Alien
Day 857: Super7 x Funko Alien ReAction Kane in Space Suit
Day 861: Super7 x Funko Alien ReAction Ash
Day 1,149: Super7 x Funko Alien Egg Chamber Action Playset
Day 1,183: Super7 x Funko Alien ReAction Alien (with Metallic Flesh)
Day 1,199: Super7 x Funko Alien ReAction Ripley (Spacesuit)
Day 1,272: Super7 x Funko Alien ReAction Kane (Chestburster)
Day 1,277: Super7 x Funko Alien ReAction Kane (Facehugger)
Day 1,324: Diamond Select Toys Aliens vs. Colonial Marines Figure Set
Day 1,327: Super7 x Funko Alien ReAction Nostromo Crew (Dallas, Kane, Lambert)
Day 1,656: Super7 Alien M.U.S.C.L.E. Set A
Day 1,676: Super7 Alien M.U.S.C.L.E. Set C
Day 1,686: Super7 Alien M.U.S.C.L.E. Set B
Day 1,693: Super7 Alien M.U.S.C.L.E. Set D
Day 1,846: Super7 Aliens M.U.S.C.L.E. Set E
Day 1,864: Super7 Aliens M.U.S.C.L.E. Set A
Day 1,884: Super7 Aliens M.U.S.C.L.E. Set D
Day 1,929: Titan Merchandise Alien vs. Predator The Whoever Wins Collection Scar
Day 1,985: Funko Pop! 8-Bit Alien Xenomorph (Video Game) Pop! Vinyl Figure
Day 2,163: NECA Aliens Classics Series Neomorph Alien Action Figure
Day 2,167: Lanard Alien Collection Alien Queen Action Figure
Day 2,171: Lanard Alien Collection Xenomorph Drone, Egg & Facehugger, and Research Scientist Xenomorph Swarm Action Figure Set
Day 2,173: Lanard Alien Collection Advanced-APC Vehicle and Colonial Marine Sargent Xenomorph Attack Action Figure Set
Day 2,175: Lanard Alien Collection Xenomorph Runner, Planetary Rover Bike, and Weyland Commando Action Figure Set
Day 2,178: Lanard Alien Collection Power Loader, Colonial Marine, and Warrior Alien Xenomorph Attack Action Figure Set
Day 2,179: Kenner Aliens Wild Boar Alien Action Figure
Day 2,274: Lanard Toy Alien 7-Inch Drone Xenomorph Action Figure
Day 2,292: Lanard Toy Alien 7-Inch Warrior Xeno Action Figure
Day 2,308: Lanard Alien Collection Xenomorph Warrior, Rotating Sentry Gun, and Colonial Space Marine Xenomorph Swarm Action Figure Set
Day 2,554: Super7 Alien UCCSS Nostromo Action Figure Set 1 with Kane with Facehugger, Ripley with Jonesy, Ash with Removable Head