Ectotron
Combiner Wars Onslaught/Hot Spot/Inferno Retooled

Transformers x Ghostbusters Collaborative
Item No.: No. E6017
Manufacturer: Hasbro
Includes: Slimer mini-figure, proton pack, removable and losable kibble like a ladder
Action Feature: Transforms from Robot to Hearse
Retail: $39.99 - $49.99
Availability: July 2019
Other: 2019 GameStop/Pulse exclusive, rolled out to other retailers in 2020

PREVIOUS
RSS
NEXT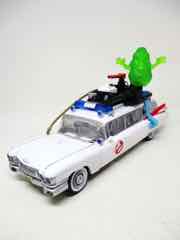 An amazing retool of Combiner Wars Hot Spot [FOTD #1,337], Ectotron was a shared exclusive that got even more shared. Packed out in a real 1980s-style box, the figure takes the cuts of Hot Spot and adds some new car elements to give you a toy that is almost hard to believe started life as a completely different toy.
Click here to check availability at Entertainment Earth.
A licensed Cadillac ambulance mod based on the Ghostbusters movie turned out surprisingly well - and how they figured it out, I'll never know. The robot is fascinating in that it's a 2015 mold, retooled in 2015, and it shows how much time has changed things. The large Prime Wars Trilogy Voyager-class toys - of which Hot Spot was one - tower over the War for Cybertron Voyager-class toys, and as such it's unsurprising Hasbro charged more for Ectotron. The combiner elements are all gone, but everything else is pretty close with the same articulation and some new accessories.
The 7-inch robot sports 17 points of articulation, making it less posable than the current crop of toys but the deco and size may make up for it. The robot has Ray's goggles from the movie and a unique face plate, and while there's no Autobot symbol you do get an "ECTOTRON" nametag bolted to his chest. The open hands accept 5mm accessories, including the included neutrona wand that connects to the proton pack. While I miss the added articulation, the figure has no problems holding his gear - or standing. Big boots help! Also fold-out toes and heels help.
I love that the designers made a robot with some big car part kibble hanging off, because things like visible hoods and windshields were common in the original 1980s Takara toys. It wasn't too odd to have car door wings or headlight nipples, so giant shoulder pads on a robot mash-up of 1984's hottest properties just makes sense. The limitations imposed by existing tooling and engineering seems to help the toy fit in to the aesthetic, which can be hard to replicate at times. The old toys had to deal with lots of kibble as a result of car-to-robot changing, but the newer ones have fake car part chests or bogus wings to look like the old toys. It's weird. But this isn't weird. It just works.
It's worth noting that the toy has a few 3mm pegs on it, making this toy compatible with the Siege and Earthrise C.O.M.B.A.T. system projectile elements. Slimer has a hole too, so you can plop him on the car or the barrel of the wand. He's like Kremzeek.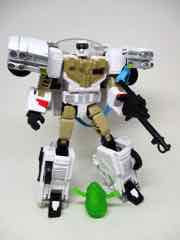 The transformation is pretty easy, but you have to fold out some panels to "unlock" the car to get to the robot. Everything tucks in nicely, but the softer, rubbery elements are a bit tricky - you have to wrap and shove things in the roof's cavity just-so, and while doable it does take a while to fidget just right.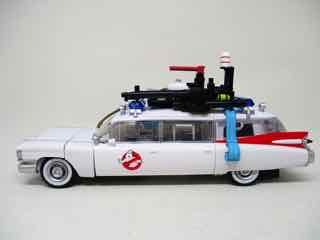 This is a really good Ecto-1. While not perfect, you'll be impressed by the car detailing, the ladder, the license plate, the painted wheels, the clear headlamps and windows, and almost everything about it. The Proton Pack tucks into the roof rack, with the wand fitting in nicely by plugging on the side. Slimer even rides on top thanks to the aforementioned 3mm compatibility. I'm told the toy is also close to scale with the Masterpiece line, which makes sense as this seems to be a toy aimed at the older collector. There aren't a ton of play features, but the true-to-movie detail (mostly) and the easy transformation makes it a good fidget toy for olds who don't have all year to learn the nuances of a Masterpiece toy. Those things, while awesome, can sure be a hassle..
There have been many crossovers, but this one seems to be one of the best ones we've had in the USA. The Marvel and Star Wars ones were somewhat wonky, and a lot of the cooler Japanese ones - Nike, Sega, Sony, and so forth - didn't come out here. I'm amazed they managed to make it work and look good at the same time, but it doesn't necessarily fit in with the average collector's collection. It's a great item for fans with smaller collections, though, or a good first handshake with the idea of buying a transforming toy as an adult. I bet it would've done well on-shelf at Target, but that's not where it went. Buy it online if you see it at a fair price, it's good.
--Adam Pawlus
Additional Images

Click here to see more Hasbro figures in Figure of the Day.
Click here to see more Transformers figures in Figure of the Day.

See more Ghostbusters items in Figure of the Day:
Day 498: Mattel Ghostbusters Zuul Action Figure
Day 801: Mattel Ghostbusters Slime Blower Ray Stantz Action Figure
Day 1,164: Funko Hikari Vinyl Ghostbusters Pink Stay Puft Marshmallow Man
Day 1,538: Mattel Ghostbusters Ecto Mini Rowan
Day 1,543: Mattel Ghostbusters Ecto Mini Cockroach Ghost
Day 1,576: Mattel Ghostbusters Ecto Mini Ray Stantz
Day 1,731: Playmobil Ghostbusters 9222 Slimer
Day 1,791: Playmobil Ghostbusters 9221 Stay Puft Marshmallow Man
Day 1,813: Playmobil Ghostbusters 9223 Venkman and Terror Dogs
Day 1,861 Playmobil Ghostbusters 9224 Spengler and Ghost
Day 2,076: Playmobil The Real Ghostbusters 9387 Zeddemore with Aqua Scooter
Day 2,082: Playmobil The Real Ghostbusters 9386 Spengler with Cage Car
Day 2,101: Fisher-Price Imaginext Series 7 Collectible Figures Buster of Ghosts
Day 2,144: The Coop Handmade by Robots Ghostbusters Slimer
Day 2,168: The Coop Handmade by Robots Ghostbusters Stay Puft Marshmallow Man
Day 2,197: Hasbro Transformers x Ghostbusters Collaborative Ectotron Action Figure
Day 2,310: Mattel Ghostbusters Walter Peck Action Figure
Day 2,328: Playmobil The Real Ghostbusters 9388 Stantz with Sky Bike
Day 2,375: Playmobil The Real Ghostbusters 9385 Venkman with Helicopter