Tec-Shield Batman
Uses His Flight Pack And Shield Suit To Escape From Danger

Batman: The Dark Knight Collection Action Figures
Item No.: Asst. ??? No. 63120
Manufacturer: Kenner
Includes: n/a
Action Feature: Pull plunger and backpack's wings open
Retail: $5.99-$7.99
Availability: Fall 1990
Other: NECA recently did their own take on this figure

PREVIOUS
RSS
NEXT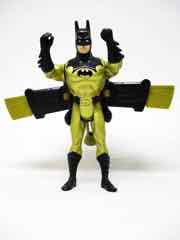 I remember hunting down Tec-Shield Batman - the Kay-Bee Toys in Metrocenter had the other figures from wave one, but were sold out of this one. I convinced the people in our shopping party to stop at the Lionel Playworld on Peoria to overpay a buck to get this one. Kenner's line came hot off the heels of the 1989 Batman movie with Toy Biz' action figure line doing a pretty bang-up job. While Toy Biz had a diverse line with DC Comics heroes and other movie characters, Kenner made a line with less articulation and even less character variety - it would go on to be a huge success made primarily out of costume variations of the Caped Crusader. To call it influential would be a massive understatement - Playmates' Teenage Mutant Ninja Turtles would also make up its own new character variants that would outsell new and secondary characters, or villains.
Nearly every kid-driven line in the 1990s would have "mission gear" figures all inspired by a single quote from Tim Burton's movie - "Where does he get those wonderful toys?" I had the pleasure of talking to Kenner creative Mark Boudreaux at a sci-fi convention back in 2000, and he told me that was indeed the pitch to DC/Warner Bros. to allow them to make new versions of Batman. And, as a result, we'd see the same for The Shadow, Spider-Man, Spawn, Riker, Data, Picard, Shaquille O'Neil, and countless other action figure heroes in the years to follow. Spin Master launched a new line in January of this year for Batman, and sure enough, it's almost 100% Batman - nary a villain to offend the eye.
It works. It can be tedious, but oh, is it successful to just sell the kids what they want.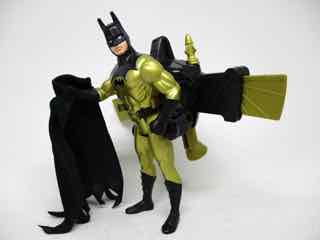 The not-quite-5-inch Michael Keaton-inspired gold-suit Batman still shines 30 years later. I can't believe the gold paint looks as good as I remember it being the day I brought him home. He has 5 points of articulation and is not entirely dissimilar from the 1980s Super Power Collection toy line - except now, he has no knees and all of the action features have been outsourced to his accessories rather than the figure itself. This figure can stand, sit, drive a Batmobile or Batwing, and not much else. You have to make him punch, you have to pose him, and you have to push buttons and pull strings to make all the gimmicks work. The cape, still cloth, is pretty much the same concept that we saw in The Super Powers Collection.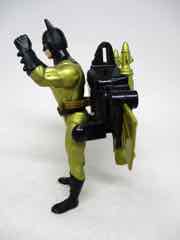 Batman in C-3PO drag wasn't enough, we got a bulky and weird winged backpack. There's a loop at the top where you can put in a string and fling him around, there are a couple of gold rockets, but what's interesting is a big golden plunger at the base. When you pull it down, two black wings separate and eventually spring-loaded golden wing tips will extend and give it life. Now you can pretend Batman can fly, which he can't. Magic! While positioned as the accessory, this is really the toy - you can clip Batman into it, but this is the element that actually does something interesting. And presumably, will get lost in a box of toy debris, as little Timmy is just going to want to play with Batman.
Kenner's The Dark Knight Collection were an amazing innovation in how to market super hero toys to young boys, particularly when a movie really only had one or two core characters. A toy of this quality would probably be a hit with kids today, but Spin Master gives you far more articulation at (adjusted for inflation) a better price. In the 1990s you'd find far more colorful toys, with brighter packaging and more spring-loaded bang for your buck - and they sold like crazy for nearly a decade, at which point Mattel took control for an even longer period of time. Get it if you love the golden, ripped abs of Bruce Wayne - it's a wonderful artifact with surprisingly good detail for its time. I'm sure you can easily find other, bigger, or better Batmen at a store near you for a lower price and no shipping charge in 2020.
--Adam Pawlus
Additional Images

See more Kenner figures in Figure of the Day:
Day 98: Kenner Beast Wars Transformers Noctorro Action Figure
Day 99: Kenner Beast Wars Transformers Air Hammer Action Figure
Day 100: Kenner Beast Wars Transformers Torca Action Figure
Day 101: Kenner Beast Wars Transformers Terragator Action Figure
Day 102: Kenner Beast Wars Transformers Quickstrike Action Figure
Day 114: Kenner Total Justice Mail-In Superman Action Figure
Day 133: Kenner Q*Bert Wind-Up Q*Bert Action Figure
Day 138: Kenner Jurassic Park Chaos Effect Compstegnathus Action Figure
Day 172: Kenner Jurassic Park The Lost World Chasmosaurus Action Figure
Day 195: Kenner ALIENS Arachnid Alien Action Figure
Day 211: Kenner Predator Cracked Tusk Predator Action Figure
Day 234: Kenner ALIENS Scorpion Alien Action Figure
Day 250: Kenner ALIENS Panther Alien Action Figure
Day 256: Kenner ALIENS Gorilla Alien Action Figure
Day 261: Kenner ALIENS Bull Alien Action Figure
Day 285: Kenner ALIENS Hive Wars Warrior Predator
Day 317: Kenner ALIENS vs. Predator 10-Inch Alien Action Figure
Day 346: Kenner Jurassic Park Ian Malcolm Action Figure
Day 356: Kenner Action Masters Predator
Day 359: Kenner ALIENS Hive Wars Acid Alien Action Figure
Day 365: Kenner ALIENS Vasquez Action Figure
Day 366: Kenner Jurassic Park Ellie Sattler Action Figure
Day 381: Kenner ALIENS Action Masters Ripley
Day 397: Kenner ALIENS Mantis Alien
Day 398: Kenner Batman: The Animated Series Clayface
Day 408: Kenner Legends of Batman Future Batman
Day 421: Kenner Bone Age Crag the Clubber Action Figure
Day 437: Kenner SilverHawks Copper Kidd Action Figure
Day 441: Kenner Batman: The Animated Series Harley Quinn
Day 443: Kenner Batman: The Animated Series Machine Gun Joker
Day 444: Kenner Batman: The Animated Movie Mask of the Phantasm Phantasm
Day 446: Kenner Legends of Batman Knightquest Batman
Day 457: Kenner Batman: The Animated Series Ra's Al Ghul
Day 533: Kenner Jurassic Park Chaos Effect Amargospinus
Day 848: Kenner Transformers Beast Wars Terrorsaur
Day 903: Kenner Transformers Beast Wars Rattrap
Day 956: Kenner Transformers Beast Wars Claw Jaw
Day 1,140: Kenner M.A.S.K. T-Bob with Scott Trakker Action Figure
Day 1,180: Kenner Jurassic Park Alan Grant Action Figure
Day 1,198: Kenner Jurassic Park Tim Murphy Action Figure
Day 1,212: Kenner Jurassic Park Chaos Effect Ian Malcolm Action Figure
Day 1,248: Kenner M.A.S.K. Condor with Brad Turner Action Figure
Day 1,445: Kenner Transformers Beast Wars Cybershark
Day 1,452: Kenner Beast Wars Transformers Fuzors Injector
Day 1,486: Kenner Beast Wars Transformers Spittor
Day 2,179: Kenner Aliens Wild Boar Alien Action Figure
Day 2,190: Kenner Batman: The Dark Knight Collection Tec-Shield Batman Action Figure
Day 2,199: Kenner Batman Returns Penguin Commandos Action Figures
Day 2,217: Kenner Batman: The Dark Knight Collection Iron Winch Batman Action Figure
Day 2,622: Kenner Batman: The Animated Series Killer Croc Action Figure
Day 2,645: Kenner Batman: The Animated Series The Riddler Action Figure

See more Batman figures in Figure of the Day:
Day 1: Funko Force 2.0 Comic-Con Exclusive Batman
Day 398: Kenner Batman: The Animated Series Clayface
Day 408: Kenner Legends of Batman Future Batman
Day 441: Kenner Batman: The Animated Series Harley Quinn
Day 443: Kenner Batman: The Animated Series Machine Gun Joker
Day 444: Kenner Batman: The Animated Movie Mask of the Phantasm Phantasm
Day 445: Ertl Batman Returns Penguin Commando Die-Cast Metal Figure
Day 446: Kenner Legends of Batman Knightquest Batman
Day 447: Mattel DC Universe Classics All-Stars Batman
Day 457: Kenner Batman: The Animated Series Ra's Al Ghul
Day 685: Mattel Hot Wheels Batmobile (Tim Burton, 2013)
Day 708: Mattel Hot Wheels Batman Live Batmobile
Day 714: Mattel Matchbox Batmobile Die-Cast Metal Vehicle
Day 735: Mattel Batman Classic TV Series Batman & Robin Action Figure Set
Day 740: Mattel Batman Classic TV Series The Penguin Action Figure
Day 742: Mattel Hot Wheels Batcopter Die-Cast Metal Vehicle
Day 756: Mattel Batman Classic TV Series The Joker Action Figure
Day 761: Mattel Batman Classic TV Series The Riddler Action Figure
Day 778: Mattel Batman Classic TV Series Batman Action Figure
Day 780: Mattel Batman Classic TV Series Catwoman Action Figure
Day 783: Mattel Batman Classic TV Series Surf's Up Batman Action Figure
Day 898: Mattel Batman Batman
Day 1.172: Mattel Batman The Joker
Day 1,197: Funko Batman Ice Freeze Batman Reject
Day 1,305: Funko Pop! DC Comics Super Heroes Orange Batman Vinyl Figure
Day 1,312: DC Collectibles Batman Tony Millionaire Batman Statue
Day 1,383: Mattel Hot Wheels Dawn of Justice Batmobile
Day 1,388: Bif Bang Pow! Peg Pals Batman Armored
Day 1,400: Funko Dorbz DC Comics Super Heroes Orange Batman Vinyl Figure
Day 1,512: Jakks Pacific Batman v. Superman: Dawn of Justice Jokers Wild Batman
Day 1,539: Mattel Batman v. Superman Mighty Minis Series 2 Silver Batman
Day 1,680: The LEGO Batman Movie Catman
Day 1,753: Funko 9POA Batman 1966 TV Series Batman and Robin Action Figures with Batmobile
Day 1,847: Funko Pop! DC Comics Super Heroes Retro Batman Vinyl Figure
Day 1,983: Entertainment Earth Justice League Batman Push Puppet
Day 2,100: Fisher-Price Imaginext DC Super Friends Batman & Swamp Thing Action Figures
Day 2,190: Kenner Batman: The Dark Knight Collection Tec-Shield Batman Action Figure
Day 2,199: Kenner Batman Returns Penguin Commandos Action Figures
Day 2,217: Kenner Batman: The Dark Knight Collection Iron Winch Batman Action Figure
Day 2,239: Fisher-Price Imaginext DC Super Friends Slammers Arctic Sled with Mr. Freeze Set
Day 2,249: Fisher-Price Imaginext DC Super Friends Slammers Batmobile with Batman Set
Day 2,257: Fisher-Price Imaginext DC Super Friends Surround Sound Batcave Playset
Day 2,493: Spin Master DC Comics Justice League 4-Inch Action Figures 6-Pack
Day 2,622: Kenner Batman: The Animated Series Killer Croc Action Figure
Day 2,645: Kenner Batman: The Animated Series The Riddler Action Figure
Day 2,651: Wendy's DC Universe Batman, Catwoman, and Nightwing (Red)

Want to buy this figure? Check Batman availability at our sponsors:
Entertainment Earth