Decepticon Red Wing
WFC-GS02 - Target REDcard Exclusive

Transformers Generations War for Cybertron Siege Selects
Item No.: No. E5474
Manufacturer: Hasbro
Includes: 2 HPIO Null-Ray Laser Launcher
Action Feature: Transforms from Robot to Colonial Viper
Retail: $29.99
Availability: July 2019
Other: Not Originally a Target Exclusive

PREVIOUS
RSS
NEXT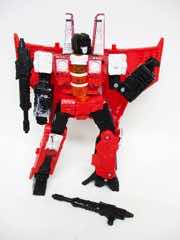 If Hasbro is willing to go bananas, I'll come along for the ride.
Back in college, while talking about comedy a pal once told me "Everybody knows about the rule of threes. But not everybody understands the rule of fourteens." If you do something three times, it keeps getting funny - but it gets less funny the fourth time. But if you have the courage to stick at it, doing it a 14th time often yields big laughs - and the Decepticon Red Wing is a pretty fine example of going over the line. It's expected - nay, required - that Hasbro repaint every Starscream as Thundercracker and Skywarp. If it doesn't happen, fans will complain. Fans will also complain if it does happen, while also asking for things like Acid Storm and Sunstorm. For whatever reason, Hasbro has so far deemed this mold worthy of no fewer than seven different characters, and I doubt fans would complain if a generic Air Warrior or Sunstorm made it out before the mold was finally retired. Red Wing - but especially the Rainmakers 3-pack - pushed me from "well, I guess this line is pretty good" to "I'll take everything, thanks." For a collector's line to be of any value it has to reach for a level of definitiveness above and beyond what has come before, and it seems they're certainly making an argument that the War for Cybertron Trilogy could well do that.
If you already have Starscream - or Thundercracker, Skywarp, Ion Storm, Acid Storm, or Nova Storm - you don't need this one. But if you have all of them... you do need this one.
The deisgn is pretty similar to previous releases, with similar paint operations. Of note, the same damage paint pattern has been used once more but the legs has it in a dark grey color instead of silver. It pops nicely, and it's still bizarre to see the exact same scuffs and scrapes on an army of figures. It would've been nice if Hasbro mixed it up with one or two different paint masks for damage, or even leaving it off entirely in some cases. It looks good and is well-executed, but on seven figures it's a little surreal. I appreciate they changed the color with Red Wing.
The robot has just shy of 30 points of articulation and a face with a sneer more appropriate for Starscream. The same head is also used for Thundercracker, but this one is an off-white color instead of the traditional silver.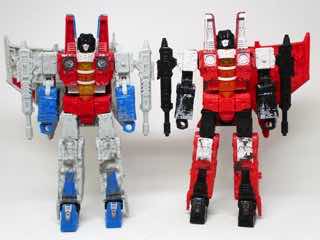 Transforming the toy is pretty much the same as Starscream and Thundercracker. The legs are undercarriage junk. The shoulder pylons are the front of the fighter. The big improvement over Starscream and Thundercracker is the chest panel seems to not pop off on this one, making it the best use of the mold I've got in my hands as of my writing this. It's a fun toy to transform, minus getting the shoulders out. I like it - but I also really liked the deluxe Classics Starscream from 2006.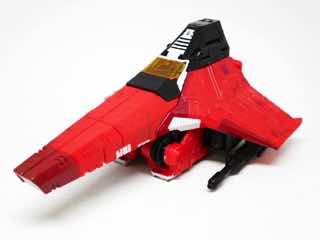 The space jet looks cool, in part because Red Wing is sort of an animation error that probably shouldn't exist as a toy. It's Sunstorm done wrong.
To my knowledge, this is the first American exclusive Transformers toy to require having a specific credit card - there were a few in Japan about 10 years ago. I did not get this card, I have a good friend who helped. Check and mate. I love the odd design that doesn't seem to perfectly match the concepts, and it's the perfect weird mascot toy for Target. I'd have loved it if it were in stores, but I don't know how popular a non-Bullseye all-red toy would be to the shoppers of the Big Red Dot. Sure, the Decepticon symbols are drowned by the eye-watering red but it works. The black top wing works. The dark red tip on the jet is a dirty joke in the making. It's just fun. I hope you can get it if you want it.
--Adam Pawlus
Additional Images

Click here to see more Hasbro figures in Figure of the Day.
Click here to see more Transformers figures in Figure of the Day.

Want to buy this figure? Check Transformers availability at our sponsors:
Entertainment Earth