Scrapface
New Character!

Transformers Generations War for Cybertron Trilogy Walmart Exclusive Netflix Deluxe
Item No.: Asst. E9489 No. E9506
Manufacturer: Hasbro
Includes: EMM Distortion Blaster, HPR Telefocal Shield, Bioscale Compression Rotor
Action Feature: Transforms from Robot to... Thing
Retail: $19.99
Availability: April 2020 (February 2020 at Toy Fair)
Other: Each Scrapface has unique battle damage deco

PREVIOUS
RSS
NEXT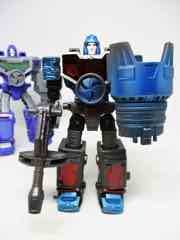 I like it when Hasbro tries something weird. The Netflix line is largely dark, dull grey plastic slathered in bursts of paint, with Scrapface wrapping the head in bright metallic paint with a red stripe, and various splotches of red and blue on the figure's body. Seemingly loosely inspired by Scrap Iron from G.I. Joe.
As with before you can buy 3 of these to make a camera thing, but he's one per case and I stumbled on that one case in April during a grocery excursion in the dodgy era of social distancing done poorly at bit box stores. As a new stand-alone guy, I'd like to have a crack at more of this one.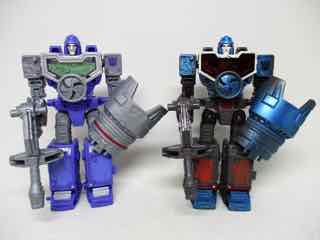 When Hasbro took its Jurassic World victory lap with Dino-Hybrid toys, we saw paint jobs that had more in common with designer art toys - specifically higher-end kaiji sofubi toys - than Hasbro toys. The Netflix Transformers are similar, with extensive paint jobs looking more like expensive indie toys at cheap schmuck prices.
As a newcomer, this guy is probably going to be cannon fodder or something. The blue helmet is gorgeous, with metallic paint that is also carefully applied to the shield and the shutter on the belly. Also the shoulders and feet. Rich blue on the sides of the legs just stuns, with a little bit of pre-worn reds on the front of the shins. His chest is a dark, clear red with painted scratches on it that get lost. Dark red plus dark scratches means you don't even see them there.
As this is the fifth paint job of this mold, you may not feel compelled to buy more - but the triple-combining aspect and the possibility of it being a trooper could mean this is a thing you'll want en masse. Just in terms of showcasing how good of a job Hasbro can do with paint, I'd say the robot is essential.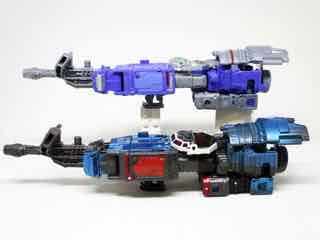 Transformation into his 1/3 of a camera or Space Clicker modes is easy enough, and exposes more of the colors. It really shines in the vehicle mode, but it's not an exciting vehicle mode. It remains a tour de force for Hasbro's paint capabilities, shiny and fun colors on a dull grey plastic chassis. It has landing skids and you can pretend it's a surf board if you want. I can't imagine you will, but I had fun.
I like this figure - and I've already got 6 of this mold (the 3-pack and 3 of the single Refraktor.) Not that I needed all of that for the toy box, but once you get locked into a serious toy collection, the tendency is to push it as far as you can. It's weird recommending a figure mostly on the merits of its paint job, but I do it for Glyos all the time. If you aren't yet sick of the mold, you should get at least one of these just because it's admirable. I'd like to see if Hasbro does some other figures in this style. The Decepticons in the Netflix War for Cybertron line are probably some of Hasbro's best-ever work with deco, and that includes all the convention and club exclusives. And Masterpieces. This is not a line known for the quality and audacity of its paint, but apparently it could be if Hasbro keeps this up.
--Adam Pawlus
Additional Images

Click here to see more Hasbro figures in Figure of the Day.
Click here to see more Transformers figures in Figure of the Day.

Want to buy this figure? Check Transformers availability at our sponsors:
Entertainment Earth