Ironworks
WFC-E8

Transformers Generations War for Cybertron Earthrise Deluxe
Item No.: Asst. E7120 No. E7157
Manufacturer: Hasbro
Includes: Blaster, made of parts
Action Feature: Transforms from Communications Tower to Crane to Robot to Armor
Retail: $19.99
Availability: February 2020
Other: Base is the place

PREVIOUS
RSS
NEXT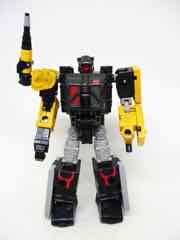 I didn't have the original Ironworks as a child, but I did have the Airport Base and Fire Station. Those were cool. This new one - and the other new ones - have a big twist. Rather than going from one playset to another playset, they go from playset to playset to robot to armor/weapons. That's diversification.
Click here to check availability at Entertainment Earth.
It's good and weird! You have to take it apart and reconfigure it, but there are so many modes - and of course, fan modes - to top it off. Do you want to make a bridge? You can do that. A windmill? Well, that part is missing, but you can buy that piece via Shapeways if you want it. Thanks to the partsformations, there are tons of moving parts like scoops, cranes, and blasters. There aren't any action features as such, but for diorama makers and people building out a base? This is a good time.
The Communications Tower (windmill-minus-windmill) mode is pretty great - a little floppy, but on a flat surface it has no problems staying put. You can pose Micromasters around it to pretend they're firing cannons or waving or whatever it is you want to do, and you can do the same with vehicles in its other default Crane Base mode. The yellow paint over the dark plastic gives it this gnarly greasy look, and since the paint was thick enough that it doesn't look cheap, it looks good. You can turn the crane or pop it off, but you can't use it to tow anything.
The scale isn't quite to my liking, since the Micromasters seem a little big and the base seems a little small. On their own they're all great, but interacting they're less than ideal.
While it doesn't include a Micromasters truck - a pity - Hasbro did have the foresight to sell you one named "Irontread" last year as part of a Target-exclusive gift set. If you got it, you're all set. If you didn't, well, it went on clearance so you're not alone. I pounced on it, because I have no sense. I appreciate Hasbro making the distinction, since they're different characters with distinct robot modes.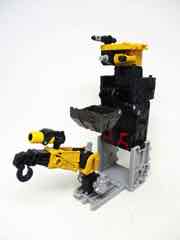 Transformation will require a map - since each mode is effectively a construction kit, you either need instructions or your imagination. The default robot mode is a fun one, with lots of moving parts and elements tucked away, like roads on the back and a pistol that can be mounted on the shoulder or in the hand.
The figure is rather impressive. Not only is it painted well, but there are loads of moving parts like tilting ankles and a swivel crane hand with a 5mm hole. These aren't things you usually get on a figure with so many parts. It might not be big, but you can see a lot of work went in to giving you a toy that can keep you busy longer than other deluxe toys. Given it's not a cartoon character, it's good to see Hasbro making up for a lack of fame with enhanced play value.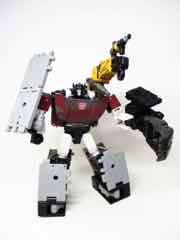 The armor mode is a nice bonus. Arm scoop! Crane backpack! Road boots! You can do a lot with this one, and it seems to work best on Deluxe-class figures. It's by no means the most fun mode, but it's worth noting that three of the four modes were designed with networking in mind. The 5mm pegs and holes connect as armor, and the C.O.M.B.A.T. ramps can connect to other bases for a massive play environment, provided you've bought hundreds of dollars worth of existing bases from previous years.
If you buy lots of toys, Ironworks should be added to your shopping list. It's by no means the most impressive piece on its own, but in the context of a greater toy collection it has a lot to offer. While not as sexy as Cliffjumper or Wheeljack, you'll probably actually play with this one beyond the open-it-up, transform-it-once, put-it-on-a-shelf purgatory most toys owned by collectors experience.
--Adam Pawlus
Additional Images

Click here to see more Hasbro figures in Figure of the Day.
Click here to see more Transformers figures in Figure of the Day.

Want to buy this figure? Check Transformers availability at our sponsors:
Entertainment Earth