Barricade
WFC-S41

Transformers Generations War for Cybertron Siege Deluxe
Item No.: Asst. E3432 No. E4498
Manufacturer: Hasbro
Includes: HF Siren-Blast Punisher Cannons
Action Feature: Transforms from Robot to Car
Retail: $19.99
Availability: October 2020
Other: The Black Repaint You've Wanted

PREVIOUS
RSS
NEXT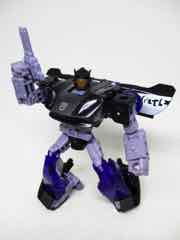 An item requested by fans for a while, a non-movie toy based on the movie Decepticon police car Barricade finally made it out in 2019 - and in 2020, police toys are a bit more complicated. For example, the early renders of the toy included the character's motto from the movies, "To Punish and Enslave," on it - this was removed before the final product came out. It's not the first toy from Siege to drop Autobot-alphabet coded messages, as Red Alert lost "Fire Chief" and before him, well, the less said about Jazz the better.
The 5-inch robot is one of four figures based on the Prowl chassis - and the first Decepticon. Autobots Bluestreak, Prowl, and Smokescreen all generally share the same construction and Hasbro could probably invent another couple of characters to continue building out the premise. Mostly molded in black, grey, and clear purple, Barricade has a striking gold face and some fantastic painted silver elements that help make the purple pop even more.
The figure shares a head sculpt and twin blasters with Smokescreen, but features Prowl's removable lightbar. He has no problems holding or mounting those accessories in a multitude of ways. The blasters can mount on the hood of the car (or shoulders), be held in his fists, or merged together to construct a single, larger weapon. It's great that you've got something to futz with here, because the 3mm C.O.M.B.A.T. pegs aren't much fun. There are very few in robot mode and none to speak of in car mode.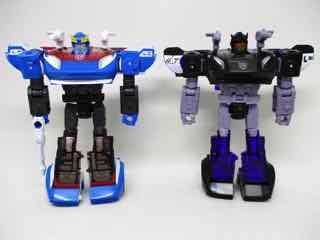 The figure changes from one form to another in very much the same way as his brothers. The feet and legs are the back chunk of the car. The arms tuck under the car doors. The head is buried in the chest. And presto, you've got a police car from space with clear purple wheels.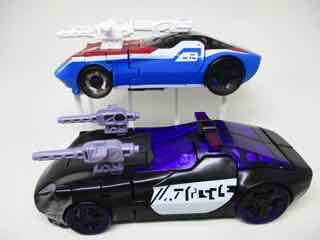 I'm a big fan of Cybertronian vehicle modes, especially for new characters. There has never been a proper G1 Barricade toy, so this one is the first and therefore most accurate. The wheels can turn, plus there are holes to mount weapons and the light bar. There's not a lot else going on here, other than "POLICE" written on the sides and some nifty silver scuff brushing on the front of the car near the wheels. I love how it reminds me of a sneaker, thanks to its smoother form which may not be a coincidence considering the reportedly high interest of sneakers to higher-ranking members of the Transformers team. It's sleek, it's alien, and oh yes - the purple clear windows have silver under them to make them pop. Nicely done on all accounts, but I will say for $20 I wish the toy actually did something in this mode. A place to store weapons when not in use inside the car would be nice, as would a license plate or some other bonus detail. It's a good toy, but as always it feels like there could be more here.
Given how he has lacked G1 presence, you may as well buy this one unless another one gets announced that you like better. I'm kind of surprised we haven't already had a Masterpiece edition toy of him! For now this is as good as it gets, and with all the 5mm ports in robot mode (and the lack of Decepticons in general) he'd be a good addition to your army. For $20ish, he's well worth it - and you'd have gladly paid more if he wound up as a BotCon exclusive in an alternate timeline.
--Adam Pawlus
Additional Images

Click here to see more Hasbro figures in Figure of the Day.
Click here to see more Transformers figures in Figure of the Day.

Want to buy this figure? Check Transformers availability at our sponsors:
Entertainment Earth