Slitherfang
WFC-E13

Transformers Generations War for Cybertron Earthrise Battle Masters
Item No.: Asst. E7124 No. E7148
Manufacturer: Hasbro
Includes: C.O.M.B.A.T. Effect
Action Feature: Transforms from Shield to Ramp to Snake
Retail: $5.99
Availability: July 2020
Other: Ramp up production

PREVIOUS
RSS
NEXT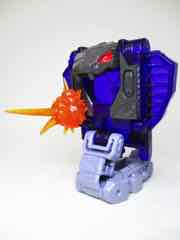 Because nobody really seems to care about these little guys - other than construction builders and hoarders - Slitherfang will probably be "one that got away" for a lot of people. Depending on where you lived, you probably didn't see Soundbarrier very much either - these little guys weren't stocked in a lot of stores, and expectations were middling for the assortment because they had an equal balance of one carry-forward and one new guy. Hasbro only made three different molds for its ramp-based A.I.R. Lock system, plus a few recolors - meaning it's going to be in short supply. Maybe some enterprising fans will start cranking out their own plain ramp pieces for base building, as these little guys - while neat - are kind of wasted as ramps.
Click here to check availability at Entertainment Earth.
It's a lot more fun than the last one. Soundbarrier was a robot with a flat backpack, with one of the least interesting transformations this side of Thrilling 30 roller - who just stood up. Slitherfang is a dramatic improvement, as the shield/ramp looks a bit more interesting and it does more than fold and unfold.
The snake bot is unusual in that creature "robot modes" are scarce - alt modes, sure, but not creature modes. The cobra has treads on his tail with a 5mm peg at the top, plus a jointed neck. While the jaw can't open, he can swivel his neck around and look at things, plus the head can pivot up and down. It's a clever design, and there's 5mm socket on his chin as well as a 3mm C.O.M.B.A.T. peg on the back. It doesn't do a lot, but I'd say it's a bit more interactive than your average 1984 G1 minicar.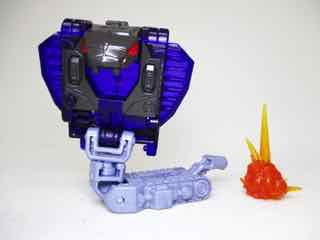 Transformation is pretty easy, but you've got more pieces to move around. The snake head pivots up, as does a part of the hood. The tip of the tail tucks in, and everything else twists and folds in place until you get that most exciting of all alt modes, a plank.
The difference between "ramp" and "shield" is if that 5mm peg on the tail is extended. The design isn't very good at making it easy to plug the shield in another figure's fist or forearm, but you can do it if you give it a shot. As a shield, it's certainly a flat piece of plastic to which you can plug in a 3mm fireblast accessory (included) that looks pretty nice. This particular fireblast is unusual in that it skips the 5mm peg at the base - there's a 3mm hole for mounting on pegs, but you can't put it inside a gun barrel.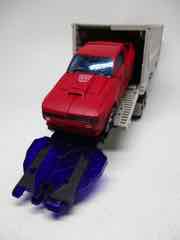 As a ramp, this Quintesson-aligned connector can plug in to things like Optimus Prime's trailer and Greasepit's various ramps. It's a heck of a neat idea, but the ramp is small and these are largely uncommon, so you can't build something particularly large or sturdy. It works though - but there is some fear of long-term damage thanks to the clear plastic not being known for its durability over time. So if you're going to get one and play with it, do it now.
New characters are scarce in the nostalgia lines, so Slitherfang - with a new name, no less - is kind of an exciting entry in that respect. Fans only wanting classic characters already skipped this, but since it has some useful functionality fans will undoubtedly be chasing these down until someone puts a better ramp connector part out there. This is a fun one because Hasbro and Takara-Tomy tried something different - so I'd nudge you to making this one a priority if you only wanted one.
--Adam Pawlus
Additional Images

Click here to see more Hasbro figures in Figure of the Day.
Click here to see more Transformers figures in Figure of the Day.

Want to buy this figure? Check Transformers availability at our sponsors:
Entertainment Earth