Quintesson Allicon
WFC-E19

Transformers Generations War for Cybertron Earthrise Deluxe
Item No.: Asst. E7120 No. E7158
Manufacturer: Hasbro
Includes: Spear, blade weapon in tail, some assembly required
Action Feature: Transforms from robotic alligator monster to robot
Retail: $19.99
Availability: September 2020
Other: Redecorated as Quintesson Bailiff

PREVIOUS
RSS
NEXT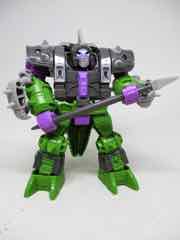 It is something of a miracle that this Quintesson Allicon exists. It brings another bad guy, and another faction, to plastic after decades of being something people saw on TV and in the movies, but did not have. The design has been modified quite a bit over the years, even the on-box rendering is in different colors from the final toy. Is it good? Well... it exists.
As an army builder, it would be preferable if this figure was perfect - fans may want repaints, battle-damaged or other squad colors. They may want to buy a few of them to attack Kup and Hot Rod. And on clearance, I bet they will - as is, it's worth getting one because of the sheer miraculousness that it exists, but I am hesitant to desire more of them.
Click here to check availability at Entertainment Earth.
As a robot trooper, Quintesson Allicon is fine. It is mostly molded in color, with some grey and silver here and there, a little purple paint, but not much in the way of detail. If you look at the back of his box, you'll immediately notice some changed - and weird - colors. The original renders had a lot more purple for reasons I can't explain, as they would not be true to the animation either. At least two other colorways have been shown off on Japanese promotional social media, too.
He's short - about 4 1/2-inches tall, not including the head fin. He's bulky and wide, plus he has good articulation - in and of himself, he's an acceptable figure with rotating wrists that can easily hold his spear in one or both hands. His big feet are super steady, and he's got rocker ankles too. There's a lot of articulation that isn't needed for the transformation, but given how simple and underpowered that transformation is we're lucky they're giving us a little something. 24 points of articulation, most of which are the arms and legs, give him a perfectly fine range of movement.
The figure is mostly molded in color, featuring none of the painted damage we got in Siege. It's sort of the opposite of Selects, which are loaded with painted color. You can see a lot of sculpted detail on the figure, but the arms are largely unpainted and the legs have only a bit of silver. Were it not for the articulation and head paint, I could see this being mistaken for a 1990s-era toy - it's good. It's sturdy. But it doesn't exactly wow given the enhancements we've seen in the last few years. It's also the only official Allicon you're likely to see for a while, so regardless of its perfection or lack thereof, it's worth a look.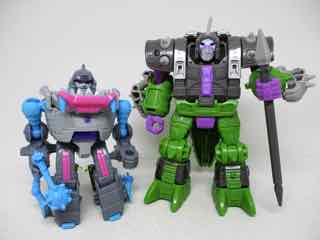 Transformation is not unlike that of Optimus Primal - rotate the waist, muck around with the robot or beast head a bit, reposition the arms, and you're done. You're going to see both modes' arms no matter what - there's no hiding the fact he has four visible hands at all times. Given this was really the only element that they would have to work to hide, it's unfortunate the monster has two big pink fists protruding off his sides, and the grey beast arms hang off the robot limbs. It's not ideal given just how amazing some of the recent figures have been, but at least it's easy to do and nothing seems to pop off or get in the way. It's a smooth transformation.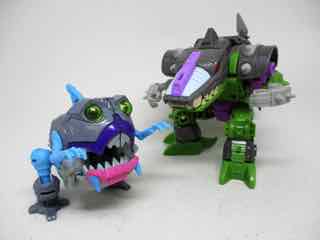 The monster mode adapts the design from the series to a toy, and you can see a lot of the key colors and landmarks from the show. While the beast hands are a different color in the toy, that's a nitpick. The extra sculpting changed the texture of the character, with the smooth, gator-like head losing the nasal spikes and adding ape-like horizontal lines around the schnoz. The teeth are less sharklike and more gnarled, beastly and twisted. There's plenty of paint on the beast head - and in it - which is great. You can open his jaws and he looks like some work went into him, but the toy is largely unpainted in this mode outside the cranial parts. You can also see the robot fists hanging off the sides. Normally one mode loses a little in service of making the other one look better, but in this case I would not say either mode looks great. It's stable and stands up, but it does not look like the monster on the TV, let alone what may have come to pass in your imagination.
Being a long-time fan of Transformers: The Movie for all its shortcomings and all of what makes it cool, this toy would probably tick the box of shortcomings. The simple transformation, ample kibble, and departure from the sleeker look of the design makes this a notable first attempt. Perhaps at a higher price point or with another designer, we'd see something that feels less clunky. Were this a Legends-sized toy you'd probably forgive it, but as it is, it's $20 or more. Hasbro has done amazing things for $20, and this is one you'll probably eagerly replace if they give it a second try down the road. The robot head sculpt is very good, the accessories are fine, the colors seem good, but the execution needs a remix.
--Adam Pawlus
Additional Images

Click here to see more Hasbro figures in Figure of the Day.
Click here to see more Transformers figures in Figure of the Day.

Want to buy this figure? Check Transformers availability at our sponsors:
Entertainment Earth