Airwave
WFC-E20

Transformers Generations War for Cybertron Earthrise Deluxe
Item No.: Asst. E7120 No. E7161
Manufacturer: Hasbro
Includes: 2 blasters
Action Feature: Transforms from robot to airport thing to base thing to armor bits
Retail: $19.99
Availability: September 2020
Other: Redecorated as Hothouse

PREVIOUS
RSS
NEXT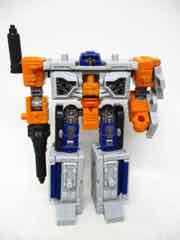 I had the original Micromasters airport as a kid, and I don't like the base modes for Airwave - they're too small. The forms mimic the original shapes, but you can't really play with your tiny jets here. That's pretty much what you need to know - it's a fine robot with interesting ideas, but it's too small to be the update you probably wanted (unless you never transform your toys and just shelve them.)
I would steer you toward an original if you want a playset for your miniature toys - but if you just want a cool robot, this one is probably worth your while.
Click here to check availability at Entertainment Earth.
It's a deluxe Airwave! The robot is a little squat in appearance thanks to his head, and has bizarre 5mm pegs on his shoulders - so if you want Arcee to stand there as some sort of robot cheer tower, this is doable. It's a new robot and it looks different than my other toys - this is good. The line is jam-packed with remakes of remakes, so something wholly original - despite a retro alt mode - is a rare find. The articulation is good with about 20 points of articulation. He can stand, or be drawn and quartered if that should please you.
Accessories include built-in blaster fist action, plus a duplicate blaster hanging off his shoulder for some reason. You can see the ramps of the airport mode all over the place, but what I love are the colors. Grey we see all the time, blue can do, but orange. Orange is what makes life worth living. I literally did not know he had orange eyes until I shone a flashlight in his face - the visor darkens them, with a central Shockwave-eye-like circle popping out more for some reason. That probably makes a good metaphor for the toy - lots of good ideas getting in the way of themselves. There's a lot here, but it's hard to appreciate given some of it casts a shadow over other parts.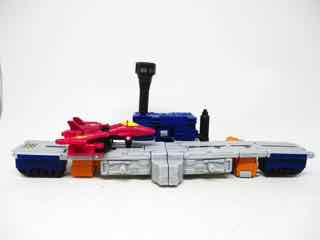 The transformation in all modes require some disassembly, and the base forms are close enough to the original that you probably will be fine with it from the perspective of "this ticks the update box." But is it fun? Not really. The airport is too small for a jet, and the original was pretty small as it was - this one lacks the opening garage door to store a plane inside, too. The roads are a bit small. But the colors are nice, and there's a control tower still. If you squint, it's there.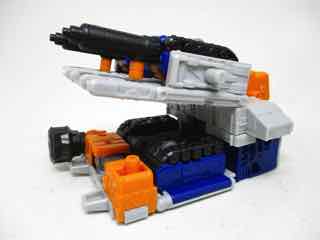 The battle station is similarly a update of the original toy, with less insane orange and more greeblies. You can't really use it as a bunker this time - you just have to leave it as is. This shape doesn't allow you to build out your battle city dioramas, either - the A.I.R. Lock ramps are too high up to really connect to anything. Also they're connected to guns. It just wouldn't work out. I give Hasbro and friends points for making this thing as a recognizable form you can buy in 2020, but I'm keeping my G1 original as it's more fun. I don't like disassembling and consulting instructions to transform things.
If you never had the original, this is probably pretty neat. But if you want to play with a battle base, this isn't a lot of toy - you can squeeze tons of modes out of it, but none of them struck me as a rollicking good time like a car or a dinosaur. I wouldn't necessarily say skip it - it is a new robot, after all - but maybe push it down the shopping list after you get the other ones you'd rather have. I guess it depends on what you feel your life is missing, which I assume is very little after almost 14 years of retro tribute lines.
--Adam Pawlus
Additional Images

Click here to see more Hasbro figures in Figure of the Day.
Click here to see more Transformers figures in Figure of the Day.

Want to buy this figure? Check Transformers availability at our sponsors:
Entertainment Earth