Sunstreaker
WFC-E36

Transformers Generations War for Cybertron Earthrise Deluxe
Item No.: Asst. E7120 No. E8208
Manufacturer: Hasbro
Includes: Rocket booster
Action Feature: Transforms from robot to car
Retail: $19.99
Availability: October 2020
Other: Redecorated as Cordon and Spin-Out

PREVIOUS
RSS
NEXT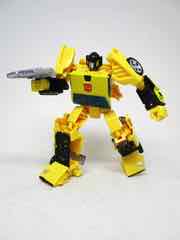 I didn't have Sunstreaker as a kid - and never really missed him as a toy not in my collection. It's a car! I'm told he's amazing - and I've bought a few versions of him over the years, like the Alternators toy and the Combiner Wars limb. This 2020 model has a blaster/booster piece - which makes for a rotten gun - and shares engineering with the likes of Runabout/Runamuck and Wheeljack. It's pretty good - it's fun to transform, and if you like yellow it's a gem.
Despite being something of a blank slate, it's fun to transform and like Sideswipe, worth the money for the fun.
Click here to check availability at Entertainment Earth.
He's tall, and he has about 22 points of articulation. This means he's fun to pose, but not perfect - there are multiple moving points at the shoulders, but some don't do him any favors. Thankfully there's a lot more to this toy than the shoulders, with tons of vents and other weird greeblies to make it interesting. The head has blue eyes, a silver face, and yellow ears - I like it. I wish the eyes were brighter, but they're good. The chest is painted yellow, so it clashes the tiniest bit with the yellow plastic. Everything else is painted well, and the sculpted decoration is mostly car parts. It's very yellow. He could have benefitted from a little more red, just to mix things up - but they nailed it overall. The arms seem a little long, the shins are black, the fists are yellow, the major landmarks are all there.
The booster makes a boring blaster, but it's something. (It's not enough.) I had to give him something from another set. The good news is he has no problem holding whatever weapons I've given him so far.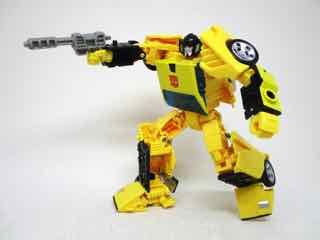 The transformation is easy, but I had to go through two of them - the first had hip joints so stiff I couldn't barely budge them with a couple pairs of pliers. The second one was a little tight, but not immobile. You don't need to move the hips to transform him, as the arms make the back of the car, the legs make the front, and you have to do some twisty torso stuff to get him in position. It's enjoyable.
The off-brand Lambo is fine. The wheels roll well, the booster fits nicely on top, but the silver interior to the windows seems odd for an Earth car. Like most collector-driven cars, the vehicle doesn't do a lot beyond roll around. The painted silver wheels mean this is one of the better vehicles in terms of decoration.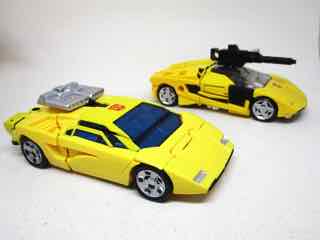 If you aren't Sunstreaker-ed out and have a spare blaster to give him, Sunstreaker is pretty good. Maybe you're happy with your Tigertrack, or other Sunstreakers. I like this one just fine, and feel inclined to leave the combiner one as an arm. It's good there. If you see it, and you have $20, it's pretty good.
--Adam Pawlus
Additional Images

Click here to see more Hasbro figures in Figure of the Day.
Click here to see more Transformers figures in Figure of the Day.

Want to buy this figure? Check Transformers availability at our sponsors:
Entertainment Earth