Dimetrodon
Dino-Riders-esque

Imaginext Feature Dinosaur
Item No.: Asst. W3618 No. W9537
Manufacturer: Fisher-Price
Includes: Human figure, mask, pick axe, dinosaur mining rig, silver Dimetrodon helmet, green "volcanium" piece
Action Feature: None to speak of, really
Retail: $10.99
Availability: Late 2011 or Early 2012 (unsure)
Other: Produced long before it started hitting widely

PREVIOUS
RSS
NEXT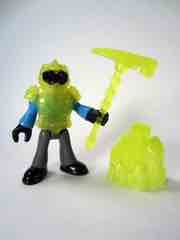 One of my favorite age-inappropriate toy lines to pick up is the Imaginext Dinosaur range. I've had a pretty steady streak at finding these for $7 at grocery stores, which continued with a Dimetrodon late in 2012. As our modern descendant of Dino-Riders, they have some neat play features, helmets, and bright colors. Unlike the originals there are no attempts to amp up authenticity and the age range is such that no retail store worker will ever suspect I'm buying them for myself which, as a toy collector, is a fun thing to watch go down. "I bet someone's been really good to deserve this!" I always say "Yes, someone really has been!" I spoil myself.
In this set you get a rather sizable dinosaur (technically, I know the Dimetrodon isn't technically a dino) with single-color eyes. This one is particularly interesting in that he wears a sneer and has single-color eyes, closer in appearance to the old Battle Beasts than his other brother dinosaurs in this toy line. He also has six points of articulation, with the neck, tail, and each limb able to easily move. The greenish-blue skin is a little odd with the orange sail highlights, but I do odd. I do it a lot. It's not bad, and you can mount this big mining rig on his sail with a pair of spinning buzzsaws and a control panel.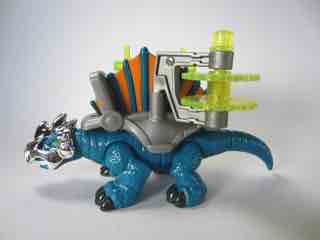 The human figure stands on the side of the creature sort of like a DJ, with a hand on each joystick to, I assume, control the weird clear green saws to cut out gems from caves. You can move the saw with your fingers and spin it, which is the bulk of the "action" from these figures. The human is standard fare, although he has a painted visor on his helmet which is pretty unusual in this line. With a blue suit, there's not a lot to really reach out and grab you beyond the fact that it does more closely match the color of many of the original Dino-Riders human drivers. The vac-metal silver mask has cut-outs so you can see the dimetrodon's face, which is unusual for the smaller dinosaurs so far.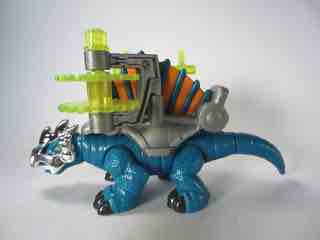 I usually tell Glyos fans to pick up Imaginext for those figures, but the grips on the control panel are NOT sized to be compatible with closed-fist Glyos mini-figures. As such, this toy is best bought on its own ample merits. It's fun, cheap, and has a lot of nifty parts to futz with. I'm not 4 years old, but if I were, I'd be delighted to have this. At several times that age, I can say it's neat and while it isn't as cool as my old Dino-Riders, it's still fun and I'll probably keep picking up these every now and again. I'd suggest an adult toy collector grab an Ankylosaurus or Raptor first as there's more you can do with those (with other toys), but hey, as a stand-alone thing it's worthy of your attention, if not your dollars.
--Adam Pawlus
Additional Images


Want to buy this figure or others like it? Check Fisher-Price availability at our sponsors:
Entertainment Earth

See more Fisher-Price figures in Figure of the Day:
Day 79: Fisher-Price Adventure People Alpha Star Astronaut Action Figure
Day 233: Fisher-Price Imaginext Space Station Toy Set
Day 404: Fisher-Price Imaginext Dinosaur Ankylosaurus
Day 528: Fisher-Price Imaginext Dinosaur Raptor
Day 643: Fisher-Price Adventure People Alpha Star Alien Creature
Day 766: Fisher-Price Imaginext Collectible Figures Diver
Day 796: Fisher-Price Imaginext Collectible Figures Robot
Day 830: Fisher-Price Imaginext Collectible Figures Mummy
Day 842: Fisher-Price Imaginext Space Ion Scorpion
Day 847: Fisher-Price Imaginext Space Ion Crab
Day 853: Fisher-Price Imaginext Space Alpha Blade
Day 954: Fisher-Price Imaginext Dinosaur Dimetrodon
Day 2,002: Fisher-Price Imaginext Series 10 Collectible Figures Spaceman & Alien
Day 2,014: Fisher-Price Imaginext Series 11 Collectible Figures X-Ray Man & Dog
Day 2,018: Fisher-Price Imaginext Series 11 Collectible Figures Radiation Man
Day 2,024: Fisher-Price Imaginext Series 11 Collectible Figures Triple Threat Snake
Day 2,032: Fisher-Price Imaginext Series 11 Collectible Figures M.U.S.C.L.E. Men
Day 2,036: Fisher-Price Imaginext Series 6 Collectible Figures Chicken Suit


See more Imaginext figures in Figure of the Day:
Day 233: Fisher-Price Imaginext Space Station Toy Set
Day 404: Fisher-Price Imaginext Dinosaur Ankylosaurus
Day 528: Fisher-Price Imaginext Dinosaur Raptor
Day 766: Fisher-Price Imaginext Collectible Figures Diver
Day 796: Fisher-Price Imaginext Collectible Figures Robot
Day 830: Fisher-Price Imaginext Collectible Figures Mummy
Day 842: Fisher-Price Imaginext Space Ion Scorpion
Day 847: Fisher-Price Imaginext Space Ion Crab
Day 853: Fisher-Price Imaginext Space Alpha Blade
Day 954: Fisher-Price Imaginext Dinosaur Dimetrodon
Day 2,002: Fisher-Price Imaginext Series 10 Collectible Figures Spaceman & Alien
Day 2,014: Fisher-Price Imaginext Series 11 Collectible Figures X-Ray Man & Dog
Day 2,018: Fisher-Price Imaginext Series 11 Collectible Figures Radiation Man
Day 2,024: Fisher-Price Imaginext Series 11 Collectible Figures Triple Threat Snake
Day 2,032: Fisher-Price Imaginext Series 11 Collectible Figures M.U.S.C.L.E. Men
Day 2,036: Fisher-Price Imaginext Series 6 Collectible Figures Chicken Suit