Diver
Reminiscent of Adventure People

Imaginext Blind-Bagged Collectible Figures
Item No.: Asst. Y8413
Manufacturer: Fisher-Price
Includes: Human figure, helmet, manta ray
Action Feature: n/a
Retail: $2.99
Availability: August 2013
Other: Look for #16 on upper-left of the foil packet on the back

PREVIOUS
RSS
NEXT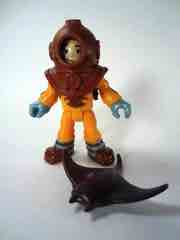 Blind bags are in and have been pretty hot stuff in the USA for the last few years - there are numerous aborted lines you don't know about yet, but Hasbro, Mattel, LEGO, Irwin, Playmobil, and others have all put out some sort of nifty collectible figures for three or so dollars a pop. In 2013 Mattel went young with Imaginext, giving us a great smattering of characters like this Diver which looks like it would be right at home in numerous vintage toy lines. I wanted it, so I got it - the figures are very easy to identify thanks to a number embossed on the back of the bag in the upper-left hand corner (see below). In this case, the number to look for is #16. As this is 16bit.com, of course that's the one I got first.
A classic giant deep sea helmet is here to cover the orange figure's head, and the figure's body is (surprisingly) a new sculpt. The deal with Imaginext is that they're largely all a single body type with unique deco or accessories, but these blind bags seem almost entirely new sculpts. It's a nice change of pace, and similar to what we see with LEGO's line - a lot of new parts are being introduced in this format.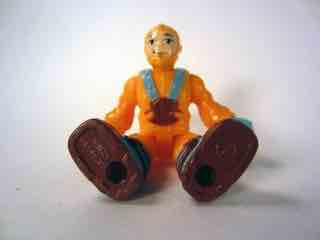 The diver is swell. On one hand, there's a sculpted octopus symbol with a painted logo over it. The other arm has the logo, but no sculpt. There are swell boots and a lot of detail, like some stitching on the sleeves, a sculpted zipper on the wet suit, and a few Imaginext "i" symbols throughout - the company is putting a greater emphasis on this now. His removable helmet has an I on it, and the various windows are wide open so this figure would drown were you to put him in your pool. It looks better this way, though, and you should take note of the air tanks and hoses making sure he doesn't quite die. The sculpt is far and away better than almost anything Imaginext has had over the last decade, so kudos to Mattel and Fisher-Price for putting some tooling money into this line.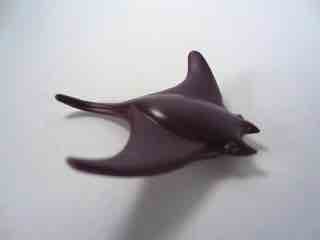 Joining him is a small purple manta ray. Why? I don't know. It's all right. There are some sculpted gills and eyes, but there's really nothing to this figure. It's cool, and I have to admit it's more creative than a gun (like the robot got). Bring on the sidekick figures! It's a proud action figure tradition. The diver can't hold it, it just sort of hangs out there.
I have a very limited Imaginext collection - maybe enough to fill a small box - but I really dig these blind box figures, and I've purchased 3 so far. I appreciate that I can identify figures from a number on the baggie, which lets me save a lot of time and money on duplicates. I assume this series, and indeed this entire line, should be a significant collectible series down the road. But for now, I like my $3 diver and I would suggest going out to buy one of these, just for the heck of it. The line is showing up at most major retailers so far.
--Adam Pawlus
Additional Images

Want to buy this figure or others like it? Check Fisher-Price availability at our sponsors:
Entertainment Earth

See more Fisher-Price figures in Figure of the Day:
Day 79: Fisher-Price Adventure People Alpha Star Astronaut Action Figure
Day 233: Fisher-Price Imaginext Space Station Toy Set
Day 404: Fisher-Price Imaginext Dinosaur Ankylosaurus
Day 528: Fisher-Price Imaginext Dinosaur Raptor
Day 643: Fisher-Price Adventure People Alpha Star Alien Creature
Day 766: Fisher-Price Imaginext Collectible Figures Diver
Day 796: Fisher-Price Imaginext Collectible Figures Robot
Day 830: Fisher-Price Imaginext Collectible Figures Mummy
Day 842: Fisher-Price Imaginext Space Ion Scorpion
Day 847: Fisher-Price Imaginext Space Ion Crab
Day 853: Fisher-Price Imaginext Space Alpha Blade
Day 954: Fisher-Price Imaginext Dinosaur Dimetrodon
Day 2,002: Fisher-Price Imaginext Series 10 Collectible Figures Spaceman & Alien
Day 2,014: Fisher-Price Imaginext Series 11 Collectible Figures X-Ray Man & Dog
Day 2,018: Fisher-Price Imaginext Series 11 Collectible Figures Radiation Man
Day 2,024: Fisher-Price Imaginext Series 11 Collectible Figures Triple Threat Snake
Day 2,032: Fisher-Price Imaginext Series 11 Collectible Figures M.U.S.C.L.E. Men
Day 2,036: Fisher-Price Imaginext Series 6 Collectible Figures Chicken Suit


See more Imaginext figures in Figure of the Day:
Day 233: Fisher-Price Imaginext Space Station Toy Set
Day 404: Fisher-Price Imaginext Dinosaur Ankylosaurus
Day 528: Fisher-Price Imaginext Dinosaur Raptor
Day 766: Fisher-Price Imaginext Collectible Figures Diver
Day 796: Fisher-Price Imaginext Collectible Figures Robot
Day 830: Fisher-Price Imaginext Collectible Figures Mummy
Day 842: Fisher-Price Imaginext Space Ion Scorpion
Day 847: Fisher-Price Imaginext Space Ion Crab
Day 853: Fisher-Price Imaginext Space Alpha Blade
Day 954: Fisher-Price Imaginext Dinosaur Dimetrodon
Day 2,002: Fisher-Price Imaginext Series 10 Collectible Figures Spaceman & Alien
Day 2,014: Fisher-Price Imaginext Series 11 Collectible Figures X-Ray Man & Dog
Day 2,018: Fisher-Price Imaginext Series 11 Collectible Figures Radiation Man
Day 2,024: Fisher-Price Imaginext Series 11 Collectible Figures Triple Threat Snake
Day 2,032: Fisher-Price Imaginext Series 11 Collectible Figures M.U.S.C.L.E. Men
Day 2,036: Fisher-Price Imaginext Series 6 Collectible Figures Chicken Suit