Firestar I
Unaired Sci-Fi Pilot

Adventure People Action Figures
Item No.: No. 357
Manufacturer: Hasbro
Includes: Ship, pilot,
Action Feature: Rolling wheels, space tether makes figure float
Retail: $5.99
Availability: ca. 1980
Other: Some boxed samples are named "Alpha Star," which was a wholly different vehicle

PREVIOUS
RSS
NEXT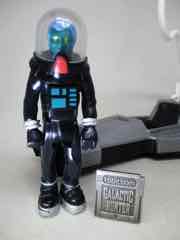 There are few joys greater than buying a boxed toy from your childhood so you can open it. The Firestar I is a space s hip with wheels that came out around 1980, possibly 1979, in two flavors: a black chassis with a silver interior (and engines), or the opposite of that. I assume it must have been a split to save on tooling/waste, but I have no idea. Boxed samples I see online have price tags of around $4-$6, which is a pretty good deal for a vehicle with a figure - Kenner Star Wars guys were in the $2-$3 range back when this was new. Thankfully this entire toy line has been largely memory-holed, so you can get one of these guys on eBay for under $10 if the sticker or accessories are missing. The space tether is frequently missing, as is he sticker on the nose - the figure is also frequently missing, and tends to be banged up. The silver rings on the arms and legs are often worn down, with the red on the helmet frequently damaged and the green buttons often scuffed. This is why I was happy to pay a smidgen more for a boxed one, but it looks like you can get a gorgeous specimen for around $30. That may sound like a lot, but this toy is over 40 years old - $30 is peanuts for a good one.
I lucked out. The box looked ratty but the vehicle is almost perfect, with good stickers. I was also wanting to get the tether for years - my Alpha Star (and driver) had places for them, but I guess Fisher-Price just assumed you must have one laying around. It's a simple accessory, but gives your figures "flight" or "low gravity" power with a simple sturdy piece of white plastic. I believe it was also included with the Alpha Probe, which I also do not yet have. But there's still time.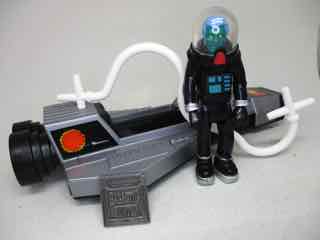 The vehicle is incredibly simple, and that's why this was so cheap. The ship is 2 unpainted pieces of plastic with wheels and 3 stickers - you can put a 3 3/4-inch figure in there, and roll it around. It's simple, angular, and very good for a toy of its time. It fits right in with Kenner's original Star Wars creations of the era with lot of angles and not many round surfaces. It's harsh - if this appeared on the Droids cartoon in other colors, it would fit right in. The decals were pre-applied and look pretty great - it's also worth noting it (and many of the vehicles) say "Made in USA" on them, and I don't know if that means assembled or actually squirted out. The figure is made in Hong Kong.
The 8-inch long vehicle looks really good, which is impressive given how few parts were used to make it. Action figure toys don't have to be electronic or overly complex to be interesting - a one-man fighter with some tubes you can pretend are cannons and a couple of engines cost less than a couple of action figures. Today, most vehicles have lots of moving parts, action features, cool mechanisms, and painted detailing - and you pay accordingly. But before you get too mad about "the Man" and toy prices today, $5.99 in 1980 is about $21.28 adjusted for inflation in 2022. And that's about what I paid for mine in 2022! Currently you can buy similar (but more complex) Imaginext toys from Lightyear for about $15. However, cheap 3 3/4-inch vehicles are far and few between outside Final Faction.
I very much like this vehicle's retro charm, but it doesn't exactly do a lot - there are no guns, no rockets, no launchers. It's just a solid little toy and the inclusion of wheels makes it a great pretend Landspeeder. (I should note, the big holes in the back of the engines are bigger than 5mm - so you can't cram your Transformers blasts in there.)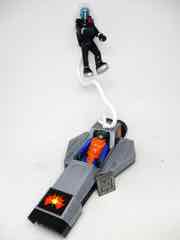 The nameless figure is a redeco of the astronaut from the Alpha Probe space shuttle - that one was white, with white person skin, and brown hair. The suit had gold trim. This one has silver trim on a black suit with some red flourishes and a green-skinned, yellow-eyed head with blue hair and a crystal-clear helmet. The same coloring was used on the heads of X-Ray Man and X-Ray Woman, so it's likely he's of the same species - and he looks cool! I love that a lot of these guys look like they'd be background characters in Star Wars or other sci-fi comics of the late 1970s.
The alien head looks like a human of his day, with simple yellow dots. They pop nicely, and remind me a lot of my old Jawas. The black suit and silver trim look a lot like a photo negative of the original release, and I think it works pretty well. It's weird, it's kind of creepy, plus it looks like the big bad guys from contemporary toy lines - you can see hints of Star Wars' Darth Vader and Micronauts Baron Karza. Unique to our pilot friend is a red and yellow shoulder patch, plus dark green buttons on both sides of his suit. The torso is remarkably similar to the later Alpha Star driver (and also the carded Alpha Pilot) with some minor differences, so I wouldn't be at all shocked to hear they just updated old tooling to make this guy. But I don't know if that's the case. His arms are posed with the wrists facing down, which is a rarity in this scale of toy. These figures didn't include weapons, so they were frequently posed to interact with instrument panels or other accessories.
Rounding out the set is a silly straw-shaped tether. Each end has 3 hardpoints that fit a hole in the ship, and another hole in the backpack of many of the space suit figures from this series. You can have him floating upside-down or generally defying gravity - it's great. The vehicle positioned the hole just perfectly so it won't tip the ship over or result in the figure falling off. As an incredibly simple design choice, you get a lot of fun for minimal added cost - we don't see this kind of thing very much. But, I should note, this kind of tether was included on the Imaginext Space Station Toy Set [FOTD #233], albeit with a waist clip. It's a good, fun idea.
This is a surprisingly good and durable vehicle with a great pilot that could have stood to have had more durable paint. It goes well with old Kenner stuff and inspired a ton of indie toy designers. I love the textured seating on the interior, I dig the sculpted dials on the control panel, and I appreciate that assembly looks supremely easy. If Mattel/Fisher-Price reissued this one today I'd say buy it - and if you see one in good condition for a fair price, and you have a 3 3/4-inch figure collection, you may enjoy it. I'd love to see more of this kind of thing.
--Adam Pawlus
Additional Images

See more Fisher-Price figures in Figure of the Day:
Day 79: Fisher-Price Adventure People Alpha Star Astronaut Action Figure
Day 233: Fisher-Price Imaginext Space Station Toy Set
Day 404: Fisher-Price Imaginext Dinosaur Ankylosaurus
Day 528: Fisher-Price Imaginext Dinosaur Raptor
Day 643: Fisher-Price Adventure People Alpha Star Alien Creature
Day 766: Fisher-Price Imaginext Collectible Figures Diver
Day 796: Fisher-Price Imaginext Collectible Figures Robot
Day 830: Fisher-Price Imaginext Collectible Figures Mummy
Day 842: Fisher-Price Imaginext Space Ion Scorpion
Day 847: Fisher-Price Imaginext Space Ion Crab
Day 853: Fisher-Price Imaginext Space Alpha Blade
Day 954: Fisher-Price Imaginext Dinosaur Dimetrodon
Day 2,002: Fisher-Price Imaginext Series 10 Collectible Figures Spaceman & Alien
Day 2,014: Fisher-Price Imaginext Series 11 Collectible Figures X-Ray Man & Dog
Day 2,018: Fisher-Price Imaginext Series 11 Collectible Figures Radiation Man
Day 2,024: Fisher-Price Imaginext Series 11 Collectible Figures Triple Threat Snake
Day 2,032: Fisher-Price Imaginext Series 11 Collectible Figures M.U.S.C.L.E. Men
Day 2,036: Fisher-Price Imaginext Series 6 Collectible Figures Chicken Suit
Day 2,092: Fisher-Price Imaginext Series 11 Collectible Figures Fishbot
Day 2,096: Fisher-Price Imaginext Series 12 Collectible Figures Big Building Robot
Day 2,099: Fisher-Price Imaginext Series 12 Collectible Figures Clawtron
Day 2,100: Fisher-Price Imaginext DC Super Friends Batman & Swamp Thing Action Figures
Day 2,101: Fisher-Price Imaginext Series 7 Collectible Figures Buster of Ghosts
Day 2,102: Fisher-Price Imaginext Pirates Shark Minisub Figure with Vehicle
Day 2,103: Fisher-Price Imaginext Jurassic World Dr. Malcolm & Dimetrodon Action Figures
Day 2,104: Fisher-Price Imaginext Egypt Mummy Guards Action Figures
Day 2,108: Fisher-Price Imaginext Series 9 Mystery Figures Grim Reaper
Day 2,122: Fisher-Price Imaginext Series 6 Collectible Figures 4 Arm Alien
Day 2,133: Fisher-Price Imaginext Series 7 Collectible Figures Headless Horseman
Day 2,194: Fisher-Price Imaginext Series 9 Mystery Figures Yeti Snowboarder
Day 2,227: Fisher-Price Imaginext Series 9 Mystery Figures Shark Pirate
Day 2,239: Fisher-Price Imaginext DC Super Friends Slammers Arctic Sled with Mr. Freeze Set
Day 2,249: Fisher-Price Imaginext DC Super Friends Slammers Batmobile with Batman Set
Day 2,257: Fisher-Price Imaginext DC Super Friends Surround Sound Batcave Playset
Day 2,306: Fisher-Price Imaginext 20th Anniversary Figures Jett Cosmoblast
Day 2,312: Fisher-Price Imaginext 20th Anniversary Figures FP-636
Day 2,318: Fisher-Price Imaginext 20th Anniversary Figures Shackles McMatey
Day 2,420: Fisher-Price Imaginext Series 8 Collectible Figures Woodland Mystic
Day 2,424: Fisher-Price Adventure People Astro Knight Action Figure
Day 2,449: Fisher-Price Imaginext Series 12 Collectible Figures Explorer
Day 2,452: Fisher-Price Adventure People Clawtron Action Figure
Day 2,455: Fisher-Price Adventure People Firestar I Vehicle with Pilot Action Figure
Day 2,457: Fisher-Price Adventure People Opticon Action Figure
Day 2,460: Fisher-Price Adventure People X-Ray Woman Action Figure
Day 2,464: Fisher-Price Imaginext Series 9 Mystery Figures Invisible Man
Day 2,468: Fisher-Price Imaginext Monsters Figure Pack
Day 2,487: Fisher-Price Imaginext Lightyear Hyperspeed Explorer XL-01
Day 2,522: Fisher-Price Imaginext Toy Story 4 Bunny & Buzz Lightyear
Day 2,542: Fisher-Price Adventure People X-Ray Man Action Figure

See more Adventure People figures in Figure of the Day:
Day 79: Fisher-Price Adventure People Alpha Star Astronaut Action Figure
Day 643: Fisher-Price Adventure People Alpha Star Alien Creature
Day 2,424: Fisher-Price Adventure People Astro Knight Action Figure
Day 2,452: Fisher-Price Adventure People Clawtron Action Figure
Day 2,455: Fisher-Price Adventure People Firestar I Vehicle with Pilot Action Figure
Day 2,457: Fisher-Price Adventure People Opticon Action Figure
Day 2,460: Fisher-Price Adventure People X-Ray Woman Action Figure
Day 2,542: Fisher-Price Adventure People X-Ray Man Action Figure