Spaceman & Alien
Return of Adventure People

Imaginext Series 10 Blind-Bagged Collectible Figures
Item No.: Asst. CDX70
Manufacturer: Fisher-Price
Includes: Figure, alien pet
Action Feature: n/a
Retail: $2.99
Availability: March 2018
Other: Look for #22 on upper-left of the foil packet on the back

PREVIOUS
RSS
NEXT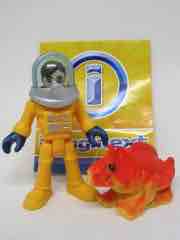 I had the original versions of these figures as a kid, so seeing a new version of the Spaceman & Alien sent me right out to the store - I went puttering around until I found one. I found the Alien Test Shots on eBay when I was in college [FOTD #643] and re-bought the Alpha Star set [FOTD #79] around the same time. I picked up some Imaginext toys early on because I always thought it would be super awesome to see new Adventure people in this format. And here we are - the new spaceman is a mix between the original Alpha Star driver and what seems to be a Brainoid-esque helmet, with the alien seemingly just being a scaled-down digital copy of the original. If it's not identical (but smaller), it's dang close with a hollowed-out bottom being a key difference. The alien is why I ran out to the store, then ran home to try it in an Imaginext playset.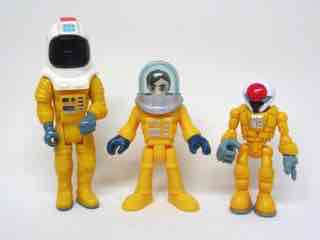 The 3-inch figure is remarkably close to the original Fisher-Price figure, but the blue on the gloves isn't very close. (Onell Design got it closer.) The helmet is not removable so the head's articulation is moot, but you get jointed shoulders, legs, and wrists - not bad for $3. No weapons are included and it makes me a little sad that this figure released as a blind bag would make me guess it's unlikely we'll ever see the actual Alpha Star vehicle released in this format. We're already getting X-Ray Man, so the unique helmet makes me think Brainoid is inevitable. Maybe Clawtron too.
While I love this figure, as a toy he could be better. I own precious few Imaginext vehicles and playsets, and the too-big helmet prevents him from fitting in many of the smaller vehicles. I also would have rather they kept the original opaque helmet - not only was it cooler, but it allowed the figure to be anyone or anything. Is it a man or woman? What color? A cat person? We didn't know - and now it's a white guy with brown hair. Oh well.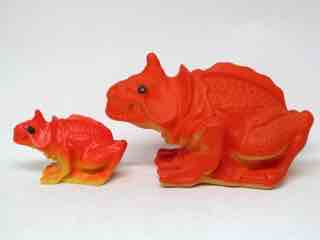 The alien is the alien - the colors match, the fin is the same, the horn is the same, the tail is in the same position... other than the hollow base, it may as well be a tiny replica of the original with better eye paint. As a kid this thing grabbed my imagination and held on tight because I didn't know what it was, and the box didn't have any answers - nor did my parents, beyond "alien creature." The eye deco is a little cleaner and it's harder plastic instead of rubber, but it's the same dang pose - at a glance, it may well be identical except now it's 2 1/4-inches long and lacks copyright markings. The style doesn't match the rest of Imaginext closely, as it's not as cartoony - but I don't care, I love it and it's perfect.
With references to Triple Threat Snake, X-Ray Man, and MUSCLE in Series 11 it would seem Mattel is trying hard to keep dads buying these. I don't know why they aren't milking Masters of the Universe for designs yet, but at least for now this $3 toy is just amazing. The alien creature is worth the $3 alone, the figure is a nice bonus. If you collect any 3-inch scale sci-fi line like Glyos or Jedi Force, you owe it to yourself to run out and buy this bagged figure set before it exits the market. I would have happily paid $10 for just the little monster. (Don't tell Fisher-Price.)
--Adam Pawlus
Additional Images

Want to buy this figure or others like it? Check Fisher-Price availability at our sponsors:
Entertainment Earth

See more Fisher-Price figures in Figure of the Day:
Day 79: Fisher-Price Adventure People Alpha Star Astronaut Action Figure
Day 233: Fisher-Price Imaginext Space Station Toy Set
Day 404: Fisher-Price Imaginext Dinosaur Ankylosaurus
Day 528: Fisher-Price Imaginext Dinosaur Raptor
Day 643: Fisher-Price Adventure People Alpha Star Alien Creature
Day 766: Fisher-Price Imaginext Collectible Figures Diver
Day 796: Fisher-Price Imaginext Collectible Figures Robot
Day 830: Fisher-Price Imaginext Collectible Figures Mummy
Day 842: Fisher-Price Imaginext Space Ion Scorpion
Day 847: Fisher-Price Imaginext Space Ion Crab
Day 853: Fisher-Price Imaginext Space Alpha Blade
Day 954: Fisher-Price Imaginext Dinosaur Dimetrodon
Day 2,002: Fisher-Price Imaginext Series 10 Collectible Figures Spaceman & Alien
Day 2,014: Fisher-Price Imaginext Series 11 Collectible Figures X-Ray Man & Dog
Day 2,018: Fisher-Price Imaginext Series 11 Collectible Figures Radiation Man
Day 2,024: Fisher-Price Imaginext Series 11 Collectible Figures Triple Threat Snake
Day 2,032: Fisher-Price Imaginext Series 11 Collectible Figures M.U.S.C.L.E. Men
Day 2,036: Fisher-Price Imaginext Series 6 Collectible Figures Chicken Suit
Day 2,092: Fisher-Price Imaginext Series 11 Collectible Figures Fishbot


See more Imaginext figures in Figure of the Day:
Day 233: Fisher-Price Imaginext Space Station Toy Set
Day 404: Fisher-Price Imaginext Dinosaur Ankylosaurus
Day 528: Fisher-Price Imaginext Dinosaur Raptor
Day 766: Fisher-Price Imaginext Collectible Figures Diver
Day 796: Fisher-Price Imaginext Collectible Figures Robot
Day 830: Fisher-Price Imaginext Collectible Figures Mummy
Day 842: Fisher-Price Imaginext Space Ion Scorpion
Day 847: Fisher-Price Imaginext Space Ion Crab
Day 853: Fisher-Price Imaginext Space Alpha Blade
Day 954: Fisher-Price Imaginext Dinosaur Dimetrodon
Day 2,002: Fisher-Price Imaginext Series 10 Collectible Figures Spaceman & Alien
Day 2,014: Fisher-Price Imaginext Series 11 Collectible Figures X-Ray Man & Dog
Day 2,018: Fisher-Price Imaginext Series 11 Collectible Figures Radiation Man
Day 2,024: Fisher-Price Imaginext Series 11 Collectible Figures Triple Threat Snake
Day 2,032: Fisher-Price Imaginext Series 11 Collectible Figures M.U.S.C.L.E. Men
Day 2,036: Fisher-Price Imaginext Series 6 Collectible Figures Chicken Suit
Day 2,092: Fisher-Price Imaginext Series 11 Collectible Figures Fishbot