Explorer
Inspired by Adventure People?

Imaginext Series 12 Blind-Bagged Collectible Figures
Item No.: Asst. CDX99 No. FXR62
Manufacturer: Fisher-Price
Includes: Backpack
Action Feature: n/a
Retail: $2.99
Availability: April 2019
Other: Look for #62 on upper-left of the foil packet on the back

PREVIOUS
RSS
NEXT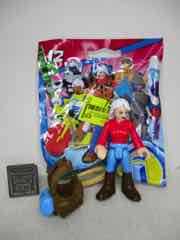 I waited to get this one until I couldn't say no to the price. The Explorer is a mishmash of existing parts - her body and legs are Claire from Jurassic World, the head is Black Canary, and the backpack is from the Jungle Training Batman figure that came with Swamp Thing [FOTD #2,100]. I got a fistful of 75-cent blind bags at a Walmart way back in August of 2020, after it seemed the format died out and sat on it until I really needed a pick-me-up/something fun to do. And here we are! (I wrote this in July 2022.)
Imaginext is a line I wish I had all of and am glad I don't - completism is expensive and results in even more clutter, plus with an incomplete set I don't think I own any figures I regret picking up. This series included a surfer with a bad tan, a mutant tiger ape, Clawtron/Firestar I pilot, this figure, a cyclist, and a robot building man. I ran out to get not-Clawtron and not-Big-Robot back in 2019, and was hoping series 13 would get announced before I open the remaining bags I bought. It looks like non-exclusive non-brand-IP Imaginext figures may be a thing of the past, as Kohl's has some castle guys and everything else is Minions or Jurassic or Batman or Pixar. This figure doesn't appear to be anything specific - but given the casual outdoorsy, sporty, or generally outdoorswear catalog look of Adventure People it's possible she's a nod to the Mountain Climbers.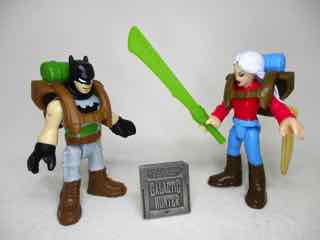 The 3-inch figure has no new parts - this series prided itself on using existing elements, which I assume was required to keep costs down. Back in 2019, a $3 action figure was effectively an impossibility. This one is pretty good for the money - she's got light gray or dark white hair, brown boots, a red shirt, and blue pants. The soles of her feet say "AMBLIN" on them, which is the giveaway that she has Speilbergian roots. My sample is a little back-heavy, with hair that doesn't seem like it was set exactly right - but for the price, she's still pretty neat. The limbs all swivel just fine, and she's something this line lacks. There are very few women, certainly few figures that read as middle-aged, and even fewer that aren't licensed or from extreme sports. It's just some lady. Maybe it's a mom figure? I can't say - but the solid colors look great and she seems like a retro figure if ever we got one. Unfortunately, there aren't a lot of places to put a modern, typical human person in this line - it's populated mostly by superheroes, monsters, and sports people. She's still cool, but she has no obvious home in a playset or vehicle.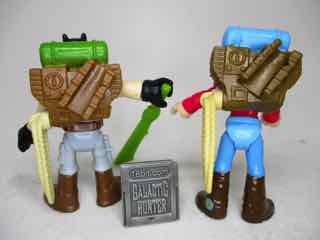 I would love to see this figure as part of a greater line with more generic cars (which exist, but are not widely distributed) or planes (formerly exclusive and gone.) She's cool! And she has Batman's backpack, which you can see has some decorative rope and a place to mount a sword that was presumably costed out of this set. It doesn't fit her thin frame very well. She could have benefitted from an extra accessory, and my sample's neck is super tight. She's a sharp reuse of existing parts, and will no doubt be of more interest to people that just appreciate a good toy than anyone collecting these down the road. It would be nice to have more figures like this, but I doubt we'll see any more waves of mystery bag figures. That trend seems to be ending.
--Adam Pawlus
Additional Images

See more Fisher-Price figures in Figure of the Day:
Day 79: Fisher-Price Adventure People Alpha Star Astronaut Action Figure
Day 233: Fisher-Price Imaginext Space Station Toy Set
Day 404: Fisher-Price Imaginext Dinosaur Ankylosaurus
Day 528: Fisher-Price Imaginext Dinosaur Raptor
Day 643: Fisher-Price Adventure People Alpha Star Alien Creature
Day 766: Fisher-Price Imaginext Collectible Figures Diver
Day 796: Fisher-Price Imaginext Collectible Figures Robot
Day 830: Fisher-Price Imaginext Collectible Figures Mummy
Day 842: Fisher-Price Imaginext Space Ion Scorpion
Day 847: Fisher-Price Imaginext Space Ion Crab
Day 853: Fisher-Price Imaginext Space Alpha Blade
Day 954: Fisher-Price Imaginext Dinosaur Dimetrodon
Day 2,002: Fisher-Price Imaginext Series 10 Collectible Figures Spaceman & Alien
Day 2,014: Fisher-Price Imaginext Series 11 Collectible Figures X-Ray Man & Dog
Day 2,018: Fisher-Price Imaginext Series 11 Collectible Figures Radiation Man
Day 2,024: Fisher-Price Imaginext Series 11 Collectible Figures Triple Threat Snake
Day 2,032: Fisher-Price Imaginext Series 11 Collectible Figures M.U.S.C.L.E. Men
Day 2,036: Fisher-Price Imaginext Series 6 Collectible Figures Chicken Suit
Day 2,092: Fisher-Price Imaginext Series 11 Collectible Figures Fishbot
Day 2,096: Fisher-Price Imaginext Series 12 Collectible Figures Big Building Robot
Day 2,099: Fisher-Price Imaginext Series 12 Collectible Figures Clawtron
Day 2,100: Fisher-Price Imaginext DC Super Friends Batman & Swamp Thing Action Figures
Day 2,101: Fisher-Price Imaginext Series 7 Collectible Figures Buster of Ghosts
Day 2,102: Fisher-Price Imaginext Pirates Shark Minisub Figure with Vehicle
Day 2,103: Fisher-Price Imaginext Jurassic World Dr. Malcolm & Dimetrodon Action Figures
Day 2,104: Fisher-Price Imaginext Egypt Mummy Guards Action Figures
Day 2,108: Fisher-Price Imaginext Series 9 Mystery Figures Grim Reaper
Day 2,122: Fisher-Price Imaginext Series 6 Collectible Figures 4 Arm Alien
Day 2,133: Fisher-Price Imaginext Series 7 Collectible Figures Headless Horseman
Day 2,194: Fisher-Price Imaginext Series 9 Mystery Figures Yeti Snowboarder
Day 2,227: Fisher-Price Imaginext Series 9 Mystery Figures Shark Pirate
Day 2,239: Fisher-Price Imaginext DC Super Friends Slammers Arctic Sled with Mr. Freeze Set
Day 2,249: Fisher-Price Imaginext DC Super Friends Slammers Batmobile with Batman Set
Day 2,257: Fisher-Price Imaginext DC Super Friends Surround Sound Batcave Playset
Day 2,306: Fisher-Price Imaginext 20th Anniversary Figures Jett Cosmoblast
Day 2,312: Fisher-Price Imaginext 20th Anniversary Figures FP-636
Day 2,318: Fisher-Price Imaginext 20th Anniversary Figures Shackles McMatey
Day 2,420: Fisher-Price Imaginext Series 8 Collectible Figures Woodland Mystic
Day 2,424: Fisher-Price Adventure People Astro Knight Action Figure
Day 2,449: Fisher-Price Imaginext Series 12 Collectible Figures Explorer
Day 2,452: Fisher-Price Adventure People Clawtron Action Figure
Day 2,455: Fisher-Price Adventure People Firestar I Vehicle with Pilot Action Figure
Day 2,457: Fisher-Price Adventure People Opticon Action Figure
Day 2,460: Fisher-Price Adventure People X-Ray Woman Action Figure
Day 2,464: Fisher-Price Imaginext Series 9 Mystery Figures Invisible Man
Day 2,468: Fisher-Price Imaginext Monsters Figure Pack
Day 2,487: Fisher-Price Imaginext Lightyear Hyperspeed Explorer XL-01
Day 2,522: Fisher-Price Imaginext Toy Story 4 Bunny & Buzz Lightyear
Day 2,542: Fisher-Price Adventure People X-Ray Man Action Figure

See more Imaginext figures in Figure of the Day:
Day 233: Fisher-Price Imaginext Space Station Toy Set
Day 404: Fisher-Price Imaginext Dinosaur Ankylosaurus
Day 528: Fisher-Price Imaginext Dinosaur Raptor
Day 766: Fisher-Price Imaginext Collectible Figures Diver
Day 796: Fisher-Price Imaginext Collectible Figures Robot
Day 830: Fisher-Price Imaginext Collectible Figures Mummy
Day 842: Fisher-Price Imaginext Space Ion Scorpion
Day 847: Fisher-Price Imaginext Space Ion Crab
Day 853: Fisher-Price Imaginext Space Alpha Blade
Day 954: Fisher-Price Imaginext Dinosaur Dimetrodon
Day 2,002: Fisher-Price Imaginext Series 10 Collectible Figures Spaceman & Alien
Day 2,014: Fisher-Price Imaginext Series 11 Collectible Figures X-Ray Man & Dog
Day 2,018: Fisher-Price Imaginext Series 11 Collectible Figures Radiation Man
Day 2,024: Fisher-Price Imaginext Series 11 Collectible Figures Triple Threat Snake
Day 2,032: Fisher-Price Imaginext Series 11 Collectible Figures M.U.S.C.L.E. Men
Day 2,036: Fisher-Price Imaginext Series 6 Collectible Figures Chicken Suit
Day 2,092: Fisher-Price Imaginext Series 11 Collectible Figures Fishbot
Day 2,096: Fisher-Price Imaginext Series 12 Collectible Figures Big Building Robot
Day 2,099: Fisher-Price Imaginext Series 12 Collectible Figures Clawtron
Day 2,100: Fisher-Price Imaginext DC Super Friends Batman & Swamp Thing Action Figures
Day 2,101: Fisher-Price Imaginext Series 7 Collectible Figures Buster of Ghosts
Day 2,102: Fisher-Price Imaginext Pirates Shark Minisub Figure with Vehicle
Day 2,103: Fisher-Price Imaginext Jurassic World Dr. Malcolm & Dimetrodon Action Figures
Day 2,104: Fisher-Price Imaginext Egypt Mummy Guards Action Figures
Day 2,108: Fisher-Price Imaginext Series 9 Mystery Figures Grim Reaper
Day 2,122: Fisher-Price Imaginext Series 6 Collectible Figures 4 Arm Alien
Day 2,133: Fisher-Price Imaginext Series 7 Collectible Figures Headless Horseman
Day 2,194: Fisher-Price Imaginext Series 9 Mystery Figures Yeti Snowboarder
Day 2,227: Fisher-Price Imaginext Series 9 Mystery Figures Shark Pirate
Day 2,239: Fisher-Price Imaginext DC Super Friends Slammers Arctic Sled with Mr. Freeze Set
Day 2,249: Fisher-Price Imaginext DC Super Friends Slammers Batmobile with Batman Set
Day 2,257: Fisher-Price Imaginext DC Super Friends Surround Sound Batcave Playset
Day 2,306: Fisher-Price Imaginext 20th Anniversary Figures Jett Cosmoblast
Day 2,312: Fisher-Price Imaginext 20th Anniversary Figures FP-636
Day 2,318: Fisher-Price Imaginext 20th Anniversary Figures Shackles McMatey
Day 2,449: Fisher-Price Imaginext Series 12 Collectible Figures Explorer
Day 2,464: Fisher-Price Imaginext Series 9 Mystery Figures Invisible Man
Day 2,468: Fisher-Price Imaginext Monsters Figure Pack
Day 2,487: Fisher-Price Imaginext Lightyear Hyperspeed Explorer XL-01
Day 2,522: Fisher-Price Imaginext Toy Story 4 Bunny & Buzz Lightyear