Opticon
Space Robots Action Fun!

Adventure People Action Figures
Item No.: Asst. 392 No. 371
Manufacturer: Fisher-Price
Includes: n/a
Action Feature: Distinctive configurations and not-quite-kaleidoscope lens head
Retail: $0.48-$2
Availability: ca. 1982
Other: That toy washing machine you always wanted

PREVIOUS
RSS
NEXT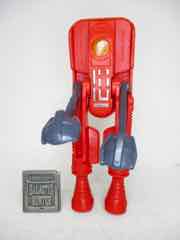 I am pretty enamored with new toys made to look like old toys, some of which - like Healey Made's stunning 3 3/4-inch Glyos-compaitble figures - get somewhat expensive. $25 isn't terrible, but it dawned on me that rather than buy new figures that look like old figures I wish I had, I could also buy the actual old figures. For example, Opticon. The figure is dated 1981, the packaging is labeled 1979, and as far as I can tell the first catalog online with him in it is from 1983 - but I can't find a 1982 catalog. I assume this means he came out in 1982, but I can't be completely sure - which means that when I picked up this figure on the roughest toy packaging I've ever seen outside of a Kay-Bee Toys clearance bin in Tucson, AZ (ask my friend Shaun for the footage.) When I opened Opticon, it was about 40 years old.
Most single-carded Adventure People tended to be repaints, or retools, of other figures. Opticon was the rare carded figure that doesn't share any tooling with any other figure in the line. You could get him in a 3-pack or by himself, and what's funny is he's very much of his time. Iin 1982 and 1983, there's a good chance kids were also getting The Empire Strikes Back droids like FX-7 and 2-1B, meaning they're probably open to unusual body types with unusual configurations. Opticon absolutely feels like a toy inspired by someone who saw, but did not entirely grasp, the unique Star Wars aesthetic. Maybe it was someone who just wanted something that looked more like a distant cousin of Micronauts, and more or less nailed it. What I found charming about the idea of owning this figure was that I didn't have anything else that seemed similar, and I already had Optivos [FOTD #1,910], the Onell Design tribute to this guy.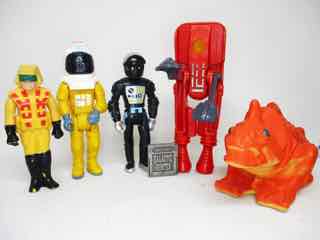 This figure just barely predates the transforming toy phenomenon of the 1980s, when GoBots and Transformers took the baton from Micronauts and then beat them to death. This is notable because the toy, as packaged, feels very much like a toy designed to play with a kid's imagination. In its default robot mode, it looks like some sort of robot... or washing machine. The feet look like space ship rockets, so you could rotate him and "whoosh" him around to pretend you got a tiny toy vehicle. However, the packaging shows the toy as a much taller, unfolded robot where the "front" is now the back and his center of gravity changes a bit. On my sample, the soles of the feet are slightly rounded so this means he struggles to stay standing upright without assistance or finding of a "sweet spot." Better tooled feet could have solved that, but such is life. It's good, but not perfect. The folded-up droid can stand with relative ease.
Like many figures of his era, it's light on paint. Loose samples typically have his silver and black buttons scuffed, which is why I went after a rough packaged version. The paint was perfect! There are 39 silver buttons and 2 black ones, and I'm trying to take care to not scuff them. That mirrored finish is tough for a toy that had to survive in a child's toy box, and I hope it won't flake off if I look at it funny. I don't know that they're meant to represent anything in particular, and the figure looks a lot like some of the chunky Tomy robots of his era. Or a calculator. It's fun, it's goofy, and when fully extended he's 4 1/2-inches tall.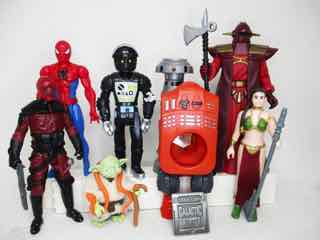 Despite being removed from a card and never touched by human hands, the limbs on mine are a tiny bit loose - they may sag with gravity when held up. Other figures I've seen tend to be tight for quite some time, so this was a surprise. The legs rotate fully, and the arms do too - this allows you to reconfigure the figure. He can't hold anything, he can't sit in anything, and he can barely stand without assistance - it's a truly weird robot. You're buying this guy because he looks cool, and because you have a grain of rice or some tiny shim to prop him up somewhere. The shorter configuration is a bit more stable on its own, but when clammed up he has no moving parts. When fully extended, you can move the arms up and down to work the controls of a playset or ship.
The sculpting is very simple, with lots of flat surfaces, a few fake buttons, and some ribbed parts - they didn't go out of their way to overdo it here. There's a lot to look at, and the design is open to interpretation. The big orange gem seems to be a good possibility for the eye - hence the name Opticon - as it's a jewel you can peer through and see things through an amber haze. When I opened this figure, the gem was a little dirty due to age (and possibly the environment), fogged over and needing to be wiped down. It was particularly hard to get the grime off the inside, but using the right tools, it was doable. When compressed, the giant jewel absolutely needs to be clean - otherwise it just looks kind of gross. When fully extended, the emphasis is on an orange, backlit hole - so you don't notice as much.
Some old figures are classics, but Opticon shows his age. Having to clean a mint-off-the-card figure was a new experience, but other than the grime it's in good shape. Tthe silver is clean, the black buttons are nice, and most of the plastic was in good shape too minus a few random flecks of black and white on the body. I think for the original price (adjusted for inflation) this is an absolute gem for toy collectors everywhere. But, thanks to the weird clear plastic grime and the inability to stand, I wouldn't recommend this figure at a premium price to everybody unless you feel you just have to play with one for yourself. It's good, but Clawtron is much cheaper and arguably has aged much more nicely. He seems like a good fit to hang out with classic Pharoids and some recent robot toys I've bought, and seems like he would make a lot of kids happy as an extra addition to their 1980s Star Wars toy boxes.
--Adam Pawlus
Additional Images

See more Fisher-Price figures in Figure of the Day:
Day 79: Fisher-Price Adventure People Alpha Star Astronaut Action Figure
Day 233: Fisher-Price Imaginext Space Station Toy Set
Day 404: Fisher-Price Imaginext Dinosaur Ankylosaurus
Day 528: Fisher-Price Imaginext Dinosaur Raptor
Day 643: Fisher-Price Adventure People Alpha Star Alien Creature
Day 766: Fisher-Price Imaginext Collectible Figures Diver
Day 796: Fisher-Price Imaginext Collectible Figures Robot
Day 830: Fisher-Price Imaginext Collectible Figures Mummy
Day 842: Fisher-Price Imaginext Space Ion Scorpion
Day 847: Fisher-Price Imaginext Space Ion Crab
Day 853: Fisher-Price Imaginext Space Alpha Blade
Day 954: Fisher-Price Imaginext Dinosaur Dimetrodon
Day 2,002: Fisher-Price Imaginext Series 10 Collectible Figures Spaceman & Alien
Day 2,014: Fisher-Price Imaginext Series 11 Collectible Figures X-Ray Man & Dog
Day 2,018: Fisher-Price Imaginext Series 11 Collectible Figures Radiation Man
Day 2,024: Fisher-Price Imaginext Series 11 Collectible Figures Triple Threat Snake
Day 2,032: Fisher-Price Imaginext Series 11 Collectible Figures M.U.S.C.L.E. Men
Day 2,036: Fisher-Price Imaginext Series 6 Collectible Figures Chicken Suit
Day 2,092: Fisher-Price Imaginext Series 11 Collectible Figures Fishbot
Day 2,096: Fisher-Price Imaginext Series 12 Collectible Figures Big Building Robot
Day 2,099: Fisher-Price Imaginext Series 12 Collectible Figures Clawtron
Day 2,100: Fisher-Price Imaginext DC Super Friends Batman & Swamp Thing Action Figures
Day 2,101: Fisher-Price Imaginext Series 7 Collectible Figures Buster of Ghosts
Day 2,102: Fisher-Price Imaginext Pirates Shark Minisub Figure with Vehicle
Day 2,103: Fisher-Price Imaginext Jurassic World Dr. Malcolm & Dimetrodon Action Figures
Day 2,104: Fisher-Price Imaginext Egypt Mummy Guards Action Figures
Day 2,108: Fisher-Price Imaginext Series 9 Mystery Figures Grim Reaper
Day 2,122: Fisher-Price Imaginext Series 6 Collectible Figures 4 Arm Alien
Day 2,133: Fisher-Price Imaginext Series 7 Collectible Figures Headless Horseman
Day 2,194: Fisher-Price Imaginext Series 9 Mystery Figures Yeti Snowboarder
Day 2,227: Fisher-Price Imaginext Series 9 Mystery Figures Shark Pirate
Day 2,239: Fisher-Price Imaginext DC Super Friends Slammers Arctic Sled with Mr. Freeze Set
Day 2,249: Fisher-Price Imaginext DC Super Friends Slammers Batmobile with Batman Set
Day 2,257: Fisher-Price Imaginext DC Super Friends Surround Sound Batcave Playset
Day 2,306: Fisher-Price Imaginext 20th Anniversary Figures Jett Cosmoblast
Day 2,312: Fisher-Price Imaginext 20th Anniversary Figures FP-636
Day 2,318: Fisher-Price Imaginext 20th Anniversary Figures Shackles McMatey
Day 2,420: Fisher-Price Imaginext Series 8 Collectible Figures Woodland Mystic
Day 2,424: Fisher-Price Adventure People Astro Knight Action Figure
Day 2,449: Fisher-Price Imaginext Series 12 Collectible Figures Explorer
Day 2,452: Fisher-Price Adventure People Clawtron Action Figure
Day 2,455: Fisher-Price Adventure People Firestar I Vehicle with Pilot Action Figure
Day 2,457: Fisher-Price Adventure People Opticon Action Figure
Day 2,460: Fisher-Price Adventure People X-Ray Woman Action Figure
Day 2,464: Fisher-Price Imaginext Series 9 Mystery Figures Invisible Man
Day 2,468: Fisher-Price Imaginext Monsters Figure Pack
Day 2,487: Fisher-Price Imaginext Lightyear Hyperspeed Explorer XL-01
Day 2,522: Fisher-Price Imaginext Toy Story 4 Bunny & Buzz Lightyear
Day 2,542: Fisher-Price Adventure People X-Ray Man Action Figure

See more Adventure People figures in Figure of the Day:
Day 79: Fisher-Price Adventure People Alpha Star Astronaut Action Figure
Day 643: Fisher-Price Adventure People Alpha Star Alien Creature
Day 2,424: Fisher-Price Adventure People Astro Knight Action Figure
Day 2,452: Fisher-Price Adventure People Clawtron Action Figure
Day 2,455: Fisher-Price Adventure People Firestar I Vehicle with Pilot Action Figure
Day 2,457: Fisher-Price Adventure People Opticon Action Figure
Day 2,460: Fisher-Price Adventure People X-Ray Woman Action Figure
Day 2,542: Fisher-Price Adventure People X-Ray Man Action Figure