M.U.S.C.L.E. Men
Return of Muscle

Imaginext Series 11 Blind-Bagged Collectible Figures
Item No.: Asst. FMW53 No. FMW54
Manufacturer: Fisher-Price
Includes: 2 figures
Action Feature: n/a
Retail: $2.99
Availability: June 2018
Other: Look for #55 on upper-left of the foil packet on the back

PREVIOUS
RSS
NEXT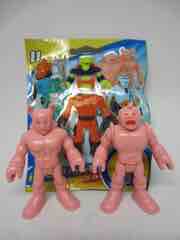 I don't see any names or branding associated with the M.U.S.C.L.E. Men, which are similar to but distinct from the 1980s Buffaloman and Muscleman figures in Mattel's US release of Kinnikuman. These figures make me wonder if Imaginext is done and this is saying goodbye by giving dads and collectors the best series ever. It's a 2-pack of rubbery, non-articulated figures for three bucks. I would buy dozens more.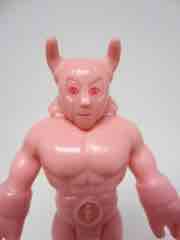 Each 3-inch figure is a weird rubbery texture that's flexible, not unlike the original figures. The pink is different, and for all I know is scientifically impossible to replicate since nobody is getting it right. The two new figures have added painted face details rather than relying on shadows like the original unpainted wrestlers. They can use the footprints on the playsets, hold accessories in their open hands, and fight one another. But their arms can't move, nor can their legs, nor can their necks. It's two slug figures, hence why there's no accessories and limited paint. There's an ankle mark with the "I" symbol which matches their belt buckles in style, but not color.
Buffaloman has long hair, but there are numerous subtle changes to the outfit - most likely to skirt any accusations of using an old, trademarked design. There are horns, a mask, and long hair but the outfit has been changed with different briefs, no gloves, different boots, and a different face paint job. It's different enough.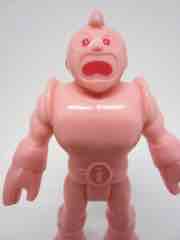 Similarly, Muscleman is also changed to be a pastiche of other figures. The #234 shoulders are here, the body is largely smooth, and the face looks surprised. There's also a nub and some ridges on the hair/crest/whatever it is, plus the added "i" belt. Fans know what Mattel and Fisher-Price are doing here, but like third party toys they made sufficient changes to potentially ward off any curious lawyers.
If you're into cheap thrills, consider this set a must-buy. I'd recommend most of the series - half the packets are clearly there for us old toy fans, while the rest are just plain interesting. Nice stuff. I hope this line goes on - Walmarts seem to be getting rid of the assortment, while keeping DC blind bags. Not many stores carry these so I worry for the future.
--Adam Pawlus
Additional Images

See more Fisher-Price figures in Figure of the Day:
Day 79: Fisher-Price Adventure People Alpha Star Astronaut Action Figure
Day 233: Fisher-Price Imaginext Space Station Toy Set
Day 404: Fisher-Price Imaginext Dinosaur Ankylosaurus
Day 528: Fisher-Price Imaginext Dinosaur Raptor
Day 643: Fisher-Price Adventure People Alpha Star Alien Creature
Day 766: Fisher-Price Imaginext Collectible Figures Diver
Day 796: Fisher-Price Imaginext Collectible Figures Robot
Day 830: Fisher-Price Imaginext Collectible Figures Mummy
Day 842: Fisher-Price Imaginext Space Ion Scorpion
Day 847: Fisher-Price Imaginext Space Ion Crab
Day 853: Fisher-Price Imaginext Space Alpha Blade
Day 954: Fisher-Price Imaginext Dinosaur Dimetrodon
Day 2,002: Fisher-Price Imaginext Series 10 Collectible Figures Spaceman & Alien
Day 2,014: Fisher-Price Imaginext Series 11 Collectible Figures X-Ray Man & Dog
Day 2,018: Fisher-Price Imaginext Series 11 Collectible Figures Radiation Man
Day 2,024: Fisher-Price Imaginext Series 11 Collectible Figures Triple Threat Snake
Day 2,032: Fisher-Price Imaginext Series 11 Collectible Figures M.U.S.C.L.E. Men
Day 2,036: Fisher-Price Imaginext Series 6 Collectible Figures Chicken Suit
Day 2,092: Fisher-Price Imaginext Series 11 Collectible Figures Fishbot
Day 2,096: Fisher-Price Imaginext Series 12 Collectible Figures Big Building Robot
Day 2,099: Fisher-Price Imaginext Series 12 Collectible Figures Clawtron
Day 2,100: Fisher-Price Imaginext DC Super Friends Batman & Swamp Thing Action Figures
Day 2,101: Fisher-Price Imaginext Series 7 Collectible Figures Buster of Ghosts
Day 2,102: Fisher-Price Imaginext Pirates Shark Minisub Figure with Vehicle
Day 2,103: Fisher-Price Imaginext Jurassic World Dr. Malcolm & Dimetrodon Action Figures
Day 2,104: Fisher-Price Imaginext Egypt Mummy Guards Action Figures
Day 2,108: Fisher-Price Imaginext Series 9 Mystery Figures Grim Reaper
Day 2,122: Fisher-Price Imaginext Series 6 Collectible Figures 4 Arm Alien
Day 2,133: Fisher-Price Imaginext Series 7 Collectible Figures Headless Horseman
Day 2,194: Fisher-Price Imaginext Series 9 Mystery Figures Yeti Snowboarder
Day 2,227: Fisher-Price Imaginext Series 9 Mystery Figures Shark Pirate
Day 2,239: Fisher-Price Imaginext DC Super Friends Slammers Arctic Sled with Mr. Freeze Set
Day 2,249: Fisher-Price Imaginext DC Super Friends Slammers Batmobile with Batman Set
Day 2,257: Fisher-Price Imaginext DC Super Friends Surround Sound Batcave Playset
Day 2,306: Fisher-Price Imaginext 20th Anniversary Figures Jett Cosmoblast
Day 2,312: Fisher-Price Imaginext 20th Anniversary Figures FP-636
Day 2,318: Fisher-Price Imaginext 20th Anniversary Figures Shackles McMatey
Day 2,420: Fisher-Price Imaginext Series 8 Collectible Figures Woodland Mystic
Day 2,424: Fisher-Price Adventure People Astro Knight Action Figure
Day 2,449: Fisher-Price Imaginext Series 12 Collectible Figures Explorer
Day 2,452: Fisher-Price Adventure People Clawtron Action Figure
Day 2,455: Fisher-Price Adventure People Firestar I Vehicle with Pilot Action Figure
Day 2,457: Fisher-Price Adventure People Opticon Action Figure
Day 2,460: Fisher-Price Adventure People X-Ray Woman Action Figure
Day 2,464: Fisher-Price Imaginext Series 9 Mystery Figures Invisible Man
Day 2,468: Fisher-Price Imaginext Monsters Figure Pack
Day 2,487: Fisher-Price Imaginext Lightyear Hyperspeed Explorer XL-01
Day 2,522: Fisher-Price Imaginext Toy Story 4 Bunny & Buzz Lightyear
Day 2,542: Fisher-Price Adventure People X-Ray Man Action Figure

See more M.U.S.C.L.E. figures in Figure of the Day:
Day 319: Mattel M.U.S.C.L.E. Amolman Action Figure
Day 332: Mattel M.U.S.C.L.E. Springman Action Figure
Day 2,032: Fisher-Price Imaginext Series 11 Collectible Figures M.U.S.C.L.E. Men

See more Imaginext figures in Figure of the Day:
Day 233: Fisher-Price Imaginext Space Station Toy Set
Day 404: Fisher-Price Imaginext Dinosaur Ankylosaurus
Day 528: Fisher-Price Imaginext Dinosaur Raptor
Day 766: Fisher-Price Imaginext Collectible Figures Diver
Day 796: Fisher-Price Imaginext Collectible Figures Robot
Day 830: Fisher-Price Imaginext Collectible Figures Mummy
Day 842: Fisher-Price Imaginext Space Ion Scorpion
Day 847: Fisher-Price Imaginext Space Ion Crab
Day 853: Fisher-Price Imaginext Space Alpha Blade
Day 954: Fisher-Price Imaginext Dinosaur Dimetrodon
Day 2,002: Fisher-Price Imaginext Series 10 Collectible Figures Spaceman & Alien
Day 2,014: Fisher-Price Imaginext Series 11 Collectible Figures X-Ray Man & Dog
Day 2,018: Fisher-Price Imaginext Series 11 Collectible Figures Radiation Man
Day 2,024: Fisher-Price Imaginext Series 11 Collectible Figures Triple Threat Snake
Day 2,032: Fisher-Price Imaginext Series 11 Collectible Figures M.U.S.C.L.E. Men
Day 2,036: Fisher-Price Imaginext Series 6 Collectible Figures Chicken Suit
Day 2,092: Fisher-Price Imaginext Series 11 Collectible Figures Fishbot
Day 2,096: Fisher-Price Imaginext Series 12 Collectible Figures Big Building Robot
Day 2,099: Fisher-Price Imaginext Series 12 Collectible Figures Clawtron
Day 2,100: Fisher-Price Imaginext DC Super Friends Batman & Swamp Thing Action Figures
Day 2,101: Fisher-Price Imaginext Series 7 Collectible Figures Buster of Ghosts
Day 2,102: Fisher-Price Imaginext Pirates Shark Minisub Figure with Vehicle
Day 2,103: Fisher-Price Imaginext Jurassic World Dr. Malcolm & Dimetrodon Action Figures
Day 2,104: Fisher-Price Imaginext Egypt Mummy Guards Action Figures
Day 2,108: Fisher-Price Imaginext Series 9 Mystery Figures Grim Reaper
Day 2,122: Fisher-Price Imaginext Series 6 Collectible Figures 4 Arm Alien
Day 2,133: Fisher-Price Imaginext Series 7 Collectible Figures Headless Horseman
Day 2,194: Fisher-Price Imaginext Series 9 Mystery Figures Yeti Snowboarder
Day 2,227: Fisher-Price Imaginext Series 9 Mystery Figures Shark Pirate
Day 2,239: Fisher-Price Imaginext DC Super Friends Slammers Arctic Sled with Mr. Freeze Set
Day 2,249: Fisher-Price Imaginext DC Super Friends Slammers Batmobile with Batman Set
Day 2,257: Fisher-Price Imaginext DC Super Friends Surround Sound Batcave Playset
Day 2,306: Fisher-Price Imaginext 20th Anniversary Figures Jett Cosmoblast
Day 2,312: Fisher-Price Imaginext 20th Anniversary Figures FP-636
Day 2,318: Fisher-Price Imaginext 20th Anniversary Figures Shackles McMatey
Day 2,449: Fisher-Price Imaginext Series 12 Collectible Figures Explorer
Day 2,464: Fisher-Price Imaginext Series 9 Mystery Figures Invisible Man
Day 2,468: Fisher-Price Imaginext Monsters Figure Pack
Day 2,487: Fisher-Price Imaginext Lightyear Hyperspeed Explorer XL-01
Day 2,522: Fisher-Price Imaginext Toy Story 4 Bunny & Buzz Lightyear