Movies Star Trek U.S.S. Defiant NCC-1764 Special Glow in the Dark Issue Die-Cast Metal Vehicle
Interphase Special

Movies Star Trek Die-Cast Metal Vehicles
Item No.: No. 10493
Manufacturer: Eaglemoss Collections
Includes: Stand, magazine
Action Feature: Glows in the Dark
Retail: $24.99
Availability: 2018
Other: Special Edition

PREVIOUS
RSS
NEXT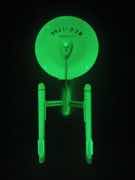 I like Star Trek, and I stayed away from the Eaglemoss Collections. There are too many good ones. I caved on the U.S.S. Defiant NCC-1764 Special Glow in the Dark Issue. It glows in the dark - and I like that - plus it's a ship that makes appearances in the 21st century Trek after it disappeared on the original series in the 1960s. Who would have guessed?
The Constitution-class ship is mostly tinted in green, and it glows pretty brightly thanks to the paint. The nacelles are plastic, but the rest seems to be metal without any unsightly stand ports. The base has a clear clip that holds on to the ship, plus a smattering of decent details. Little windows are painted, and the caps on the nacelles are yellow - more or less how it looks on the show when it begins to disappear in the web of the Tholians. The proportions seem about right for a just-under-5-inch vehicle, and while there's always room for more detail work I don't want to pay for it. I appreciate that I'm not paying for the privilege of squinting at my marvelous new toy.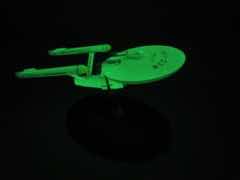 The package is sold as a subscription, which means you get a magazine. It has some nice glossy photos about the ship, the episode in which it debuted, and some of its subsequent appearances. It's more interesting than a bio-card, and it's a lot like a hacked-down issue of The Star Trek Communicator. I assume it's here mostly for licensing purposes, but it's a neat idea for a product and other collector brands would be well-served to consider this approach. Infotainment! Collectrivia. Crap in a bag. It's all good.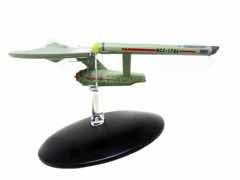 It's a good ship, and not a toy. The stand is metal and plastic with a soft bottom, so as not to scratch your shelves. Getting one of these makes it seem like I should have bought more, which is a bad thing to experience a few years in to a collectible series. As a weird one-off, I love this. I don't know if I'd want hundreds of them at $25 each, but I'd certainly like to grab a few more.
--Adam Pawlus
Additional Images

See more Eaglemoss figures in Figure of the Day:
Day 1,949: Eaglemoss Collections Movies Star Trek U.S.S. Defiant NCC-1764 Special Glow in the Dark Issue Die-Cast Metal Vehicle
Day 1,962: Eaglemoss Collections Star Trek U.S.S. Defiant NX-74025 Best Of Issue Die-Cast Metal Vehicle
Day 1,975: Eaglemoss Collections Discovery Star Trek U.S.S. Discovery NCC-1031 Die-Cast Metal Vehicle
Day 2,094: Eaglemoss Collections Enterprise Star Trek Discovery Special U.S.S. Enterprise NCC-1701 Die-Cast Metal Vehicle

See more Star Trek figures in Figure of the Day:
Day 54: Playmates Classic Star Trek Spock Action Figure
Day 57: Playmates Classic Star Trek Dr. McCoy Action Figure
Day 61: Playmates Classic Star Trek Scotty Action Figure
Day 71: Playmates Classic Star Trek Uhura Action Figure
Day 81: Playmates Classic Star Trek Sulu Action Figure
Day 89: Playmates Classic Star Trek Captain James T. Kirk Action Figure
Day 105: Playmates Classic Star Trek Chekov Action Figure
Day 149: Playmates Star Trek Combat Action Worf
Day 488: Playmates Star Trek: The Next Generation Lieutenant Commander Data in First Season Uniform Action Figure
Day 675: Mattel Hot Wheels Star Trek U.S.S. Enterprise
Day 731: Playmates Star Trek: The Next Generation Counselor Deanna Troi Action Figure
Day 755: Playmates Star Trek: Deep Space Nine Quark Action Figure
Day 762: Playmates Star Trek: The Next Generation Lt. Commander LaForge as a Tarchannen III Alien Action Figure
Day 767: Playmates Star Trek: The Next Generation Captain Picard in Duty Uniform Action Figure
Day 772: Playmates Star Trek: The Next Generation Klingon Warrior Worf Action Figure
Day 986: Playmates Star Trek: The Next Generation Dathon Action Figure
Day 991: Playmates Star Trek: The Next Generation Ambassador Spock Action Figure
Day 1,048: Playmates Star Trek: Deep Space Nine Chief Miles O'Brien Action Figure
Day 1,054: Bif Bang Pow! Star Trek: The Next Generation Lieutenant Worf
Day 1,061: Playmates Star Trek: The Next Generation Q Action Figure
Day 1,173: Playmates Star Trek: Deep Space Nine Morn Action Figure
Day 1,181: Playmates Star Trek: Deep Space Nine Commander Gul Dukat Action Figure
Day 1,271: Playmates Star Trek Grand Nagus Zek Action Figure
Day 1,309: Playmates Star Trek Elim Garak Action Figure
Day 1,317: Playmates Star Trek: The Next Generation Lieutenant Worf in Starfleet Rescue Outfit Action Figure
Day 1,331: Playmates Star Trek: The Next Generation Captain Scott Action Figure
Day 1,359: Playmates Star Trek: The Next Generation Vorgon Action Figure
Day 1,701: Playmates Star Trek: The Next Generation Ferengi Action Figure
Day 1,819: Playmates Star Trek: The Next Generation Mordock the Benzite Action Figure
Day 1,854: Playmates Star Trek: The Next Generation Lieutenant (J.G.) Geordi LaForge Action Figure
Day 1,887: Playmates Star Trek: The Next Generation Lieutenant Natasha Yar Action Figure
Day 1,902: Playmates Star Trek: The Next Generation Cadet Wesley Crusher Action Figure
Day 1,923: Playmates Star Trek: The Next Generation Lieutenant J.G. Worf in First Season Uniform Action Figure
Day 1,927: Funko Pop! Movies Star Trek Beyond Captain Kirk (Survival Suit) Pop! Vinyl Figure
Day 1,936: Playmates Star Trek: The Next Generation K'Ehleyr Action Figure
Day 1,945: Mega Construx Heroes Star Trek: The Next Generation Captain Picard Action Figure
Day 1,949: Eaglemoss Collections Movies Star Trek U.S.S. Defiant NCC-1764 Special Glow in the Dark Issue Die-Cast Metal Vehicle
Day 1,962: Eaglemoss Collections Star Trek U.S.S. Defiant NX-74025 Best Of Issue Die-Cast Metal Vehicle
Day 1,974 Playmates Star Trek: The Next Generation Lieutenant Barclay Action Figure
Day 1,975: Eaglemoss Collections Discovery Star Trek U.S.S. Discovery NCC-1031 Die-Cast Metal Vehicle
Day 2,005: Playmates Star Trek: Deep Space Nine Odo Action Figure
Day 2,020: Playmates Star Trek: The Next Generation Commander Sela Action Figure
Day 2,094: Eaglemoss Collections Enterprise Star Trek Discovery Special U.S.S. Enterprise NCC-1701 Die-Cast Metal Vehicle
Day 2,354: Playmobil 70548 Star Trek U.S.S. Enterprise NCC-1701 Playset
Day 2,642: Super7 Star Trek: The Next Generation Armus ReAction Figures