Elim Garak
Enigmatic Tailor

Star Trek 1996 Series
Item No.: Asst. 6430 No. 16035
Manufacturer: Playmates
Includes: Trading Card, Tailor's Tape Measure, Cardassian PADD, Isolinear Rods, Phaser, Cardassian Action Base
Action Feature: n/a
Retail: $4.99
Availability: 1996
Other: Sample #12,716

PREVIOUS
RSS
NEXT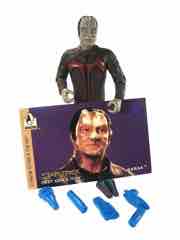 If you were keeping up with the Cardassians in the 1990s, you probably remember Elim Garak as one of the first not-evil members of the species to appear on Star Trek: Deep Space Nine. Granted, we weren't quite sure what he necessarily wanted, as some level of ambiguity was implied in the writing and the performance. Was he a spy - and for whom? What exactly did he want from Dr. Bashir? And how did he get to be so good at fixing clothes? The greyer characters of the show like Quark, Odo, Garak, and countless others made for fascinating viewing for a kid or a teen in that era, especially as the virtues of leadership in the real world continued to be called into question and - let's face it - everybody realizes it's hard to go through life without getting your hands dirty.
At 5-inches tall, this particular Garak wears the outfit he had on in the episodes "Improbable Cause" and "The Die Is Cast," and possibly others. It's not an exact match - the ribbed part of his shirt is much more colorful in set photos, as opposed to the brown it is here. Given the lower definition of old TVs and the often dubious quality of reference (and over-the-air broadcasts) it's possible that the figure is simply as good as Playmates could do given the reference they had. The neck area is also not quite a perfect design match, but it's pretty close - and thanks to the variety of costumes in the show as well as the vast number of appearances, fans seemed to be a lot more forgiving when a Trek toy wasn't quite perfect. In Star Wars they would - and do - demand a resculpt before the toy even hit shelves.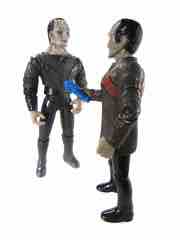 The pants are glossy and bland, but decent. Andrew Robinson's make-up is replicated fairly well, plopped on a body with articulation just below the norm for this line. There's no waist joint, but there are 11 total joints and because of the long shirt, Garak won't be doing any sitting - the articulation helps him stand on a shelf or on the included Cardassian display base. Since it was the 1990s and toy companies felt shame when there were problems with figure/vehicle compatibility at times, this one works well. The phaser fits right in his hand, as does everything else in the package. Each accessory is cast in a nice blue color, which looks absolutely nothing like any of the props on the show - the forms are right, but the colors aren't even close. This was normal for Playmates in the 1990s, as you'll see wacky colors on Teenage Mutant Ninja Turtles as well. Things were a little better in seaQuest DSV, but you still saw bright orange gear with some figures too. The trading card is also nice, a common pack-in of the mid 1990s as nice, cheap paper was a strong selling point and things like exclusive cards or promo cards helped to cross-brand with SkyBox or Topps or another manufacturer. Playmates frequently jumped in with other manufacturers and products to get the word out, but today the card has a lot less weight than it did 20 years ago. After all, 20 years ago people more frequently purchased trading card packs and they were a heck of a lot cheaper.
Like Grand Nagus Zek, Garak has been on my wish list for years and I've finally bought one. The market settled down and he's $5 or less at most collectible shops that are not run by insane people. The 1990s is filled with near-worthless toys that are pretty good, and if you want a Garak figure you don't have all that many options. Why not get this one? Odds are he's just going to stand around on your desk, and super-articulation is overrated for toys not going in vehicles or into combat. I'd rank him as good enough - not perfect, but a figure with good enough sculpting to warrant the lower-end of the current asking prices.
--Adam Pawlus
Additional Images


See more Playmates figures in Figure of the Day:
Day 54: Playmates Classic Star Trek Spock Action Figure
Day 57: Playmates Classic Star Trek Dr. McCoy Action Figure
Day 61: Playmates Classic Star Trek Scotty Action Figure
Day 71: Playmates Classic Star Trek Uhura Action Figure
Day 81: Playmates Classic Star Trek Sulu Action Figure
Day 89: Playmates Classic Star Trek Captain James T. Kirk Action Figure
Day 105: Playmates Classic Star Trek Chekov Action Figure
Day 149: Playmates Star Trek Combat Action Worf
Day 229: Playmates Gormiti Multiplep and Steelblade
Day 237: Playmates Gormiti Blind Fury and Ancient Jellyfish
Day 243: Playmates Gormiti Florus the Poisoner and Clear Ancient Jellyfish
Day 259: Playmates Gormiti Mantra the Implacable and Clear The Severe Guardian
Day 312: Playmates Gormiti Barbataus, Tormenter, Bullrock, and Dedalus
Day 327: Playmates seaQuest DSV Darwin the Dolphin Action Figure
Day 335: Playmates Gormiti Spores, Cannon Trunk, Hypnofrog, and Carrapax
Day 342: Playmates Gormiti Alos the Hypnotiser and Clear Delos The Count of the Seas
Day 354: Playmates Teenage Mutant Ninja Turtles Mike, the Sewer Surfer Action Figure
Day 400: Playmates Teenage Mutant Ninja Turtles Raph, the Space Cadet
Day 488: Playmates Star Trek: The Next Generation Lieutenant Commander Data in First Season Uniform Action Figure
Day 513: Playmates Teenage Mutant Ninja Turtles The Mutant Raphael
Day 514: Playmates Teenage Mutant Ninja Turtles Mike as Frankenstein
Day 515: Playmates Teenage Mutant Ninja Turtles Bride of Frankenstein April
Day 516: Playmates Teenage Mutant Ninja Turtles Raph as the Mummy
Day 517: Playmates Teenage Mutant Ninja Turtles Don as Dracula
Day 518: Playmates Teenage Mutant Ninja Turtles Leo as the Wolfman
Day 519: Playmates Teenage Mutant Ninja Turtles Invisible Man Michaelangelo
Day 520: Playmates Teenage Mutant Ninja Turtles Creature from the Black Lagoon Leonardo
Day 525: Playmates Teenage Mutant Ninja Turtles Classics Michelangelo
Day 673: Playmates Gormiti Murena Den Playset with Hammer the Predator Figure
Day 731: Playmates Star Trek: The Next Generation Counselor Deanna Troi Action Figure
Day 755: Playmates Star Trek: Deep Space Nine Quark Action Figure
Day 762: Playmates Star Trek: The Next Generation Lt. Commander LaForge as a Tarchannen III Alien Action Figure
Day 767: Playmates Star Trek: The Next Generation Captain Picard in Duty Uniform Action Figure
Day 772: Playmates Star Trek: The Next Generation Klingon Warrior Worf Action Figure
Day 777: Playmates Toys Monster Force Creature from the Black Lagoon
Day 815: Playmates Teenage Mutant Ninja Turtles Classics Bebop
Day 832: Playmates Teenage Mutant Ninja Turtles Classics Rocksteady
Day 964: Playmates Teenage Mutant Ninja Turtles Classics Raphael
Day 986: Playmates Star Trek: The Next Generation Dathon Action Figure
Day 991: Playmates Star Trek: The Next Generation Ambassador Spock Action Figure
Day 1,048: Playmates Star Trek: Deep Space Nine Chief Miles O'Brien Action Figure
Day 1,061: Playmates Star Trek: The Next Generation Q Action Figure
Day 1,173: Playmates Star Trek: Deep Space Nine Morn Action Figure
Day 1,181: Playmates Star Trek: Deep Space Nine Commander Gul Dukat Action Figure
Day 1,271: Playmates Star Trek Grand Nagus Zek Action Figure
Day 1,309: Playmates Star Trek Elim Garak Action Figure
Day 1,316: Playmates Gormiti Insecticus and Branchtearer the Furious
Day 1,317: Playmates Star Trek: The Next Generation Lieutenant Worf in Starfleet Rescue Outfit Action Figure
Day 1,331: Playmates Star Trek: The Next Generation Captain Scott Action Figure
Day 1,359: Playmates Star Trek: The Next Generation Vorgon Action Figure
Day 1,701: Playmates Star Trek: The Next Generation Ferengi Action Figure
Day 1,819: Playmates Star Trek: The Next Generation Mordock the Benzite Action Figure
Day 1,854: Playmates Star Trek: The Next Generation Lieutenant (J.G.) Geordi LaForge Action Figure
Day 1,887: Playmates Star Trek: The Next Generation Lieutenant Natasha Yar Action Figure
Day 1,902: Playmates Star Trek: The Next Generation Cadet Wesley Crusher Action Figure
Day 1,923: Playmates Star Trek: The Next Generation Lieutenant J.G. Worf in First Season Uniform Action Figure
Day 1,936: Playmates Star Trek: The Next Generation K'Ehleyr Action Figure
Day 1,974 Playmates Star Trek: The Next Generation Lieutenant Barclay Action Figure
Day 2,005: Playmates Star Trek: Deep Space Nine Odo Action Figure
Day 2,020: Playmates Star Trek: The Next Generation Commander Sela Action Figure

See more Star Trek figures in Figure of the Day:
Day 54: Playmates Classic Star Trek Spock Action Figure
Day 57: Playmates Classic Star Trek Dr. McCoy Action Figure
Day 61: Playmates Classic Star Trek Scotty Action Figure
Day 71: Playmates Classic Star Trek Uhura Action Figure
Day 81: Playmates Classic Star Trek Sulu Action Figure
Day 89: Playmates Classic Star Trek Captain James T. Kirk Action Figure
Day 105: Playmates Classic Star Trek Chekov Action Figure
Day 149: Playmates Star Trek Combat Action Worf
Day 488: Playmates Star Trek: The Next Generation Lieutenant Commander Data in First Season Uniform Action Figure
Day 675: Mattel Hot Wheels Star Trek U.S.S. Enterprise
Day 731: Playmates Star Trek: The Next Generation Counselor Deanna Troi Action Figure
Day 755: Playmates Star Trek: Deep Space Nine Quark Action Figure
Day 762: Playmates Star Trek: The Next Generation Lt. Commander LaForge as a Tarchannen III Alien Action Figure
Day 767: Playmates Star Trek: The Next Generation Captain Picard in Duty Uniform Action Figure
Day 772: Playmates Star Trek: The Next Generation Klingon Warrior Worf Action Figure
Day 986: Playmates Star Trek: The Next Generation Dathon Action Figure
Day 991: Playmates Star Trek: The Next Generation Ambassador Spock Action Figure
Day 1,048: Playmates Star Trek: Deep Space Nine Chief Miles O'Brien Action Figure
Day 1,054: Bif Bang Pow! Star Trek: The Next Generation Lieutenant Worf
Day 1,061: Playmates Star Trek: The Next Generation Q Action Figure
Day 1,173: Playmates Star Trek: Deep Space Nine Morn Action Figure
Day 1,181: Playmates Star Trek: Deep Space Nine Commander Gul Dukat Action Figure
Day 1,271: Playmates Star Trek Grand Nagus Zek Action Figure
Day 1,309: Playmates Star Trek Elim Garak Action Figure
Day 1,317: Playmates Star Trek: The Next Generation Lieutenant Worf in Starfleet Rescue Outfit Action Figure
Day 1,331: Playmates Star Trek: The Next Generation Captain Scott Action Figure
Day 1,359: Playmates Star Trek: The Next Generation Vorgon Action Figure
Day 1,701: Playmates Star Trek: The Next Generation Ferengi Action Figure
Day 1,819: Playmates Star Trek: The Next Generation Mordock the Benzite Action Figure
Day 1,854: Playmates Star Trek: The Next Generation Lieutenant (J.G.) Geordi LaForge Action Figure
Day 1,887: Playmates Star Trek: The Next Generation Lieutenant Natasha Yar Action Figure
Day 1,902: Playmates Star Trek: The Next Generation Cadet Wesley Crusher Action Figure
Day 1,923: Playmates Star Trek: The Next Generation Lieutenant J.G. Worf in First Season Uniform Action Figure
Day 1,927: Funko Pop! Movies Star Trek Beyond Captain Kirk (Survival Suit) Pop! Vinyl Figure
Day 1,936: Playmates Star Trek: The Next Generation K'Ehleyr Action Figure
Day 1,945: Mega Construx Heroes Star Trek: The Next Generation Captain Picard Action Figure
Day 1,949: Eaglemoss Collections Movies Star Trek U.S.S. Defiant NCC-1764 Special Glow in the Dark Issue Die-Cast Metal Vehicle
Day 1,962: Eaglemoss Collections Star Trek U.S.S. Defiant NX-74025 Best Of Issue Die-Cast Metal Vehicle
Day 1,974 Playmates Star Trek: The Next Generation Lieutenant Barclay Action Figure
Day 1,975: Eaglemoss Collections Discovery Star Trek U.S.S. Discovery NCC-1031 Die-Cast Metal Vehicle
Day 2,005: Playmates Star Trek: Deep Space Nine Odo Action Figure
Day 2,020: Playmates Star Trek: The Next Generation Commander Sela Action Figure
Day 2,094: Eaglemoss Collections Enterprise Star Trek Discovery Special U.S.S. Enterprise NCC-1701 Die-Cast Metal Vehicle
Day 2,354: Playmobil 70548 Star Trek U.S.S. Enterprise NCC-1701 Playset

Want to buy this figure? Check Star Trek availability at our sponsors:
Entertainment Earth