Counselor Deanna Troi
The First

Star Trek: The Next Generation Wave 1
Item No.: Asst. 6010 No. 6016
Manufacturer: Playmates
Includes: Padd, tricorder, portable computer gear, desktop viewer, Starfleet base
Action Feature: n/a
Retail: $4.99
Availability: 1992
Other: Sample #3,034

PREVIOUS
RSS
NEXT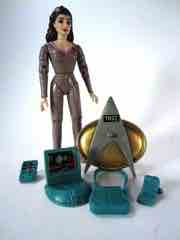 Back in 1992, Playmates' relaunch of Star Trek: The Next Generation utterly crushed other toy lines in terms of wide interest from kids and collectors. Collectors were excited to get figures now that the show had become popular, which during the original 1988 line from Galoob, it wasn't yet. By 1991 kids were on board and interested, but that didn't mean that the trappings of the time didn't mean that the likes of Counselor Deanna Troi weren't hard to get. For some time, she was the most sought-after new release on toy shelves. Common wisdom was (and frankly, still is when you go into toy company meetings) that women as toys for boys don't sell. Back in the 1990s, many collectors specialized in buying women action figures since it was a great way to sample lines and, frankly, most lines didn't have more than one or two. Pick up Harley Quinn, Supergirl, a couple of Trois and a Janeway, and you're done for the year.
Troi was easily the toughest figure to get out of the first 10 Next Generation releases, with the Borg being tough to get in some markets - I had a hard time seeing Romulans. The counselor didn't share any parts with other figures in that first wave, which was handy, because she'd look pretty awful with Gowron's head. Troi did receive a straight-up repaint in 1993.
The 4 3/4-inch action figure did a lot of things right despite her proportions seeming closer to Barbie than actress Marina Sirtis. She has 12 points of articulation - arguably the best on the market at the time outside of G.I. Joe - plus a pretty good sculpt. Her hair, while glossy, was curly in spots and had a sculpted headband. Hair is tough to get right, and the fact they painted the hairband a different color than the hair shows a nice attention to detail. She also has a preposterously dense layer of make-up on, which shows that the company had the right idea with questionable execution. At a smaller size, you need to exaggerate certain features, lighten the skin generally, and enhance certain areas like the head or hands to bring the figure a little more life. Troi's face isn't half bad - but as the joke goes, it isn't half good either. Later releases, specifically the green "science" Duty uniform, would do better with a toned-down coat of face paint.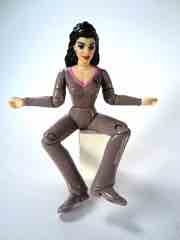 She has no problems standing, and includes a display stand if you want to do action running or combat poses. She has no phaser, so fighting isn't really her thing - you get computers, PADDs, and other items with special loops connected to the back so the figure's diminutive hands can hold the accessories without dropping. This sort of thing may not look pretty, but I want my figures to hold on to their accessories and Playmates actually did work hard to make sure that could happen. Each accessory comes in a bright green color - I don't know why - and come unpainted save for a clever use of stickers as screens. Like many figures in this line, the gear seems unnecessary but it does represent Playmates' ability to give you a lot for your money. Most action figures were $5 in those days, including Kenner's 5-jointed, one-accessory wonders. Kenner's 1995 Star Wars line was 5 bucks for a figure that was a full inch shorter, with half the articulation, and at most two accessories. These were a pretty good deal, and a lot of collectors had anticipated Kenner to produce a similar quality of figure when it came time to relaunch Star Wars. So you can imagine, there was a lot of disappointment when Kenner showed its smaller, stiffer figures.
Since Playmates eventually made a swell Bridge playset, it's worth noting that Troi can sit but that her v-crotch results in some truly odd poses. It looks like she's having problems with her chair but the joints do work and she can sit in the chair, it's just a little funky. Playmates would drop the V-crotch on their next TV sci-fi line, seaQuest DSV, as those had the traditional t-crotch with swivel thigh joints added.
I remember people running around paying/demanding the princely sum of $10-$20 for Troi in an era of $5 action figures, and today she's not quite worth $2. eBay sales go unsold, and in a large lot she averages about a buck. That's time for you. At a dollar or two each, Playmates' Star Trek action figure line may be the collectible bargain in the world of toys today. There are hundreds of figures, they're cheap, and they're largely worthless. Granted, there are better versions of Troi, but not too many. A dark muave version for "season 2" was sold in 1993, a "duty uniform" version was released in 1994 alongside a Generations movie figure, a version of her in a Western costume as "Durango" hit in 1995, and by then you all moved on to Star Wars. In 1997, we saw a young Cadet Troi and the line finished out in the late 1990s with a Target-exclusive Insurrection/Nemesis movie uniform Troi. Larger scale figures were also produced.
--Adam Pawlus
Additional Images


See more Playmates figures in Figure of the Day:
Day 54: Playmates Classic Star Trek Spock Action Figure
Day 57: Playmates Classic Star Trek Dr. McCoy Action Figure
Day 61: Playmates Classic Star Trek Scotty Action Figure
Day 71: Playmates Classic Star Trek Uhura Action Figure
Day 81: Playmates Classic Star Trek Sulu Action Figure
Day 89: Playmates Classic Star Trek Captain James T. Kirk Action Figure
Day 105: Playmates Classic Star Trek Chekov Action Figure
Day 149: Playmates Star Trek Combat Action Worf
Day 229: Playmates Gormiti Multiplep and Steelblade
Day 237: Playmates Gormiti Blind Fury and Ancient Jellyfish
Day 243: Playmates Gormiti Florus the Poisoner and Clear Ancient Jellyfish
Day 259: Playmates Gormiti Mantra the Implacable and Clear The Severe Guardian
Day 312: Playmates Gormiti Barbataus, Tormenter, Bullrock, and Dedalus
Day 327: Playmates seaQuest DSV Darwin the Dolphin Action Figure
Day 335: Playmates Gormiti Spores, Cannon Trunk, Hypnofrog, and Carrapax
Day 342: Playmates Gormiti Alos the Hypnotiser and Clear Delos The Count of the Seas
Day 354: Playmates Teenage Mutant Ninja Turtles Mike, the Sewer Surfer Action Figure
Day 400: Playmates Teenage Mutant Ninja Turtles Raph, the Space Cadet
Day 488: Playmates Star Trek: The Next Generation Lieutenant Commander Data in First Season Uniform Action Figure
Day 513: Playmates Teenage Mutant Ninja Turtles The Mutant Raphael
Day 514: Playmates Teenage Mutant Ninja Turtles Mike as Frankenstein
Day 515: Playmates Teenage Mutant Ninja Turtles Bride of Frankenstein April
Day 516: Playmates Teenage Mutant Ninja Turtles Raph as the Mummy
Day 517: Playmates Teenage Mutant Ninja Turtles Don as Dracula
Day 518: Playmates Teenage Mutant Ninja Turtles Leo as the Wolfman
Day 519: Playmates Teenage Mutant Ninja Turtles Invisible Man Michaelangelo
Day 520: Playmates Teenage Mutant Ninja Turtles Creature from the Black Lagoon Leonardo
Day 525: Playmates Teenage Mutant Ninja Turtles Classics Michelangelo
Day 673: Playmates Gormiti Murena Den Playset with Hammer the Predator Figure
Day 731: Playmates Star Trek: The Next Generation Counselor Deanna Troi Action Figure
Day 755: Playmates Star Trek: Deep Space Nine Quark Action Figure
Day 762: Playmates Star Trek: The Next Generation Lt. Commander LaForge as a Tarchannen III Alien Action Figure
Day 767: Playmates Star Trek: The Next Generation Captain Picard in Duty Uniform Action Figure
Day 772: Playmates Star Trek: The Next Generation Klingon Warrior Worf Action Figure
Day 777: Playmates Toys Monster Force Creature from the Black Lagoon
Day 815: Playmates Teenage Mutant Ninja Turtles Classics Bebop
Day 832: Playmates Teenage Mutant Ninja Turtles Classics Rocksteady
Day 964: Playmates Teenage Mutant Ninja Turtles Classics Raphael
Day 986: Playmates Star Trek: The Next Generation Dathon Action Figure
Day 991: Playmates Star Trek: The Next Generation Ambassador Spock Action Figure
Day 1,048: Playmates Star Trek: Deep Space Nine Chief Miles O'Brien Action Figure
Day 1,061: Playmates Star Trek: The Next Generation Q Action Figure
Day 1,173: Playmates Star Trek: Deep Space Nine Morn Action Figure
Day 1,181: Playmates Star Trek: Deep Space Nine Commander Gul Dukat Action Figure
Day 1,271: Playmates Star Trek Grand Nagus Zek Action Figure
Day 1,309: Playmates Star Trek Elim Garak Action Figure
Day 1,316: Playmates Gormiti Insecticus and Branchtearer the Furious
Day 1,317: Playmates Star Trek: The Next Generation Lieutenant Worf in Starfleet Rescue Outfit Action Figure
Day 1,331: Playmates Star Trek: The Next Generation Captain Scott Action Figure
Day 1,359: Playmates Star Trek: The Next Generation Vorgon Action Figure
Day 1,701: Playmates Star Trek: The Next Generation Ferengi Action Figure
Day 1,819: Playmates Star Trek: The Next Generation Mordock the Benzite Action Figure
Day 1,854: Playmates Star Trek: The Next Generation Lieutenant (J.G.) Geordi LaForge Action Figure
Day 1,887: Playmates Star Trek: The Next Generation Lieutenant Natasha Yar Action Figure
Day 1,902: Playmates Star Trek: The Next Generation Cadet Wesley Crusher Action Figure
Day 1,923: Playmates Star Trek: The Next Generation Lieutenant J.G. Worf in First Season Uniform Action Figure
Day 1,936: Playmates Star Trek: The Next Generation K'Ehleyr Action Figure
Day 1,974 Playmates Star Trek: The Next Generation Lieutenant Barclay Action Figure
Day 2,005: Playmates Star Trek: Deep Space Nine Odo Action Figure
Day 2,020: Playmates Star Trek: The Next Generation Commander Sela Action Figure

See more Star Trek figures in Figure of the Day:
Day 54: Playmates Classic Star Trek Spock Action Figure
Day 57: Playmates Classic Star Trek Dr. McCoy Action Figure
Day 61: Playmates Classic Star Trek Scotty Action Figure
Day 71: Playmates Classic Star Trek Uhura Action Figure
Day 81: Playmates Classic Star Trek Sulu Action Figure
Day 89: Playmates Classic Star Trek Captain James T. Kirk Action Figure
Day 105: Playmates Classic Star Trek Chekov Action Figure
Day 149: Playmates Star Trek Combat Action Worf
Day 488: Playmates Star Trek: The Next Generation Lieutenant Commander Data in First Season Uniform Action Figure
Day 675: Mattel Hot Wheels Star Trek U.S.S. Enterprise
Day 731: Playmates Star Trek: The Next Generation Counselor Deanna Troi Action Figure
Day 755: Playmates Star Trek: Deep Space Nine Quark Action Figure
Day 762: Playmates Star Trek: The Next Generation Lt. Commander LaForge as a Tarchannen III Alien Action Figure
Day 767: Playmates Star Trek: The Next Generation Captain Picard in Duty Uniform Action Figure
Day 772: Playmates Star Trek: The Next Generation Klingon Warrior Worf Action Figure
Day 986: Playmates Star Trek: The Next Generation Dathon Action Figure
Day 991: Playmates Star Trek: The Next Generation Ambassador Spock Action Figure
Day 1,048: Playmates Star Trek: Deep Space Nine Chief Miles O'Brien Action Figure
Day 1,054: Bif Bang Pow! Star Trek: The Next Generation Lieutenant Worf
Day 1,061: Playmates Star Trek: The Next Generation Q Action Figure
Day 1,173: Playmates Star Trek: Deep Space Nine Morn Action Figure
Day 1,181: Playmates Star Trek: Deep Space Nine Commander Gul Dukat Action Figure
Day 1,271: Playmates Star Trek Grand Nagus Zek Action Figure
Day 1,309: Playmates Star Trek Elim Garak Action Figure
Day 1,317: Playmates Star Trek: The Next Generation Lieutenant Worf in Starfleet Rescue Outfit Action Figure
Day 1,331: Playmates Star Trek: The Next Generation Captain Scott Action Figure
Day 1,359: Playmates Star Trek: The Next Generation Vorgon Action Figure
Day 1,701: Playmates Star Trek: The Next Generation Ferengi Action Figure
Day 1,819: Playmates Star Trek: The Next Generation Mordock the Benzite Action Figure
Day 1,854: Playmates Star Trek: The Next Generation Lieutenant (J.G.) Geordi LaForge Action Figure
Day 1,887: Playmates Star Trek: The Next Generation Lieutenant Natasha Yar Action Figure
Day 1,902: Playmates Star Trek: The Next Generation Cadet Wesley Crusher Action Figure
Day 1,923: Playmates Star Trek: The Next Generation Lieutenant J.G. Worf in First Season Uniform Action Figure
Day 1,927: Funko Pop! Movies Star Trek Beyond Captain Kirk (Survival Suit) Pop! Vinyl Figure
Day 1,936: Playmates Star Trek: The Next Generation K'Ehleyr Action Figure
Day 1,945: Mega Construx Heroes Star Trek: The Next Generation Captain Picard Action Figure
Day 1,949: Eaglemoss Collections Movies Star Trek U.S.S. Defiant NCC-1764 Special Glow in the Dark Issue Die-Cast Metal Vehicle
Day 1,962: Eaglemoss Collections Star Trek U.S.S. Defiant NX-74025 Best Of Issue Die-Cast Metal Vehicle
Day 1,974 Playmates Star Trek: The Next Generation Lieutenant Barclay Action Figure
Day 1,975: Eaglemoss Collections Discovery Star Trek U.S.S. Discovery NCC-1031 Die-Cast Metal Vehicle
Day 2,005: Playmates Star Trek: Deep Space Nine Odo Action Figure
Day 2,020: Playmates Star Trek: The Next Generation Commander Sela Action Figure
Day 2,094: Eaglemoss Collections Enterprise Star Trek Discovery Special U.S.S. Enterprise NCC-1701 Die-Cast Metal Vehicle
Day 2,354: Playmobil 70548 Star Trek U.S.S. Enterprise NCC-1701 Playset

Want to buy this figure? Check Star Trek availability at our sponsors:
Entertainment Earth