Ferengi
Black Boots, No Black On Boots, Whatever

Star Trek: The Next Generation Wave 1
Item No.: Asst. 6010 No. 6052
Manufacturer: Playmates
Includes: Energy Whip, Hand Blaster, Dilithium Crystals, Ferengi Rifle, Ferengi Action Base
Action Feature: n/a
Retail: $4.99
Availability: 1992
Other: Sample #47,565

PREVIOUS
RSS
NEXT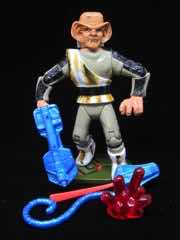 The 1990s were a pretty great time to collect toys - the audience was much bigger, and Star Trek: The Next Generation was popular enough to straddle the young kid audience and collectors. Kids would buy these amazing figures for $5, and they were numbered so collectors would have a little added incentive to pick up a Ferengi and check for a low number. Or black paint variants. Or other tweaks over time. People were nuts for these things, as you could see with figures being numbered into the 200,000s. Or maybe higher - I only saw them as high as the 250,000s.
Even at the time, these were a pretty good deal - five bucks was roughly the going rate for many action figures, but this one had an above average accessory stash and more articulation than Playmates, Kenner, Mattel, or others would usually give you for the money. Or any money. 12 points of articulation was generous in those days.
The 4 1/2-inch action figure got an "action pose," something adult collectors didn't much like in that era. Figures may have had a lot of articulation, but their hands, arms, sleeves, wrists, and feet often would look best in a sort of a default position. You're going to want the stripes on the sleeves to line up and the feet to be flat on the ground, which means your Ferengi is going to be in some sort of a whipping pose. Tied to the whipping pose. Good Lord it feels like it's dying to stand in a less specific manner, but you're not going to be able to wrangle out a "posed for a meeting" look with this one. Since it was the only The Next Generation Ferengi figure (DS9 got a few more), it's not like your Ferengi shelf is going to look weird because of this one. It's only one guy anyway, and more or less a first-season uniform from back when the Ferengi probably meant a collective groan would roar across America.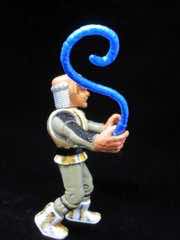 I don't think it's much of an exaggeration to say that the uniform was kind of goofy. The boots were a little too big, the grey suit was a little loose, Playmates did a good job improving on it, and made it look more action-oriented and less goofy than the on-screen counterpart. This is thanks in part to the nifty lines around the face which gave the figure so much personality that you can't help but be drawn to the head, rather than the goat pelts he seems to be wearing. He's also got a cool tattoo on his head of the Ferengi Alliance symbol - that sort of thing wasn't super-common back then, so to see it included and done well is pretty amazing.
I more or less dig the accessories - he gets more than he can use. The stand works perfectly, but the figure's build and sizable boots keep him upright. His whip and phasers are cast in metallic blue, with the smaller one coming complete with a beam shooting out - this was the style at the time. (It bothered me a lot more then than it does now.) It's a non-removable beam, but I suppose it does add some more "action" to a line of figures that seemed to be primarily purchased by older fans to leave in the package until they were dumped at a comic shop for pennies on the dollar in the early 2000s. At least that was the case around here, and they just now finally seem to be evaporating. Naturally it's as I was hoping to buy more, but I digress.
Given the figure's not-so-scarcity and inflation, it's a little surprising to see a decent figure like this selling for under ten bucks. It's 25 years old, and back in the 1990s it was almost unthinkable that you could get sealed in the package figures of that age for that cheap. People really started to save things in the packaging starting in the late 1980s, but the early 1990s had a rash of products boasting "collector's edition" or "numbered for collectors" that resulted in tens or hundreds of thousands of units being stamped out and preserved in closets, basements, and storage units in perfect condition. It wasn't great for the hobby in that sense, because these are actually really good figures that are being written off as "junk" because of how common they were. Playmates' Star Trek toy lines lasted almost a decade and spanned the many series of the era, and many that came before. I wish I bought more of them, but as a teenager I had a short attention span that was slayed by the Picard/Data/Riker variants. At 14 I didn't see the appeal of the Riker figure disguised as an alien from an episode where he had to nail Bebe Neuwirth to escape. Now I appreciate that, but such is the folly of youth.
--Adam Pawlus
Additional Images


See more Playmates figures in Figure of the Day:
Day 54: Playmates Classic Star Trek Spock Action Figure
Day 57: Playmates Classic Star Trek Dr. McCoy Action Figure
Day 61: Playmates Classic Star Trek Scotty Action Figure
Day 71: Playmates Classic Star Trek Uhura Action Figure
Day 81: Playmates Classic Star Trek Sulu Action Figure
Day 89: Playmates Classic Star Trek Captain James T. Kirk Action Figure
Day 105: Playmates Classic Star Trek Chekov Action Figure
Day 149: Playmates Star Trek Combat Action Worf
Day 229: Playmates Gormiti Multiplep and Steelblade
Day 237: Playmates Gormiti Blind Fury and Ancient Jellyfish
Day 243: Playmates Gormiti Florus the Poisoner and Clear Ancient Jellyfish
Day 259: Playmates Gormiti Mantra the Implacable and Clear The Severe Guardian
Day 312: Playmates Gormiti Barbataus, Tormenter, Bullrock, and Dedalus
Day 327: Playmates seaQuest DSV Darwin the Dolphin Action Figure
Day 335: Playmates Gormiti Spores, Cannon Trunk, Hypnofrog, and Carrapax
Day 342: Playmates Gormiti Alos the Hypnotiser and Clear Delos The Count of the Seas
Day 354: Playmates Teenage Mutant Ninja Turtles Mike, the Sewer Surfer Action Figure
Day 400: Playmates Teenage Mutant Ninja Turtles Raph, the Space Cadet
Day 488: Playmates Star Trek: The Next Generation Lieutenant Commander Data in First Season Uniform Action Figure
Day 513: Playmates Teenage Mutant Ninja Turtles The Mutant Raphael
Day 514: Playmates Teenage Mutant Ninja Turtles Mike as Frankenstein
Day 515: Playmates Teenage Mutant Ninja Turtles Bride of Frankenstein April
Day 516: Playmates Teenage Mutant Ninja Turtles Raph as the Mummy
Day 517: Playmates Teenage Mutant Ninja Turtles Don as Dracula
Day 518: Playmates Teenage Mutant Ninja Turtles Leo as the Wolfman
Day 519: Playmates Teenage Mutant Ninja Turtles Invisible Man Michaelangelo
Day 520: Playmates Teenage Mutant Ninja Turtles Creature from the Black Lagoon Leonardo
Day 525: Playmates Teenage Mutant Ninja Turtles Classics Michelangelo
Day 673: Playmates Gormiti Murena Den Playset with Hammer the Predator Figure
Day 731: Playmates Star Trek: The Next Generation Counselor Deanna Troi Action Figure
Day 755: Playmates Star Trek: Deep Space Nine Quark Action Figure
Day 762: Playmates Star Trek: The Next Generation Lt. Commander LaForge as a Tarchannen III Alien Action Figure
Day 767: Playmates Star Trek: The Next Generation Captain Picard in Duty Uniform Action Figure
Day 772: Playmates Star Trek: The Next Generation Klingon Warrior Worf Action Figure
Day 777: Playmates Toys Monster Force Creature from the Black Lagoon
Day 815: Playmates Teenage Mutant Ninja Turtles Classics Bebop
Day 832: Playmates Teenage Mutant Ninja Turtles Classics Rocksteady
Day 964: Playmates Teenage Mutant Ninja Turtles Classics Raphael
Day 986: Playmates Star Trek: The Next Generation Dathon Action Figure
Day 991: Playmates Star Trek: The Next Generation Ambassador Spock Action Figure
Day 1,048: Playmates Star Trek: Deep Space Nine Chief Miles O'Brien Action Figure
Day 1,061: Playmates Star Trek: The Next Generation Q Action Figure
Day 1,173: Playmates Star Trek: Deep Space Nine Morn Action Figure
Day 1,181: Playmates Star Trek: Deep Space Nine Commander Gul Dukat Action Figure
Day 1,271: Playmates Star Trek Grand Nagus Zek Action Figure
Day 1,309: Playmates Star Trek Elim Garak Action Figure
Day 1,316: Playmates Gormiti Insecticus and Branchtearer the Furious
Day 1,317: Playmates Star Trek: The Next Generation Lieutenant Worf in Starfleet Rescue Outfit Action Figure
Day 1,331: Playmates Star Trek: The Next Generation Captain Scott Action Figure
Day 1,359: Playmates Star Trek: The Next Generation Vorgon Action Figure
Day 1,701: Playmates Star Trek: The Next Generation Ferengi Action Figure
Day 1,819: Playmates Star Trek: The Next Generation Mordock the Benzite Action Figure
Day 1,854: Playmates Star Trek: The Next Generation Lieutenant (J.G.) Geordi LaForge Action Figure
Day 1,887: Playmates Star Trek: The Next Generation Lieutenant Natasha Yar Action Figure
Day 1,902: Playmates Star Trek: The Next Generation Cadet Wesley Crusher Action Figure
Day 1,923: Playmates Star Trek: The Next Generation Lieutenant J.G. Worf in First Season Uniform Action Figure
Day 1,936: Playmates Star Trek: The Next Generation K'Ehleyr Action Figure
Day 1,974 Playmates Star Trek: The Next Generation Lieutenant Barclay Action Figure
Day 2,005: Playmates Star Trek: Deep Space Nine Odo Action Figure
Day 2,020: Playmates Star Trek: The Next Generation Commander Sela Action Figure

See more Star Trek figures in Figure of the Day:
Day 54: Playmates Classic Star Trek Spock Action Figure
Day 57: Playmates Classic Star Trek Dr. McCoy Action Figure
Day 61: Playmates Classic Star Trek Scotty Action Figure
Day 71: Playmates Classic Star Trek Uhura Action Figure
Day 81: Playmates Classic Star Trek Sulu Action Figure
Day 89: Playmates Classic Star Trek Captain James T. Kirk Action Figure
Day 105: Playmates Classic Star Trek Chekov Action Figure
Day 149: Playmates Star Trek Combat Action Worf
Day 488: Playmates Star Trek: The Next Generation Lieutenant Commander Data in First Season Uniform Action Figure
Day 675: Mattel Hot Wheels Star Trek U.S.S. Enterprise
Day 731: Playmates Star Trek: The Next Generation Counselor Deanna Troi Action Figure
Day 755: Playmates Star Trek: Deep Space Nine Quark Action Figure
Day 762: Playmates Star Trek: The Next Generation Lt. Commander LaForge as a Tarchannen III Alien Action Figure
Day 767: Playmates Star Trek: The Next Generation Captain Picard in Duty Uniform Action Figure
Day 772: Playmates Star Trek: The Next Generation Klingon Warrior Worf Action Figure
Day 986: Playmates Star Trek: The Next Generation Dathon Action Figure
Day 991: Playmates Star Trek: The Next Generation Ambassador Spock Action Figure
Day 1,048: Playmates Star Trek: Deep Space Nine Chief Miles O'Brien Action Figure
Day 1,054: Bif Bang Pow! Star Trek: The Next Generation Lieutenant Worf
Day 1,061: Playmates Star Trek: The Next Generation Q Action Figure
Day 1,173: Playmates Star Trek: Deep Space Nine Morn Action Figure
Day 1,181: Playmates Star Trek: Deep Space Nine Commander Gul Dukat Action Figure
Day 1,271: Playmates Star Trek Grand Nagus Zek Action Figure
Day 1,309: Playmates Star Trek Elim Garak Action Figure
Day 1,317: Playmates Star Trek: The Next Generation Lieutenant Worf in Starfleet Rescue Outfit Action Figure
Day 1,331: Playmates Star Trek: The Next Generation Captain Scott Action Figure
Day 1,359: Playmates Star Trek: The Next Generation Vorgon Action Figure
Day 1,701: Playmates Star Trek: The Next Generation Ferengi Action Figure
Day 1,819: Playmates Star Trek: The Next Generation Mordock the Benzite Action Figure
Day 1,854: Playmates Star Trek: The Next Generation Lieutenant (J.G.) Geordi LaForge Action Figure
Day 1,887: Playmates Star Trek: The Next Generation Lieutenant Natasha Yar Action Figure
Day 1,902: Playmates Star Trek: The Next Generation Cadet Wesley Crusher Action Figure
Day 1,923: Playmates Star Trek: The Next Generation Lieutenant J.G. Worf in First Season Uniform Action Figure
Day 1,927: Funko Pop! Movies Star Trek Beyond Captain Kirk (Survival Suit) Pop! Vinyl Figure
Day 1,936: Playmates Star Trek: The Next Generation K'Ehleyr Action Figure
Day 1,945: Mega Construx Heroes Star Trek: The Next Generation Captain Picard Action Figure
Day 1,949: Eaglemoss Collections Movies Star Trek U.S.S. Defiant NCC-1764 Special Glow in the Dark Issue Die-Cast Metal Vehicle
Day 1,962: Eaglemoss Collections Star Trek U.S.S. Defiant NX-74025 Best Of Issue Die-Cast Metal Vehicle
Day 1,974 Playmates Star Trek: The Next Generation Lieutenant Barclay Action Figure
Day 1,975: Eaglemoss Collections Discovery Star Trek U.S.S. Discovery NCC-1031 Die-Cast Metal Vehicle
Day 2,005: Playmates Star Trek: Deep Space Nine Odo Action Figure
Day 2,020: Playmates Star Trek: The Next Generation Commander Sela Action Figure
Day 2,094: Eaglemoss Collections Enterprise Star Trek Discovery Special U.S.S. Enterprise NCC-1701 Die-Cast Metal Vehicle
Day 2,354: Playmobil 70548 Star Trek U.S.S. Enterprise NCC-1701 Playset
Day 2,642: Super7 Star Trek: The Next Generation Armus ReAction Figures

Want to buy this figure? Check Star Trek availability at our sponsors:
Entertainment Earth