Odo
The First

Star Trek: Deep Space Nine Wave 1
Item No.: Asst. 6200 No. 6202
Manufacturer: Playmates
Includes: Trading card, Bajoran PADD, Bajoran Tricorder, Bucket Sleeping Chamber, Deep Space Nine Monitor, stand
Action Feature: n/a
Retail: $4.99
Availability: January 1994
Other: Sample #11,809

PREVIOUS
RSS
NEXT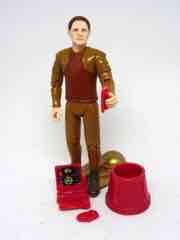 The Playmates Toys Star Trek: Deep Space Nine line was a gem, and I would have gotten to Odo sooner but I misplaced his bucket during a move around 2010 or 2011 - and I just found it last month while I was purging a lot of my old stuff. (I have a lot of stuff.) Quark and Odo were two of my favorite characters when the show was first on, so I was ecstatic to get their figures when they first came out. This one held up pretty well - Playmates had a hit on their hands back in the 1990s and the only thing that could bring the line down was their own hubris. Also Star Wars. Odo and his casemates were better than the competition, largely cheaper, and are something of a beacon as to what collector-centric kid toys could be at their very best.
I've had this figure all this time and it aged well - the no-collar uniform still looks good because you get to see his face and distinctive neck. Since they build him up with prosthetics, it's easier to get a more accurate figure face. His unfinished humanoid head has forehead lines as well as a nose and ears that betray his newbie shapeshifter status. The Bajoran pin has some black detailing, plus his boots seem on the mark - but reference photos are hard to find.
Odo has 12 points of articulation, with a glossy uniform that looks pretty gosh darned great. He stands well, and his v-crotch limits his sitting prowess. The hands are pretty good at gripping his gear, but that's probably the only area the Playmates line comes up short. That and weird, one-color accessories. The figures themselves are top-notch for the 1990s, or even today - especially when you consider the price.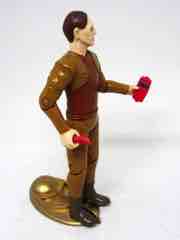 The accessories aren't terrible. First and foremost, Odo's bucket is indeed buckets of fun - he can't do much with it, but I guess you can fill it with oatmeal and fling it at your Jake Sisko figure (sold separately.) Cast in red, it looks something like an incomplete drum or a fancy future spittoon. The Cardassian monitor is decent and has a sticker with the whole LCARS look, and the PADD isn't half bad. The screen isn't as fancy as the Starfleet models. The tricorder is even less fancy, looking more like a phaser with no real screen to speak of.
As I've mentioned before, Playmates Star Trek is a line I loved at the time and kind of regret not sticking with to the bitter end - I'd love to finish the collection some day. Or at least, all the Deep Space Nine stuff would be great. For the current asking price of $10 or so, roughly equal to inflation ($8.59) without considering China's increasing wages. Picking up this 4 1/2-inch figure, I can't imagine Hasbro or Mattel pumping out something individually numbered with this much gear and articulation for this price. Mattel's Jurassic World line comes pretty close at a half-inch shorter, though. Maybe we'll see something amazing happen to action figures again some day - I'm not hopeful. At least I can always go back and collect these guys.
--Adam Pawlus
Additional Images


See more Playmates figures in Figure of the Day:
Day 54: Playmates Classic Star Trek Spock Action Figure
Day 57: Playmates Classic Star Trek Dr. McCoy Action Figure
Day 61: Playmates Classic Star Trek Scotty Action Figure
Day 71: Playmates Classic Star Trek Uhura Action Figure
Day 81: Playmates Classic Star Trek Sulu Action Figure
Day 89: Playmates Classic Star Trek Captain James T. Kirk Action Figure
Day 105: Playmates Classic Star Trek Chekov Action Figure
Day 149: Playmates Star Trek Combat Action Worf
Day 229: Playmates Gormiti Multiplep and Steelblade
Day 237: Playmates Gormiti Blind Fury and Ancient Jellyfish
Day 243: Playmates Gormiti Florus the Poisoner and Clear Ancient Jellyfish
Day 259: Playmates Gormiti Mantra the Implacable and Clear The Severe Guardian
Day 312: Playmates Gormiti Barbataus, Tormenter, Bullrock, and Dedalus
Day 327: Playmates seaQuest DSV Darwin the Dolphin Action Figure
Day 335: Playmates Gormiti Spores, Cannon Trunk, Hypnofrog, and Carrapax
Day 342: Playmates Gormiti Alos the Hypnotiser and Clear Delos The Count of the Seas
Day 354: Playmates Teenage Mutant Ninja Turtles Mike, the Sewer Surfer Action Figure
Day 400: Playmates Teenage Mutant Ninja Turtles Raph, the Space Cadet
Day 488: Playmates Star Trek: The Next Generation Lieutenant Commander Data in First Season Uniform Action Figure
Day 513: Playmates Teenage Mutant Ninja Turtles The Mutant Raphael
Day 514: Playmates Teenage Mutant Ninja Turtles Mike as Frankenstein
Day 515: Playmates Teenage Mutant Ninja Turtles Bride of Frankenstein April
Day 516: Playmates Teenage Mutant Ninja Turtles Raph as the Mummy
Day 517: Playmates Teenage Mutant Ninja Turtles Don as Dracula
Day 518: Playmates Teenage Mutant Ninja Turtles Leo as the Wolfman
Day 519: Playmates Teenage Mutant Ninja Turtles Invisible Man Michaelangelo
Day 520: Playmates Teenage Mutant Ninja Turtles Creature from the Black Lagoon Leonardo
Day 525: Playmates Teenage Mutant Ninja Turtles Classics Michelangelo
Day 673: Playmates Gormiti Murena Den Playset with Hammer the Predator Figure
Day 731: Playmates Star Trek: The Next Generation Counselor Deanna Troi Action Figure
Day 755: Playmates Star Trek: Deep Space Nine Quark Action Figure
Day 762: Playmates Star Trek: The Next Generation Lt. Commander LaForge as a Tarchannen III Alien Action Figure
Day 767: Playmates Star Trek: The Next Generation Captain Picard in Duty Uniform Action Figure
Day 772: Playmates Star Trek: The Next Generation Klingon Warrior Worf Action Figure
Day 777: Playmates Toys Monster Force Creature from the Black Lagoon
Day 815: Playmates Teenage Mutant Ninja Turtles Classics Bebop
Day 832: Playmates Teenage Mutant Ninja Turtles Classics Rocksteady
Day 964: Playmates Teenage Mutant Ninja Turtles Classics Raphael
Day 986: Playmates Star Trek: The Next Generation Dathon Action Figure
Day 991: Playmates Star Trek: The Next Generation Ambassador Spock Action Figure
Day 1,048: Playmates Star Trek: Deep Space Nine Chief Miles O'Brien Action Figure
Day 1,061: Playmates Star Trek: The Next Generation Q Action Figure
Day 1,173: Playmates Star Trek: Deep Space Nine Morn Action Figure
Day 1,181: Playmates Star Trek: Deep Space Nine Commander Gul Dukat Action Figure
Day 1,271: Playmates Star Trek Grand Nagus Zek Action Figure
Day 1,309: Playmates Star Trek Elim Garak Action Figure
Day 1,316: Playmates Gormiti Insecticus and Branchtearer the Furious
Day 1,317: Playmates Star Trek: The Next Generation Lieutenant Worf in Starfleet Rescue Outfit Action Figure
Day 1,331: Playmates Star Trek: The Next Generation Captain Scott Action Figure
Day 1,359: Playmates Star Trek: The Next Generation Vorgon Action Figure
Day 1,701: Playmates Star Trek: The Next Generation Ferengi Action Figure
Day 1,819: Playmates Star Trek: The Next Generation Mordock the Benzite Action Figure
Day 1,854: Playmates Star Trek: The Next Generation Lieutenant (J.G.) Geordi LaForge Action Figure
Day 1,887: Playmates Star Trek: The Next Generation Lieutenant Natasha Yar Action Figure
Day 1,902: Playmates Star Trek: The Next Generation Cadet Wesley Crusher Action Figure
Day 1,923: Playmates Star Trek: The Next Generation Lieutenant J.G. Worf in First Season Uniform Action Figure
Day 1,936: Playmates Star Trek: The Next Generation K'Ehleyr Action Figure
Day 1,974 Playmates Star Trek: The Next Generation Lieutenant Barclay Action Figure
Day 2,005: Playmates Star Trek: Deep Space Nine Odo Action Figure
Day 2,020: Playmates Star Trek: The Next Generation Commander Sela Action Figure

See more Star Trek figures in Figure of the Day:
Day 54: Playmates Classic Star Trek Spock Action Figure
Day 57: Playmates Classic Star Trek Dr. McCoy Action Figure
Day 61: Playmates Classic Star Trek Scotty Action Figure
Day 71: Playmates Classic Star Trek Uhura Action Figure
Day 81: Playmates Classic Star Trek Sulu Action Figure
Day 89: Playmates Classic Star Trek Captain James T. Kirk Action Figure
Day 105: Playmates Classic Star Trek Chekov Action Figure
Day 149: Playmates Star Trek Combat Action Worf
Day 488: Playmates Star Trek: The Next Generation Lieutenant Commander Data in First Season Uniform Action Figure
Day 675: Mattel Hot Wheels Star Trek U.S.S. Enterprise
Day 731: Playmates Star Trek: The Next Generation Counselor Deanna Troi Action Figure
Day 755: Playmates Star Trek: Deep Space Nine Quark Action Figure
Day 762: Playmates Star Trek: The Next Generation Lt. Commander LaForge as a Tarchannen III Alien Action Figure
Day 767: Playmates Star Trek: The Next Generation Captain Picard in Duty Uniform Action Figure
Day 772: Playmates Star Trek: The Next Generation Klingon Warrior Worf Action Figure
Day 986: Playmates Star Trek: The Next Generation Dathon Action Figure
Day 991: Playmates Star Trek: The Next Generation Ambassador Spock Action Figure
Day 1,048: Playmates Star Trek: Deep Space Nine Chief Miles O'Brien Action Figure
Day 1,054: Bif Bang Pow! Star Trek: The Next Generation Lieutenant Worf
Day 1,061: Playmates Star Trek: The Next Generation Q Action Figure
Day 1,173: Playmates Star Trek: Deep Space Nine Morn Action Figure
Day 1,181: Playmates Star Trek: Deep Space Nine Commander Gul Dukat Action Figure
Day 1,271: Playmates Star Trek Grand Nagus Zek Action Figure
Day 1,309: Playmates Star Trek Elim Garak Action Figure
Day 1,317: Playmates Star Trek: The Next Generation Lieutenant Worf in Starfleet Rescue Outfit Action Figure
Day 1,331: Playmates Star Trek: The Next Generation Captain Scott Action Figure
Day 1,359: Playmates Star Trek: The Next Generation Vorgon Action Figure
Day 1,701: Playmates Star Trek: The Next Generation Ferengi Action Figure
Day 1,819: Playmates Star Trek: The Next Generation Mordock the Benzite Action Figure
Day 1,854: Playmates Star Trek: The Next Generation Lieutenant (J.G.) Geordi LaForge Action Figure
Day 1,887: Playmates Star Trek: The Next Generation Lieutenant Natasha Yar Action Figure
Day 1,902: Playmates Star Trek: The Next Generation Cadet Wesley Crusher Action Figure
Day 1,923: Playmates Star Trek: The Next Generation Lieutenant J.G. Worf in First Season Uniform Action Figure
Day 1,927: Funko Pop! Movies Star Trek Beyond Captain Kirk (Survival Suit) Pop! Vinyl Figure
Day 1,936: Playmates Star Trek: The Next Generation K'Ehleyr Action Figure
Day 1,945: Mega Construx Heroes Star Trek: The Next Generation Captain Picard Action Figure
Day 1,949: Eaglemoss Collections Movies Star Trek U.S.S. Defiant NCC-1764 Special Glow in the Dark Issue Die-Cast Metal Vehicle
Day 1,962: Eaglemoss Collections Star Trek U.S.S. Defiant NX-74025 Best Of Issue Die-Cast Metal Vehicle
Day 1,974 Playmates Star Trek: The Next Generation Lieutenant Barclay Action Figure
Day 1,975: Eaglemoss Collections Discovery Star Trek U.S.S. Discovery NCC-1031 Die-Cast Metal Vehicle
Day 2,005: Playmates Star Trek: Deep Space Nine Odo Action Figure
Day 2,020: Playmates Star Trek: The Next Generation Commander Sela Action Figure
Day 2,094: Eaglemoss Collections Enterprise Star Trek Discovery Special U.S.S. Enterprise NCC-1701 Die-Cast Metal Vehicle
Day 2,354: Playmobil 70548 Star Trek U.S.S. Enterprise NCC-1701 Playset

Want to buy this figure? Check Star Trek availability at our sponsors:
Entertainment Earth