Decepticon Ground Hog and Roller Force
WFE-E15

Transformers Generations War for Cybertron Earthrise Micromasters
Item No.: Asst. E7119 No. E7152
Manufacturer: Hasbro
Includes: 2 figures
Action Feature: Transforms from Robot to Cars
Retail: $9.99
Availability: August 2020
Other: Part of the Race Track Patrol

PREVIOUS
RSS
NEXT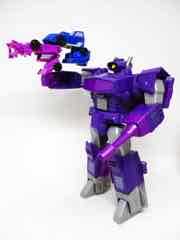 Not to put too fine a point on it, but Decepticon Ground Hog and Roller Force are kind of a mess. The colors are wrong, and Hasbro swapped the names with their 1990 G1 counterparts - so arguably, there's a good reason to reissue and redecorate them correctly. Or there would be, if there was a market clamoring for more Micromasters. These guys and the Shuttle may be the two final non-exclusive Micromasters for a while... and they're not as fun as their more expensive cousins.
I had very few Micromasters toy as a kid, but I liked them more than the new ones in terms of sturdiness and general ease-of-transformation. And I mean the 30 year old toys, some of which I bought used, are a little better than these guys because they were less ambitious. The 1990s originals had a reduced range of motion and worse articulation, but nothing ever popped off. You didn't get a "blaster mode," but maybe that was for the best.
Click here to check availability at Entertainment Earth.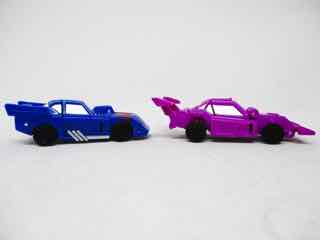 They're better as individual toys, but maybe not as good as the originals. 2020 Ground Hog (inspired by 1990 Roller Force thanks to a name swap) looks a lot like his 1990 namesake, but minus the saturation. Back in 1990 the toy had the name Roller Force and was a bright pink with yellow on his lower torso. The 2020 Ground Hog toy looks fundamentally the same, but in a perfectly nice light purple with a black lower torso. It's nowhere near as striking - those 1990 colors will burn themselves into your memory and you'll still see them after you look away. It's stunning. The new one looks perfectly OK, but it just doesn't sing like the original.
As a robot, it's nice. It stands just fine, the arms move, and it has a nice green face. As a car, it looks a lot like the original in all but color. In terms of functionality, it does not impress. It's not a dud, but the wheels don't really roll and they look and feel cheap. The lack of the metal pins - which looked like hubcaps - takes a lot from the car's look and heft. Those little tires feel flimsy and since my sample doesn't really roll at all, I'd almost ask why they even bother including them. If you want a small car to put on a diorama or playset, it's nice, but it's not like you can roll it around or anything. Hasbro really spoiled us with the G2 GoBots and Robots in Disguise Spy Changers.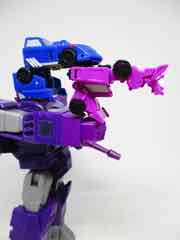 Roller Force is an update of Ground Hog, and let me tell you this is a confusing thing to write about. It looks a heck of a lot like the 1990 original, except the 2020 one is blue and the 1990 is very clearly purple. They could release a variant deco figure of this in the original colors and you'd probably happily buy it. Pretty much everything I said about the other toy applies here, but they did add some nice decoration with red flames on the car hood and some silver pipes on the side. It would have been nice if the car body was purple, but it's about as good as the Micromasters cars are in 2020.
Transformation is easy, and while the purple car has some surprising elements the blue one is par for the course. Neither is terrible, but at this point I assume these are being bought exclusively be collectors and completists. I'd steer you to the space team - which has its flaws - or just toward Hasbro's larger toys. They're all very good at the $20-and-up price points these days, aside from an odd form fit issue on Ironhide Siege or some finicky bits on Apeface I'd encourage you to try pretty much everything else in War for Cybertron. But if you need a fix or just love 1990s Micromasters - and for some reason don't feel like springing for the originals - these will scratch the itch.
--Adam Pawlus
Additional Images

Click here to see more Hasbro figures in Figure of the Day.
Click here to see more Transformers figures in Figure of the Day.

Want to buy this figure? Check Transformers availability at our sponsors:
Entertainment Earth