Profit Director Destro
Classified Series #15

G.I. Joe Classified Series Shared Fan Channel Exclusive
Item No.: No. E8860
Manufacturer: Hasbro
Includes: Sunglasses, pistol, briefcase, burning money, fir cape
Action Feature: Removable cape, working holster
Retail: $29.99
Availability: October 2020
Other: Redeco of regular Destro

PREVIOUS
RSS
NEXT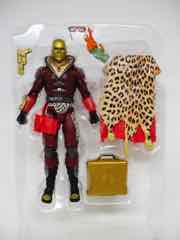 Because Hasbro won't use the fan neologism "Pimp Daddy Destro," we get Profit Director Destro - it's $5 more than the regular one, but you get more. You lose one of the pistols, but instead you get a bonus cape with cat fur, burning money, and sunglasses. I think this was the right way to go.
I heard some fans were livid over this release, because they weren't in on the joke. The gag is this: in the late 1990s, Kenner (not Hasbro) had a line of Toys R Us exclusive Joes. One of those was an ultra-low-run, so-low-it-probably-never-hit-stores "Pimp Daddy" Destro in a three-pack. It looked like this - garish and goofy, but superbly rare. There were a few tributes to it like a Funko Wacky Wobbler (which I instigated as an Entertainment Earth exclusive which didn't sell very well, thanks for nothing Joe fans) and Hasbro did their own 3 3/4-inch versions during the 25th Anniversary lines. While weirder than all get out, it's one of the lines holier grails - so now you know, and you can have one.
Click here to check availability at Entertainment Earth.
I'm being picky on this line - I bought heavy into the last one - and this was my first pick-up. I like it! I wouldn't say it's amazing, only because Hasbro's "normal" is pretty amazing these days. Destro has double-jointed elbows and knees like the earliest The Black Series Troopers and so many Marvel Legends, but also has the new forward-and-backward shoulders that started popping up more last year. I'm counting about 34 joints, which is among Hasbro's best for 6-inch scale action figures - which makes sense, as Hasbro generally gives its all to ensuring Joes are a great value for whatever the price has been. I would say these are just as good as the other guys - it's not like the weirdly cheaper and insanely superior figures we've seen in lines gone by.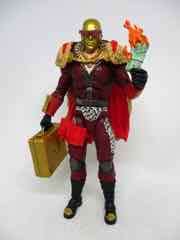 Deco on the base figure is impressive, with a gaudy leopard print and a hideous mauve body suit. There are black boots with awful gold toes, which match his necklace, mask, and revolver. The figure has a bright red holster and wrist darts, plus not-quite-furry elements on his pants. If Hasbro did flocked figures, this would have been a great place to deploy such a feature. He has no problems interacting with his gear, although his hands are a bit tight.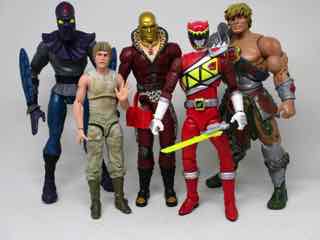 Destro has a lot of stuff. The gold revolver fits in his hand or holster - there's not much to say. It's fine. The cape hangs over his shoulders and looks like a dead animal, complete with feet and a tail. The figure's back story is that Destro is going undercover in a casino, and this is his subtle disguise. Sure, why not - the sunglasses and gold briefcase go well with that. Also the burning pile of of money. He just needs a hat, and he'd be all set. There's also a necklace on the figure, which is colored differently from the standard release.
I may buy a Cobra Commander if they make a retro one, or maybe Croc Master or something if that ever happens. Until then, I think this figure is all I may buy for a bit - they're very nice figures, but this is Figure of the Day #2,241 - and I've done more than that on Galactic Hunter. I've been writing this column for 10 years this month and I need to consider things like "space" and "selling things to make space." I'm enjoying this figure, and as the only one I plan to buy right now? It's perfectly fun. Get it while you can.
--Adam Pawlus
Additional Images

Click here to see more Hasbro figures in Figure of the Day.
See more G.I. Joe figures in Figure of the Day:
Day 5: Hasbro G.I. Joe Pursuit of Cobra Spirit Iron-Knife
Day 10: Hasbro G.I. Joe Collector Club Robot Rebellion Cobra Commander
Day 21: Hasbro G.I. Joe Pursuit of Cobra Quick Kick
Day 49: Hasbro G.I. Joe Pursuit of Cobra Cobra Commander
Day 59: Hasbro G.I. Joe Rise of Cobra Pit Commando
Day 64: Hasbro G.I. Joe Pursuit of Cobra Arctic Threat Destro
Day 74: Hasbro G.I. Joe Pursuit of Cobra City Strike Firefly
Day 80: Metallic Cobra Commander Wackly Wobbler
Day 87: Hasbro G.I. Joe Sgt. Slaughter Action Figure
Day 104: Hasbro G.I. Joe Pursuit of Cobra Kickstart Action Figure with Steel Marauder
Day 109: Hasbro G.I. Joe Pursuit of Cobra Snake Eyes #1101
Day 111: Hasbro G.I. Joe Pursuit of Cobra Duke #1102
Day 119: Hasbro G.I. Joe Rise of Cobra Sandstorm
Day 129: Hasbro G.I. Joe Pursuit of Cobra Storm Shadow
Day 146: Hasbro G.I. Joe Pursuit of Cobra Low-Light
Day 156: Hasbro G.I. Joe Pursuit of Cobra Cobra Shock Trooper
Day 160: Funko G.I. Joe "Pimp Daddy" Destro
Day 162: Hasbro G.I. Joe Club Exclusive Adventure Team Air Adventurer
Day 171: Hasbro G.I. Joe Comic-Con Exclusive Cobra Commander
Day 221: Hasbro G.I. Joe Pursuit of Cobra Cobra Trooper
Day 264: Hasbro G.I. Joe Pursuit of Cobra Steel Brigade
Day 284: Hasbro G.I. Joe 30th Anniversary Hazard-Viper
Day 314: Hasbro G.I. Joe Pursuit of Cobra Shadow Tracker
Day 372: Hasbro Jurassic Park G.I. Joe Heavy Gunner Action Figure
Day 419: Hasbro G.I. Joe Pursuit of Cobra City Strike Destro
Day 473: Hasbro G.I. Joe Retaliation Cobra Commander
Day 863: Hasbro G.I. Joe Retaliation Blind Master
Day 1,427: Burger King G.I. Joe AWE Striker with Snake Eyes Vehicle
Day 1,787: Hasbro Revolution First Strike Comic Preview Mega-Set
Day 1,867: Hasbro G.I. Koe Kre-O Collection 2 Dreadnok Ripper
Day 2,241: Hasbro G.I. Joe Classified Series Profit Director Destro Action Figure
Day 2,458: Super7 G.I. Joe Red Ninja ReAction Figure
Day 2,618: Hasbro G.I. Joe Retro Collection Duke Vs. Cobra Commander Action Figures

Want to buy this figure or others like it? Check G.I. Joe availability at our sponsors:
Entertainment Earth