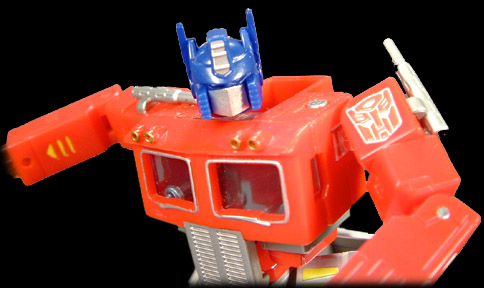 G1 Convoy Review Capsule
G1 Convoy is, at first, just scaled down 20th Anniversary Masterpiece Convoy toy. For better or for worse, it's less-- cheaper, lighter, and for the most part, less fragile. It's not a big toy, nor is it necessarily a toy a lot of people will want, but we adore it and can't fault it for what it is.
Introduction

For years, fans have asked for G1 characters done in a modern style-- with the advent of Beast Wars, it was obvious it would be easy to add articulation to a transforming robot toy. Nearly 10 years later, Takara decided it was time to finally make a super-posable (or at least highly improved) version of a classic character and release G1 Convoy as part of its Robot Masters lineup.
While much smaller than the 20th Anniversary figure, it's also much smaller than the original 1984 figure-- were this figure to sell for $10 in the USA, it might seem a little small.
Robot
Some previous Robot Masters were repaints, but this was obviously an all-new figure with an all-new sculpt.
The G1-style head works well, and the overall design combines elements from numerous generations of TransFormers Convoys, although it seems to owe a lot to Generation 2 and the Dreamwave style of drawing these characters, with the addition of the wheels which are a little tough to hide and seem to be a hallmark of the toyline..
The new head is a throwback to G2 and its clear eyeports that light up in the proper conditions. The helmet looks chunkier, like the G2 comic, but doesn't really come out as being based on any one specific Convoy or Prime toy from over the years.
This highly posable robot is fairly lacking in action features. The Masterpiece Edition had numerous extras, but this one has little aside from interchangable hands and some weapons that plug into the toy. There's no hidden communicators or pop-open anything here, which works for the design of the small toy.
The swappable hands (and axe, see below) allow the figure to hold more than one type of weapon and lend the figure to future expansion parts. As it stands, there's one set of hands with rectangular holes (to hold the G1 gun) and one set with round holes (RM-style guns) Both are necessary for full use of the toy and its accessories.
Vehicle
In vehicle mode, G1 Convoy is a truck, just like pretty much always. He looks like a good cross between the various versions of the character from over the years, and aside from the total lack of trailer, he's one of the best ones yet.
It's not easy to see, but there's a little hole in the truck mode that could be used for future expansions-- possibly a trailer, or if they ever decide to do an Ultra Magnus, they could attach his trailer/armor there.
The truck itself really doesn't lend itself to a lot of action. The wheels roll nicely, and it stays together in one nice solid piece. There's not a lot you can ask from a truck like this, and as such, it's easy to deliver pretty much everything you'd want from it.
Accessories & Gimmicks
The toy has quite a bit of extras with it-- just not the large grey rectangular one you might expect.
If there's one downside to this figure, it's that he can't ever have all his parts on his person at once. There will always be fists, a firearm, or an axe you have to store somewhere so that you won't lose it. While a trailer could have made up for this shortfall, it's not a very big shortfall, and odds are a trailer would mean there'd be another 500 to 1,000 yen markup here. As such, we'll stop complaining and move on.
Convoy's rifle is great. Period. Unlike the original G1 toy, this version can actually hold it without looking awkward-- some fans might take up an issue with the fact that the color is wrong, but the DVD Convoy has made up for that with its G1-accurate yellow eyes and black gun. The weapon has no moving parts or special features, which is what makes it great-- it's simply a wonderful accessory.
The rocket launcher is the same mold used for several figures so far. It's nothing special or unique, really, but it's a nice weapon and packs some added punch to an otherwise typical and gimmick-free toy.
The axe is quite cool and a surprising addition to the set-- I mean, it appeared in but one episode for one battle in all of TransFormers, and yet they decided to include it here. That's what we call a nice touch. The coloring as as good as one might hope for, and it's one nice solid piece. It's a little tricky to insert into the arm socket once the fist is removed, which is something we don't particularly enjoy, but the overall piece is a good one.
It's not too fancy, but hey, it works. The grey gun is more or less the same color as Masterpiece Convoy's, but it isn't black, which is the color most fans think of when they think of his gun.
Packaging & Tech Specs
This toy came packaged in regular Robot Masters packaging, which is fairly intricate. Inside a box, there's a three-piece plastic tray to hold the figure in place, which is surprisingly extensive for a small toy. Best of all, there's no twist ties!
Not only does it look fairly nice, it's sturdy, dynamic, and has a lot of information on it. For example, the character stats are right on the front of the packaging-- a first. Unfortunately, they also added the clip-n-save card on the back, instead of having a trading card inside the box that's pre-cut and all of that. Still, the packaging has so many layers that you'll feel like what you're opening is a very expensive toy-- and while it may have been, that's mostly the fault of the importers.
Other Notes & Images
While there aren't many other things you can highlight about the actual toy, here's a few extra photos.
Here, see him next to the other Robot Masters new molds released thus far. Also see him duking it out with Beast Megatron for total supremacy.
Here's the latest (per our collection) revision of the Cybertron faction of Robot Masters.
Fin
Is it worth it? If you don't have any versions of this character, absolutely. If you're a collector, odds are this is going to be more your speed than the Universe version that Hasbro's currently offering in stores. Beast Convoy is almost a perfect update to the old toy-- his beast mode could be a little bit closer to the show, but as the line is all about robots, this toy should be a crowd pleaser. Snag one if you can, assuming the price is right of course.
Reviewed and photographed by Adam Pawlus
Sample received on July 20, 2004 from a Japanese toy dealer for about $20
Reviewed on December 21, 2004.