Green Lantern
Silver Age, Retro, and Pretty Dang Good

DC Super Heroes 9-Inch Action Figure
Item No.: n/a
Manufacturer: Hasbro
Includes: Display stand
Action Feature: n/a
Retail: approx. $15.99
Availability: ca. 1998
Other: Mego-ish

PREVIOUS
RSS
NEXT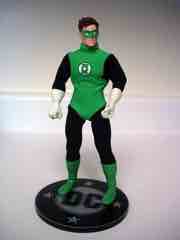 I actually have a boxed Green Lantern somewhere in my stash, but, well, I'm sort of in-between residences and have been for a year. So this one is incomplete as info goes, but I can tell you that it's a fine release. You may not know this, but the current "let's do all this Mego stuff" trend isn't the first time the toy world tried to revisit the line. In the 1990s, Toy Biz tried to recreate the Mego feel with more modern figures called "Famous Covers," while Hasbro did this line of DC Super Heroes. Hasbro cranked out a debut series with this figure, the Green Arrow, and Aquaman, with several other figures as store exclusives of Batman and Superman (and others). Also, some people say they are 8-inch. They are wrong. (I measured it.)
This big guy improved on the original Mego design in a lot of ways, not the least of which is abandoning the 1970s-style construction. The roto-molded head is kept, but the detail is superior and the deco is quite good. The costume isn't made of oven mitts and ill-fitting boots, this time around the boots are actually in multiple pieces and the ankles have ball joints. The wrists are articulated, plus the hands are jointed at the fingers for gripping accessories. (An actual green lantern was not included for the character to recharge his ring.) The stretchy cloth outfit clings to the figure, but not too closely-- he can still move around nicely, and it doesn't look like some guy wearing Hal Jordan's PJs.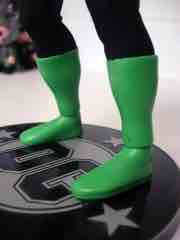 Rather than reuse or reinvent the old Mego body, Hasbro made a larger figure inspired by the original line. If anything, it's closer in construction to some of Hasbro's current 3 3/4-inch Marvel figures, with about 19 total points of articulation. He can stand, sit, fight, hang around, hold on to a pencil on your desk, and generally look cool. Rather than be forced to use traditional doll stands, Hasbro included holes in his feet to plug into an included round DC logo display stand. While a wonderful idea, gravity means that a figure that isn't posed exactly right will topple over as the weight of the toy causes it to fall over forward or backward. So, be careful when displaying it.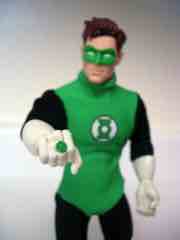 While not shown, the figure comes in a nice display window box which lets a lot of light in and generally gives you a good look at the figure. Like most 1990s toys, eBay seems to indicate this one is worthless, or at the very least worth less than the original asking price. So if you want one, it's pretty cheap, and it's a neat alternative to the current Mattel line of Mego-alikes. Although honestly, either one would probably look good on your desk. (Mattel's new construction is nothing to sneeze at.)
In addition to this line, other companies cranked out similarly sized figures-- Playmates did Star Trek, Trendmasters had Lost in Space, and of course there were numerous 12-inch ones as well. There was a real boom of cloth outfit action figures in the late 1990s, which is quite similar to the proliferation of 3 3/4-inch outside of Star Wars since 2008. While the 3 3/4-inch scale seems to be selling well beyond just collectors, the appearance and disappearance of the Mego style should remind you that whatever your collector preference, you just never know when it can dry up.
--Adam Pawlus
Additional Images

Click here to see more Hasbro figures in Figure of the Day.
See more DC Comics figures in Figure of the Day:
Day 1: Funko Force 2.0 Comic-Con Exclusive Batman
Day 18: DC Direct Pocket Super Heroes Sinestro Action Figure
Day 114: Kenner Total Justice Mail-In Superman Action Figure
Day 135: Hasbro DC Super Heroes 9-Inch Green Lantern Action Figure
Day 159: Mattel DC Universe Infinite Heroes Green Lantern Action Figure
Day 179: Mattel DC Universe Infinite Heroes Green Arrow Action Figure
Day 199: Mattel DC Universe Infinite Heroes Black Canary Action Figure
Day 224: Funko Batman Blox Vinyl Batman Vinyl Figure
Day 278: Mixo Green Lantern Kooky Can
Day 329: Mattel DC Universe vs. Masters of the Universe Classics Metallic Green Lantern
Day 1,539: Mattel Batman v. Superman Mighty Minis Series 2 Silver Batman
Day 1,761: Funko Pop! Heroes Wonder Woman Diana Prince Pop! Vinyl Figure
Day 1,826: Sonic DC Super Friends Throwing Superman Action Figure
Day 1,847: Funko Pop! DC Comics Super Heroes Retro Batman Vinyl Figure
Day 1,928: Bif Bang Pow! DC Comics Pin Mate Wonder Woman
Day 1,983: Entertainment Earth Justice League Batman Push Puppet
Day 2,100: Fisher-Price Imaginext DC Super Friends Batman & Swamp Thing Action Figures
Day 2,217: Kenner Batman: The Dark Knight Collection Iron Winch Batman Action Figure
Day 2,239: Fisher-Price Imaginext DC Super Friends Slammers Arctic Sled with Mr. Freeze Set
Day 2,249: Fisher-Price Imaginext DC Super Friends Slammers Batmobile with Batman Set
Day 2,257: Fisher-Price Imaginext DC Super Friends Surround Sound Batcave Playset
Day 2,298: Burger King Super Powers Superman Cup Holder Figure
Day 2,493: Spin Master DC Comics Justice League 4-Inch Action Figures 6-Pack
Day 2,645: Kenner Batman: The Animated Series The Riddler Action Figure
Day 2,651: Wendy's DC Universe Batman, Catwoman, and Nightwing (Red)

Want to buy this figure? Check DC Comics availability at our sponsors:
Entertainment Earth