Iron Winch Batman
Bataring Winch Reels Criminals In

Batman: The Dark Knight Collection Action Figures
Item No.: Asst. ??? No. 63160
Manufacturer: Kenner
Includes: n/a
Action Feature: Power Action Winch
Retail: $5.99-$7.99
Availability: Fall 1990
Other: Comic book-ish

PREVIOUS
RSS
NEXT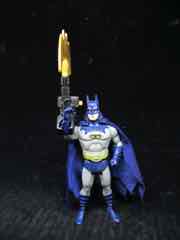 Rereleased as "Sky Winch Batman" for the sequel, Iron Winch Batman brought back the same basic Batman mold again with a new accessory - a batarang blaster. At least, I think it's new, I don't recognize it.
Batman's costume looks more like the comics - or almost the 1966 show - thanks to grey tights with blue gloves, boots, cowl, and man panties.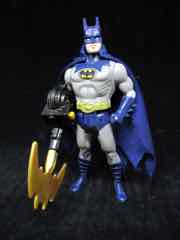 The not-quite-5-inch Michael Keaton-inspired Batman aged well - there's a cloth cape and it looks just as good as it did the day I got it. The belt and bat-symbol are gold, the articulation is clean, and there's nothing weird or sticky about it like some older action figures. Kenner really did a good job building these things to last. The figure stands up well, even when holding the big accessory. Obviously there's still a "sweet spot," but he's not likely to face-plant and that's amazing.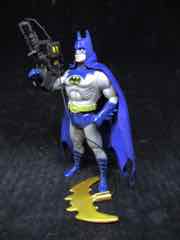 The accessory is awesome. As a kid it reminded me of the Metroid Norfair Dragon, except it spits out a gold hook rather than a fireball. The string is pretty short due to fears of choking kids, thus ruining the fun, but it's strong. All you have to do is pull the batarang out and flick the gold switch - and Batman quickly ascends. It's really impressive but painfully short. Even as a kid I was hoping to send him up to the height of a table, and it only goes up a paltry few inches. Maybe that's why it works - it's a marvelous mechanism, but it's not super impressive to see Batman go up only slightly over his own height.
If Hasbro still had the Batman license, they could rerelease this 30-year-old figure today and kids would love it. It's simple, big, and durable. The mechanism works, the cape hangs well, and the figure held up to wear pretty well. You've got plenty of Batman options at the store or online shop these days, but this one is ripped and ready to climb. That's way more exciting than the kinds of accessories we get these days. If you stumble on this one for cheap, get it.
--Adam Pawlus
Additional Images

See more Kenner figures in Figure of the Day:
Day 98: Kenner Beast Wars Transformers Noctorro Action Figure
Day 99: Kenner Beast Wars Transformers Air Hammer Action Figure
Day 100: Kenner Beast Wars Transformers Torca Action Figure
Day 101: Kenner Beast Wars Transformers Terragator Action Figure
Day 102: Kenner Beast Wars Transformers Quickstrike Action Figure
Day 114: Kenner Total Justice Mail-In Superman Action Figure
Day 133: Kenner Q*Bert Wind-Up Q*Bert Action Figure
Day 138: Kenner Jurassic Park Chaos Effect Compstegnathus Action Figure
Day 172: Kenner Jurassic Park The Lost World Chasmosaurus Action Figure
Day 195: Kenner ALIENS Arachnid Alien Action Figure
Day 211: Kenner Predator Cracked Tusk Predator Action Figure
Day 234: Kenner ALIENS Scorpion Alien Action Figure
Day 250: Kenner ALIENS Panther Alien Action Figure
Day 256: Kenner ALIENS Gorilla Alien Action Figure
Day 261: Kenner ALIENS Bull Alien Action Figure
Day 285: Kenner ALIENS Hive Wars Warrior Predator
Day 317: Kenner ALIENS vs. Predator 10-Inch Alien Action Figure
Day 346: Kenner Jurassic Park Ian Malcolm Action Figure
Day 356: Kenner Action Masters Predator
Day 359: Kenner ALIENS Hive Wars Acid Alien Action Figure
Day 365: Kenner ALIENS Vasquez Action Figure
Day 366: Kenner Jurassic Park Ellie Sattler Action Figure
Day 381: Kenner ALIENS Action Masters Ripley
Day 397: Kenner ALIENS Mantis Alien
Day 398: Kenner Batman: The Animated Series Clayface
Day 408: Kenner Legends of Batman Future Batman
Day 421: Kenner Bone Age Crag the Clubber Action Figure
Day 437: Kenner SilverHawks Copper Kidd Action Figure
Day 441: Kenner Batman: The Animated Series Harley Quinn
Day 443: Kenner Batman: The Animated Series Machine Gun Joker
Day 444: Kenner Batman: The Animated Movie Mask of the Phantasm Phantasm
Day 446: Kenner Legends of Batman Knightquest Batman
Day 457: Kenner Batman: The Animated Series Ra's Al Ghul
Day 533: Kenner Jurassic Park Chaos Effect Amargospinus
Day 848: Kenner Transformers Beast Wars Terrorsaur
Day 903: Kenner Transformers Beast Wars Rattrap
Day 956: Kenner Transformers Beast Wars Claw Jaw
Day 1,140: Kenner M.A.S.K. T-Bob with Scott Trakker Action Figure
Day 1,180: Kenner Jurassic Park Alan Grant Action Figure
Day 1,198: Kenner Jurassic Park Tim Murphy Action Figure
Day 1,212: Kenner Jurassic Park Chaos Effect Ian Malcolm Action Figure
Day 1,248: Kenner M.A.S.K. Condor with Brad Turner Action Figure
Day 1,445: Kenner Transformers Beast Wars Cybershark
Day 1,452: Kenner Beast Wars Transformers Fuzors Injector
Day 1,486: Kenner Beast Wars Transformers Spittor
Day 2,179: Kenner Aliens Wild Boar Alien Action Figure
Day 2,190: Kenner Batman: The Dark Knight Collection Tec-Shield Batman Action Figure
Day 2,199: Kenner Batman Returns Penguin Commandos Action Figures
Day 2,217: Kenner Batman: The Dark Knight Collection Iron Winch Batman Action Figure
Day 2,622: Kenner Batman: The Animated Series Killer Croc Action Figure
Day 2,645: Kenner Batman: The Animated Series The Riddler Action Figure

See more Batman figures in Figure of the Day:
Day 1: Funko Force 2.0 Comic-Con Exclusive Batman
Day 398: Kenner Batman: The Animated Series Clayface
Day 408: Kenner Legends of Batman Future Batman
Day 441: Kenner Batman: The Animated Series Harley Quinn
Day 443: Kenner Batman: The Animated Series Machine Gun Joker
Day 444: Kenner Batman: The Animated Movie Mask of the Phantasm Phantasm
Day 445: Ertl Batman Returns Penguin Commando Die-Cast Metal Figure
Day 446: Kenner Legends of Batman Knightquest Batman
Day 447: Mattel DC Universe Classics All-Stars Batman
Day 457: Kenner Batman: The Animated Series Ra's Al Ghul
Day 685: Mattel Hot Wheels Batmobile (Tim Burton, 2013)
Day 708: Mattel Hot Wheels Batman Live Batmobile
Day 714: Mattel Matchbox Batmobile Die-Cast Metal Vehicle
Day 735: Mattel Batman Classic TV Series Batman & Robin Action Figure Set
Day 740: Mattel Batman Classic TV Series The Penguin Action Figure
Day 742: Mattel Hot Wheels Batcopter Die-Cast Metal Vehicle
Day 756: Mattel Batman Classic TV Series The Joker Action Figure
Day 761: Mattel Batman Classic TV Series The Riddler Action Figure
Day 778: Mattel Batman Classic TV Series Batman Action Figure
Day 780: Mattel Batman Classic TV Series Catwoman Action Figure
Day 783: Mattel Batman Classic TV Series Surf's Up Batman Action Figure
Day 898: Mattel Batman Batman
Day 1.172: Mattel Batman The Joker
Day 1,197: Funko Batman Ice Freeze Batman Reject
Day 1,305: Funko Pop! DC Comics Super Heroes Orange Batman Vinyl Figure
Day 1,312: DC Collectibles Batman Tony Millionaire Batman Statue
Day 1,383: Mattel Hot Wheels Dawn of Justice Batmobile
Day 1,388: Bif Bang Pow! Peg Pals Batman Armored
Day 1,400: Funko Dorbz DC Comics Super Heroes Orange Batman Vinyl Figure
Day 1,512: Jakks Pacific Batman v. Superman: Dawn of Justice Jokers Wild Batman
Day 1,539: Mattel Batman v. Superman Mighty Minis Series 2 Silver Batman
Day 1,680: The LEGO Batman Movie Catman
Day 1,753: Funko 9POA Batman 1966 TV Series Batman and Robin Action Figures with Batmobile
Day 1,847: Funko Pop! DC Comics Super Heroes Retro Batman Vinyl Figure
Day 1,983: Entertainment Earth Justice League Batman Push Puppet
Day 2,100: Fisher-Price Imaginext DC Super Friends Batman & Swamp Thing Action Figures
Day 2,190: Kenner Batman: The Dark Knight Collection Tec-Shield Batman Action Figure
Day 2,199: Kenner Batman Returns Penguin Commandos Action Figures
Day 2,217: Kenner Batman: The Dark Knight Collection Iron Winch Batman Action Figure
Day 2,239: Fisher-Price Imaginext DC Super Friends Slammers Arctic Sled with Mr. Freeze Set
Day 2,249: Fisher-Price Imaginext DC Super Friends Slammers Batmobile with Batman Set
Day 2,257: Fisher-Price Imaginext DC Super Friends Surround Sound Batcave Playset
Day 2,493: Spin Master DC Comics Justice League 4-Inch Action Figures 6-Pack
Day 2,622: Kenner Batman: The Animated Series Killer Croc Action Figure
Day 2,645: Kenner Batman: The Animated Series The Riddler Action Figure
Day 2,651: Wendy's DC Universe Batman, Catwoman, and Nightwing (Red)

Want to buy this figure? Check Batman availability at our sponsors:
Entertainment Earth