Justice League
The Flash & Cyborg & Superman & Batman & Wonder Woman & Aquaman

Transformers Legacy Spin Master Pulse Exclusive
Item No.: No. F4242
Manufacturer: Spin Master
Includes: 6 figures
Action Feature: n/a
Retail: $14.88
Availability: November 2022
Other: Presumably a Black Friday item, I got one for $5 on December 2

PREVIOUS
RSS
NEXT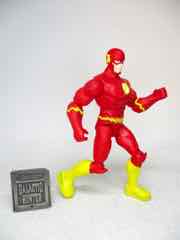 About four weeks ago I waddled into Walmart looking for light bulbs and saw a big display of this DC Comics Justice League 4-Inch Action Figures 6-Pack with a shelf tag for $14.88. I'd been looking at these figures for a while - normally they're $7.86 a pop, and have a few bonus accessories. Just a few feet away from this figure set was the very same Batman on a single card for pennies under $8, and usually the cheapest I've ever seen a Spin Master DC Comics figure is in the $3-$4 range - so at $15 for six? I'd take a chance on that.
And then I took it to the register, and was floored to see it scan at $5.00. Back in the day I bought all sorts of wacky stuff at Walmart because it scanned cheap - now that I rarely see old toys (or working price scanners) it's all but impossible to go on a clearance expedition, so I'm happy dumb luck netted me a half dozen four-inch figures at an average of 83 cents each. Ever since I saw the prototypes in a showroom, I wanted to play with these - it just took about four years.
If you collect Spin Master's DC line, you don't need this set - these figures are all available in other gift sets and single configurations, with more accessories to boot. But if you don't? This is a fantastic sampler pack.
Click here to check availability at Walmart.
Other people have written in-depth reviews of the single-carded figures over the years, and if you want a good in-depth analysis you should check those out. The Figure In Question has a good page on them. I'm just here to tell you this boxed set exists and is surprisingly good. Also take a look at the reviews on Walmart, apparently a lot of people thought it would be a 12-inch figure set despite the name saying 4-inch. (Don't make the same mistake.)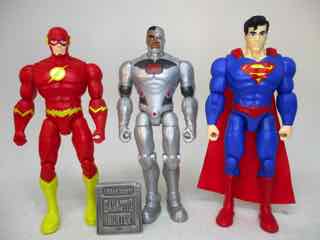 The Flash has been released by himself and in sets before, and this kid-aimed figure has no gear here. He did include a lightning bolt, armor, and some sort of wind thing before. The figure (and indeed, the set) is all vaguely styled off of the New 52 looks, which looks similar to how he almost always looks. The figure is red with some yellow trim. There's a little paint slop, but the eyes and face are nice and clean and the chest logo is nothing to sneeze at. With 17 points of articulation, The Flash is just like the other boys in this set with more-than-expected movement for a kid's line. When I was a kid we got five joints, and we liked it! Today's kids are getting bend-and-swivel knees and thigh cuts. That strikes me as excessive, but it's cool. Like Mattel's Infinite Heroes line, these guys have exaggerated hands and feet but also really bulk up the chests to play up super powers without actually putting in any action features. He fits in a lot of the vehicles I had handy from other toy lines, and the joints are pretty dang tight. If I paid $5 and only got him, I'd be satisfied.
Cyborg seems to be the post-New 52 "Rebirth" look, with features like that "C" logo on his chest and also hair. He's simplified and smoother, not exactly loaded with detail but you still get the red light on his eye, forehead, and belt buckle. He's got a backpack hole like the other figures, but no accessories. The single version came with a chainsaw, jetpack, and blaster of some sort.
Superman looks like Superman! It's another modern interpretation as he lacks his famous red underwear on the outside, but has his belt, boots, and red "S". The cape is a mix of plastic on the shoulders and a cloth piece with a printed "S" on the back. There's nothing too surprising here, he's just a perfectly nice Superman figure. The cape covers his backpack hole, and the paint is good. None of these figures are going to please fans who have come to expect separately molded hairpieces and digitally printed photoreal faces, but these molds were intended to sell for about $8 and be for kids. In that capacity, things like expressive eyes with visible painted whites around them and a nice curl on his painted black hair are nice - but not breathtaking - details. The funny thing is that I see Spin Master's DC figures (and Mattel's Jurassic World humans) as a shining example of how to do this scale of figures at a price kids can afford - but I don't know that DC has done much to make kids actually want these characters in the past few years. It's not like the comics or movies are kid-friendly and I don't believe there has been a good kid Superman cartoon in a while. The single-carded version of this figure included laser blast eyes, Kryptonite, and some armor.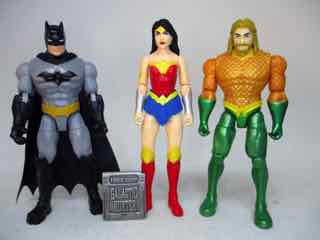 On the other hand, Batman remains ubiquitous. Even though he's rarely in kid-friendly fare in recent years, there are enough video games and old cartoons to keep kids interested. I wouldn't be entirely stunned to find out kids have no idea who Batman is and don't care given his large cultural footprint. (Like Godzilla.) This figure is around in multiple versions, featuring accessories like bladed weapons, a batarang, and a grappling gun. I don't feel they're completely necessary, but would have been nice. This is the only figure in the set that I had a problem with since they shoved the cape in the box in a way that wrinkled it. I might have to try ironing it. The paint and logos are good, and the visible gray rings in the forearms are admittedly a little ugly but expected in a kid toy figure. I would've preferred they be black. Like the others, he stands and sits and is just fine. These guys are also taller than the Hasbro "Kenner" Marvel guys on the market today.
Wonder Woman almost sees eye to eye with Hasbro's Hulk! She's tall, and her coloring looks vaguely like the Rebirth outfits. The toy simplified the look a bit, keeping the silver arm bands and gold (well, yellow) on her tiara, chest, belt, and boots - but dropped the stars. My sample has a slightly loose left shoulder, but it still moves well. Her legs don't swing forward thanks to the skirt, which keeps her in line with a lot of action figure women. Why they can't make her sit easily, I don't know - but she still looks decent. There's a hole in her hip for her missing lasso. The carded figure also has a sword and shield. This is a decent figure, but thanks to the simplified deco and missing gear, not precisely incredible. Certainly good enough for the price of this boxed set.
Finishing up the set is Aquaman, who is from the two-pack with Black Manta. You get a belt, scales on his shirt, green pants with fins, and a unique newer belt. This incarnation adds a beard, and the gloves are painted green to match the molded legs. Generally speaking the paint matches the plastic on these figures fairly well. This figure has no accessories, but the two-pack included armor, a trident, and some water looking thing.
Nothing about this set is groundbreaking - they all feel like refinements of what a "kid" action figure could be had the market Hasbro, Kenner, and Mattel cultivated not largely steered us into higher-priced collector figures. There is room in the marketplace for just about anything, and it's probably a good idea to have something affordable for kids so they can grow up and buy the fancy stuff later. At $15, this set is a great way to get some cheap super heroes for a holiday gift or any reason you may have. For the $5.00 I paid for it, I feel like I basically robbed the store. If Spin Master and Walmart can sell figures this good at $8 as single-carded releases, I would like to challenge Hasbro to do the same for Marvel and Star Wars. Not everything needs to be an $18 fancy release with swappable hands and an alternate head. I'm never going to have a massive DC Comics toy collection (unless they do some ridiculous retro line) so from where I sit, this is the kind of thing that will keep me happy until/unless we see another amazing Batman cartoon with a toy line to match. It's satisfying enough if you don't need to own everything.
--Adam Pawlus
Additional Images

See more Spin Master figures in Figure of the Day:
Day 697: Spin Master Dreamworks Dragons Defenders of Berk Toothless Night Fury Action Figure
Day 2,493: Spin Master DC Comics Justice League 4-Inch Action Figures 6-Pack

See more DC Comics figures in Figure of the Day:
Day 1: Funko Force 2.0 Comic-Con Exclusive Batman
Day 18: DC Direct Pocket Super Heroes Sinestro Action Figure
Day 114: Kenner Total Justice Mail-In Superman Action Figure
Day 135: Hasbro DC Super Heroes 9-Inch Green Lantern Action Figure
Day 159: Mattel DC Universe Infinite Heroes Green Lantern Action Figure
Day 179: Mattel DC Universe Infinite Heroes Green Arrow Action Figure
Day 199: Mattel DC Universe Infinite Heroes Black Canary Action Figure
Day 224: Funko Batman Blox Vinyl Batman Vinyl Figure
Day 278: Mixo Green Lantern Kooky Can
Day 329: Mattel DC Universe vs. Masters of the Universe Classics Metallic Green Lantern
Day 1,539: Mattel Batman v. Superman Mighty Minis Series 2 Silver Batman
Day 1,761: Funko Pop! Heroes Wonder Woman Diana Prince Pop! Vinyl Figure
Day 1,826: Sonic DC Super Friends Throwing Superman Action Figure
Day 1,847: Funko Pop! DC Comics Super Heroes Retro Batman Vinyl Figure
Day 1,928: Bif Bang Pow! DC Comics Pin Mate Wonder Woman
Day 1,983: Entertainment Earth Justice League Batman Push Puppet
Day 2,100: Fisher-Price Imaginext DC Super Friends Batman & Swamp Thing Action Figures
Day 2,217: Kenner Batman: The Dark Knight Collection Iron Winch Batman Action Figure
Day 2,239: Fisher-Price Imaginext DC Super Friends Slammers Arctic Sled with Mr. Freeze Set
Day 2,249: Fisher-Price Imaginext DC Super Friends Slammers Batmobile with Batman Set
Day 2,257: Fisher-Price Imaginext DC Super Friends Surround Sound Batcave Playset
Day 2,298: Burger King Super Powers Superman Cup Holder Figure
Day 2,493: Spin Master DC Comics Justice League 4-Inch Action Figures 6-Pack
Day 2,645: Kenner Batman: The Animated Series The Riddler Action Figure
Day 2,651: Wendy's DC Universe Batman, Catwoman, and Nightwing (Red)

See more Batman figures in Figure of the Day:
Day 1: Funko Force 2.0 Comic-Con Exclusive Batman
Day 398: Kenner Batman: The Animated Series Clayface
Day 408: Kenner Legends of Batman Future Batman
Day 441: Kenner Batman: The Animated Series Harley Quinn
Day 443: Kenner Batman: The Animated Series Machine Gun Joker
Day 444: Kenner Batman: The Animated Movie Mask of the Phantasm Phantasm
Day 445: Ertl Batman Returns Penguin Commando Die-Cast Metal Figure
Day 446: Kenner Legends of Batman Knightquest Batman
Day 447: Mattel DC Universe Classics All-Stars Batman
Day 457: Kenner Batman: The Animated Series Ra's Al Ghul
Day 685: Mattel Hot Wheels Batmobile (Tim Burton, 2013)
Day 708: Mattel Hot Wheels Batman Live Batmobile
Day 714: Mattel Matchbox Batmobile Die-Cast Metal Vehicle
Day 735: Mattel Batman Classic TV Series Batman & Robin Action Figure Set
Day 740: Mattel Batman Classic TV Series The Penguin Action Figure
Day 742: Mattel Hot Wheels Batcopter Die-Cast Metal Vehicle
Day 756: Mattel Batman Classic TV Series The Joker Action Figure
Day 761: Mattel Batman Classic TV Series The Riddler Action Figure
Day 778: Mattel Batman Classic TV Series Batman Action Figure
Day 780: Mattel Batman Classic TV Series Catwoman Action Figure
Day 783: Mattel Batman Classic TV Series Surf's Up Batman Action Figure
Day 898: Mattel Batman Batman
Day 1.172: Mattel Batman The Joker
Day 1,197: Funko Batman Ice Freeze Batman Reject
Day 1,305: Funko Pop! DC Comics Super Heroes Orange Batman Vinyl Figure
Day 1,312: DC Collectibles Batman Tony Millionaire Batman Statue
Day 1,383: Mattel Hot Wheels Dawn of Justice Batmobile
Day 1,388: Bif Bang Pow! Peg Pals Batman Armored
Day 1,400: Funko Dorbz DC Comics Super Heroes Orange Batman Vinyl Figure
Day 1,512: Jakks Pacific Batman v. Superman: Dawn of Justice Jokers Wild Batman
Day 1,539: Mattel Batman v. Superman Mighty Minis Series 2 Silver Batman
Day 1,680: The LEGO Batman Movie Catman
Day 1,753: Funko 9POA Batman 1966 TV Series Batman and Robin Action Figures with Batmobile
Day 1,847: Funko Pop! DC Comics Super Heroes Retro Batman Vinyl Figure
Day 1,983: Entertainment Earth Justice League Batman Push Puppet
Day 2,100: Fisher-Price Imaginext DC Super Friends Batman & Swamp Thing Action Figures
Day 2,190: Kenner Batman: The Dark Knight Collection Tec-Shield Batman Action Figure
Day 2,199: Kenner Batman Returns Penguin Commandos Action Figures
Day 2,217: Kenner Batman: The Dark Knight Collection Iron Winch Batman Action Figure
Day 2,239: Fisher-Price Imaginext DC Super Friends Slammers Arctic Sled with Mr. Freeze Set
Day 2,249: Fisher-Price Imaginext DC Super Friends Slammers Batmobile with Batman Set
Day 2,257: Fisher-Price Imaginext DC Super Friends Surround Sound Batcave Playset
Day 2,493: Spin Master DC Comics Justice League 4-Inch Action Figures 6-Pack
Day 2,622: Kenner Batman: The Animated Series Killer Croc Action Figure
Day 2,645: Kenner Batman: The Animated Series The Riddler Action Figure
Day 2,651: Wendy's DC Universe Batman, Catwoman, and Nightwing (Red)