Superman
Like a Kenner Figure but Cheaper, Less Fun, More Practical

Burger King 4 1/4-Inch Figure
Item No.: No. n/a
Manufacturer: Burger King
Includes: Cup
Action Feature: n/a
Retail: $?.??
Availability: 1988
Other: Surprisingly nice for a kid meal fast foot toy

PREVIOUS
RSS
NEXT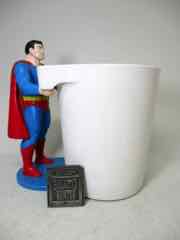 I didn't have any of Kenner's Super Powers figures as a kid, but I was able to get this Superman Cup Holder, which was a fixture on my childhood desk and toy box. You could put things in the cup, and you could pretend the removable figure was the action figure you actually wanted. Somehow this has travelled with me since I got it nearly 33 years ago, and was my only Superman toy as a kid. And by the time you read this, it's probably on the way out. As you may have guessed by how many editions have ran for Figure of the Day between 16bit.com and Galactic Hunter, I got a lot of toys, and as I get older I want the space. (And room for other toys.) (But more accurately, a room in the basement with video games set up.)
I'd probably hang on to this other than the fact it came across my path when I was picking up stuff to get rid of. It's nice! It's sturdy! It's colorful and charming! If I didn't have other cups and mugs on my desk with pens and tools in them, I would absolutely hang on to this and use it. The beefy-but-not-too-beefy sculpting gives the big chest, tiny waist look at was so in style with so many 1980s boys toys, and a head that seemed to draw limited inspiration from the big screen's then-man-of-steel, Christopher Reeves.
Spin Master continues to make some pretty amazing DC Super Heroes for kids while McFarlane Toys has a nice collector line, plus there are LEGO sets on and off and countless collector-oriented figures from the USA, Japan, and all over the world. Back when this was at Burger King, you had whatever few figures Kenner made, or maybe the Mego figure from your older brother. If you wanted a Superman in the 1980s, you didn't have a lot of choices - so getting something like this figure with cup set with your lunch was a phenomenal proposition for a budding toy junkie.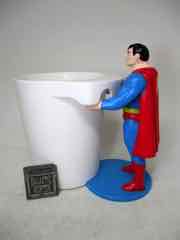 It doesn't do much, but it's a clever and memorable design. I'm kind of surprised more figures weren't made in this style - the figure had holes in his fists and stand which could connect to a white plastic cup, which was intended to house your fast food cup. The cup itself is nicely textured and has a subtle "Burger King" logo on it, but is generally unpainted. If you saw a picture online, it would be understandable that you thought it was a complete blank slate.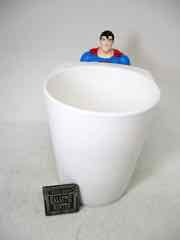 Superman is, well, Superman. Yellow belt, blue body suit, red shorts and boots, and a cape - he's got it all. Molded in blue, the face looks a little weird with beady blue eyes and painted flesh that just doesn't click. Most toys today are molded in whatever their skin color is, and it tends to look great - in the 1980s and 1990s (and, sometimes, beyond) we'd see the figure heads molded in the hair color with painted skin - the results were never as good. The hair was painted black over the painted flesh tones, as you can see by some light scuffing on his hair. It held together remarkably well considering he's been to at least six residences, most of which were in a box of other toys getting knocked around. The simple sculping looks pretty good, and other than the head detail it could pass for a modern food premium. Everything else about it is pretty good - but maybe we'd see something fancier in 2021. Or at least, less joyous.
It's hard to remember, but there was an era where there were no collector toys, and when Batman and Superman could disappear from toy shelves completely for years at a time. After the end of Mego, the return of DC Comics characters in Kenner's Super Powers Collection was nothing to sneeze at - but like all 1980s toy and cartoon franchises, it burned out. Artifacts like these show how far-reaching the marketing and consumer products went beyond the TV shows, commercials, and toys at the toy stores. It would not be hyperbolic to put things like this (and indeed, most of what inspired the last few thousand entries) as part of why kids have fairly commercially-driven childhoods with so much of what they see being tied to buying stuff, or possibly serving as a seed to inspire some sort of lifelong franchise fandom. That may sound overly cynical, but it's hard to look around my house, or the toy store, and not see what has effectively been a complete and total pop culture takeover of what was popular with kids in the 1980s and 1990s. You really have no reason to buy one at this point in toy history, but it's pretty neat. I miss things like this. And I need to stop buying things like this.
--Adam Pawlus
Additional Images

See more DC Comics figures in Figure of the Day:
Day 1: Funko Force 2.0 Comic-Con Exclusive Batman
Day 18: DC Direct Pocket Super Heroes Sinestro Action Figure
Day 114: Kenner Total Justice Mail-In Superman Action Figure
Day 135: Hasbro DC Super Heroes 9-Inch Green Lantern Action Figure
Day 159: Mattel DC Universe Infinite Heroes Green Lantern Action Figure
Day 179: Mattel DC Universe Infinite Heroes Green Arrow Action Figure
Day 199: Mattel DC Universe Infinite Heroes Black Canary Action Figure
Day 224: Funko Batman Blox Vinyl Batman Vinyl Figure
Day 278: Mixo Green Lantern Kooky Can
Day 329: Mattel DC Universe vs. Masters of the Universe Classics Metallic Green Lantern
Day 1,539: Mattel Batman v. Superman Mighty Minis Series 2 Silver Batman
Day 1,761: Funko Pop! Heroes Wonder Woman Diana Prince Pop! Vinyl Figure
Day 1,826: Sonic DC Super Friends Throwing Superman Action Figure
Day 1,847: Funko Pop! DC Comics Super Heroes Retro Batman Vinyl Figure
Day 1,928: Bif Bang Pow! DC Comics Pin Mate Wonder Woman
Day 1,983: Entertainment Earth Justice League Batman Push Puppet
Day 2,100: Fisher-Price Imaginext DC Super Friends Batman & Swamp Thing Action Figures
Day 2,217: Kenner Batman: The Dark Knight Collection Iron Winch Batman Action Figure
Day 2,239: Fisher-Price Imaginext DC Super Friends Slammers Arctic Sled with Mr. Freeze Set
Day 2,249: Fisher-Price Imaginext DC Super Friends Slammers Batmobile with Batman Set
Day 2,257: Fisher-Price Imaginext DC Super Friends Surround Sound Batcave Playset
Day 2,298: Burger King Super Powers Superman Cup Holder Figure
Day 2,493: Spin Master DC Comics Justice League 4-Inch Action Figures 6-Pack

See more Burger King figures in Figure of the Day:
Day 883: Burger King Universal Monsters Wolf Man Cellar Dweller Action Figure
Day 894: Burger King Universal Monsters Down for the Count Dracula
Day 924: Burger King Universal Monsters Bolts and Volts Frankenstein
Day 931: Burger King Universal Monsters Scary Squirter Featuring the Creature from the Black Lagoon
Day 1,427: Burger King G.I. Joe AWE Striker with Snake Eyes Vehicle
Day 1,970: Burger King ThunderCats Snarf Figurine
Day 1,976: Burger King Smurfs: The Lost Village Brainy Smurf Action Figure
Day 2,298: Burger King Super Powers Superman Cup Holder Figure