Superman
Mail-Away Figure

Total Justice Mail-In Premium
Item No.: n/a
Manufacturer: Kenner
Includes: Cape
Action Feature: Removable cape
Retail: 4 UPCs + $1.00
Availability: ca. 1996
Other: Some elements are translucent

PREVIOUS
RSS
NEXT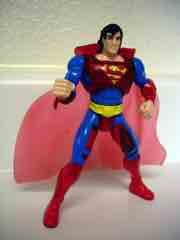 The 1990s were a heck of a decade for action figure collectors-- really, that's the time you can blame for today's market. Everybody was experimenting with new and old ideas, and even though Hasbro bought Kenner, the old Kenner brand was still a very important name in action figures up until the end of 1998. One of the many lines Kenner revived was a new take on DC heroes (i.e., Super Powers redux) named Total Justice which included extreme action poses, big accessories, and in the case of some figures, weird and often translucent armor. Why should Superman's legs be partially transparent? I have no idea. But here it is.
Standing 5 1/2-inches tall, this version of Superman came out at a time when the market actually did support a Superman toy line based on the comics as well as an animated series, aimed primarily at kids. Batman was more popular as a toy, but both Batman and Superman received mail-in figures as part of Total Justice. While the retail figures looked a little more like normal, comic book-inspired defenders of the peace, this mail-in guy looks like what most toy collectors remember as being a "Kenner toy." While there's no preposterously large accessory, he does come with a lot of clear parts. So far these haven't discolored, which is pretty surprising to me as my Ambush Predators all look awful these days.
The construction is typical 1980s and 1990s Kenner. The shoulders, neck, and hips are jointed plus (as this was increasingly popular in the 1990s) Superman also has a jointed waist. These are all swivel joints, so they really won't do much to alter the pose as sculpted by the designers. His legs have to be in a certain pose for gravity to keep him standing. He's ready to do battle with Lex Luthor, or Aquaman, but he's not really ready to sit down or to just hang out. Again, this was pretty typical of Kenner toys of this era. "Extreme" just wasn't an adjective, it was a corporate mandate.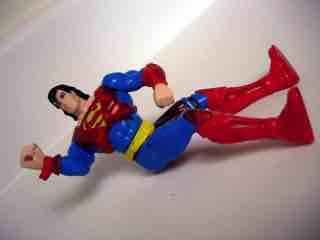 The figure was designed to hold accessories, but has nothing to speak of in this department beyond his removable, clear red cape. There is a big yellow "S" shield on the back, and it pops off if you detach it from the holes in his back. If you happen to have extra weapons from other Total Justice figures, his right hand can hold various rocket launchers or whatever. You know, just like Superman might use.
I picked up this figure at a local collectible toy store, Empire of Toys (currently Toy Anxiety). It was five bucks, which seemed like a good idea at the time. In today's market fans just don't care about most of the 1990s Kenner DC figures, thanks mostly to Mattel's and DC Direct's generally fantastic, abundant, and typically superior offerings. There's simply no time to look back anymore, and today this figure should cost you between $5 and $15 sealed in the mail-in baggie. I don't necessarily think that it's worth the asking price unless you've got a soft spot for the Kenner house style or toys back from the era where it was pretty obvious that the bean counters at the big toy companies couldn't quite determine what collectors wanted, what kids wanted, or how to achieve a happy medium. As a curiosity, this is a great piece-- if you know a Superman collector that has it all, this might be a fun gift. I mean, I'd probably get a good chuckle if I got one of these as a present because I live to find weird toys and write about them, but then again I did buy more of those Kenner figures than I care to admit.
...oh, that's not true, I'll be digging out those Kenner figures to review in the next couple of months.
--Adam Pawlus
Additional Images

See more Kenner figures in Figure of the Day:
Day 98: Kenner Beast Wars Transformers Noctorro Action Figure
Day 99: Kenner Beast Wars Transformers Air Hammer Action Figure
Day 100: Kenner Beast Wars Transformers Torca Action Figure
Day 101: Kenner Beast Wars Transformers Terragator Action Figure
Day 102: Kenner Beast Wars Transformers Quickstrike Action Figure
Day 114: Kenner Total Justice Mail-In Superman Action Figure
Day 133: Kenner Q*Bert Wind-Up Q*Bert Action Figure
Day 138: Kenner Jurassic Park Chaos Effect Compstegnathus Action Figure
Day 172: Kenner Jurassic Park The Lost World Chasmosaurus Action Figure
Day 195: Kenner ALIENS Arachnid Alien Action Figure
Day 211: Kenner Predator Cracked Tusk Predator Action Figure
Day 234: Kenner ALIENS Scorpion Alien Action Figure
Day 250: Kenner ALIENS Panther Alien Action Figure
Day 256: Kenner ALIENS Gorilla Alien Action Figure
Day 261: Kenner ALIENS Bull Alien Action Figure
Day 285: Kenner ALIENS Hive Wars Warrior Predator
Day 317: Kenner ALIENS vs. Predator 10-Inch Alien Action Figure
Day 346: Kenner Jurassic Park Ian Malcolm Action Figure
Day 356: Kenner Action Masters Predator
Day 359: Kenner ALIENS Hive Wars Acid Alien Action Figure
Day 365: Kenner ALIENS Vasquez Action Figure
Day 366: Kenner Jurassic Park Ellie Sattler Action Figure
Day 381: Kenner ALIENS Action Masters Ripley
Day 397: Kenner ALIENS Mantis Alien
Day 398: Kenner Batman: The Animated Series Clayface
Day 408: Kenner Legends of Batman Future Batman
Day 421: Kenner Bone Age Crag the Clubber Action Figure
Day 437: Kenner SilverHawks Copper Kidd Action Figure
Day 441: Kenner Batman: The Animated Series Harley Quinn
Day 443: Kenner Batman: The Animated Series Machine Gun Joker
Day 444: Kenner Batman: The Animated Movie Mask of the Phantasm Phantasm
Day 446: Kenner Legends of Batman Knightquest Batman
Day 457: Kenner Batman: The Animated Series Ra's Al Ghul
Day 533: Kenner Jurassic Park Chaos Effect Amargospinus
Day 848: Kenner Transformers Beast Wars Terrorsaur
Day 903: Kenner Transformers Beast Wars Rattrap
Day 956: Kenner Transformers Beast Wars Claw Jaw
Day 1,140: Kenner M.A.S.K. T-Bob with Scott Trakker Action Figure
Day 1,180: Kenner Jurassic Park Alan Grant Action Figure
Day 1,198: Kenner Jurassic Park Tim Murphy Action Figure
Day 1,212: Kenner Jurassic Park Chaos Effect Ian Malcolm Action Figure
Day 1,248: Kenner M.A.S.K. Condor with Brad Turner Action Figure
Day 1,445: Kenner Transformers Beast Wars Cybershark
Day 1,452: Kenner Beast Wars Transformers Fuzors Injector
Day 1,486: Kenner Beast Wars Transformers Spittor
Day 2,179: Kenner Aliens Wild Boar Alien Action Figure
Day 2,190: Kenner Batman: The Dark Knight Collection Tec-Shield Batman Action Figure
Day 2,199: Kenner Batman Returns Penguin Commandos Action Figures
Day 2,217: Kenner Batman: The Dark Knight Collection Iron Winch Batman Action Figure
Day 2,622: Kenner Batman: The Animated Series Killer Croc Action Figure
Day 2,645: Kenner Batman: The Animated Series The Riddler Action Figure

See more DC Comics figures in Figure of the Day:
Day 1: Funko Force 2.0 Comic-Con Exclusive Batman
Day 18: DC Direct Pocket Super Heroes Sinestro Action Figure
Day 114: Kenner Total Justice Mail-In Superman Action Figure
Day 135: Hasbro DC Super Heroes 9-Inch Green Lantern Action Figure
Day 159: Mattel DC Universe Infinite Heroes Green Lantern Action Figure
Day 179: Mattel DC Universe Infinite Heroes Green Arrow Action Figure
Day 199: Mattel DC Universe Infinite Heroes Black Canary Action Figure
Day 224: Funko Batman Blox Vinyl Batman Vinyl Figure
Day 278: Mixo Green Lantern Kooky Can
Day 329: Mattel DC Universe vs. Masters of the Universe Classics Metallic Green Lantern
Day 1,539: Mattel Batman v. Superman Mighty Minis Series 2 Silver Batman
Day 1,761: Funko Pop! Heroes Wonder Woman Diana Prince Pop! Vinyl Figure
Day 1,826: Sonic DC Super Friends Throwing Superman Action Figure
Day 1,847: Funko Pop! DC Comics Super Heroes Retro Batman Vinyl Figure
Day 1,928: Bif Bang Pow! DC Comics Pin Mate Wonder Woman
Day 1,983: Entertainment Earth Justice League Batman Push Puppet
Day 2,100: Fisher-Price Imaginext DC Super Friends Batman & Swamp Thing Action Figures
Day 2,217: Kenner Batman: The Dark Knight Collection Iron Winch Batman Action Figure
Day 2,239: Fisher-Price Imaginext DC Super Friends Slammers Arctic Sled with Mr. Freeze Set
Day 2,249: Fisher-Price Imaginext DC Super Friends Slammers Batmobile with Batman Set
Day 2,257: Fisher-Price Imaginext DC Super Friends Surround Sound Batcave Playset
Day 2,298: Burger King Super Powers Superman Cup Holder Figure
Day 2,493: Spin Master DC Comics Justice League 4-Inch Action Figures 6-Pack
Day 2,645: Kenner Batman: The Animated Series The Riddler Action Figure
Day 2,651: Wendy's DC Universe Batman, Catwoman, and Nightwing (Red)

Want to buy this figure? Check DC Comics availability at our sponsors:
Entertainment Earth