Cosmic Radiation Gamma-X
The Man from the 4th Dimension

Outer Space Men Star Trek Mission New York Exclusive
Item No.: n/a
Manufacturer: The Outer Space Men
Includes: 2-piece armor, 2 blasters
Action Feature: Glow in the Dark Figure
Retail: $25.00
Availability: September 2016
Other: Glowing Convention Exclusive, online sales started September 9, 2016

PREVIOUS
RSS
NEXT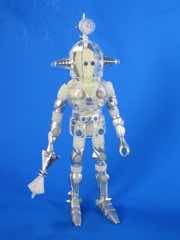 When the announcement of new glowing "Cosmic Radiation" figures came up, I commented that these would be in addition to three existing glowing figures. I was told that the first Gamma-X [FOTD #939] didn't glow, but it does - just not very well. Regardless of the confusion, it's telling because it proves that Cosmic Radiation Edition Gamma-X 100% needed to exist. The original 2014 figure was a top-notch update of the original Colorforms prototype, matching the color and everything. It just didn't match the original action feature - that is, to glow in the dark. If you've bought both figures, you've got one that looks right and one that looks right, and this new 2016 convention exclusive is actually $1 cheaper than its dim-glowing counterpart. I'm not saying it's 100% better, but it's different enough that I think you've got reason to potentially buy both if you're so inclined.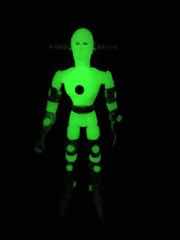 I had some problems with the original - some of which are retained here. There aren't as many pieces. It costs more than a smaller figure. It can't sit. The mirror armor effect wasn't improved upon from before, but with the better glow it's actually not bad. The figure has articulated shoulders, biceps, hips, plus swivel neck, swivel hips, and swivel knees. Oh, and ankles. The clamp-on armor restricts neck and hip movement, but it's necessary given the armor's vintage design. The original 1960s bendy figure could still wiggle a bit more thanks to the armature, but Glyos joints don't necessarily have the same mobility. It still looks good though.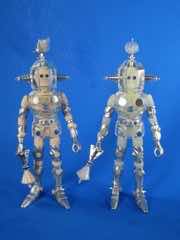 The original prototype which had a back plate that was intended (and I quote) "to be mirror plated in order to reflect his anatomy into infinity." Yummy! The good news is that they took a clear plastic toy and added some silver paint, so it looked good - but mirror? No. The vac-metal finish for that can be done, but I don't know if you can do it on only part of a weapons sprue, so this release is just like the last one. Not bad, and the brighter glow helps, but not enough that you're going to want to track down that one shiny piece. It's better, but not better.
If you missed the original Infinity Edition figure, I'd say this is an improvement. The original intention was always to make a glowing figure, and this one is stupendously bright. I love a good glowing toy, and the Glyos/Onell factory that cranks these out makes the best glowing toys in the business. I've got a lot of Glyos-adjacent glow toys and in the immortal words of the great Carly Simon, nobody does it better. It's a strange choice for a Star Trek convention exclusive, but if I were in New York a) I'd be at that show and b) I'd buy this. It just came out a couple of weeks ago, so keep an eye on eBay and TheOuterSpaceMen.com for availability. The only way this figure isn't better than the original painted one is packaging - it comes in a plastic baggie. I don't need the fancy cardback, and presumably neither do you, but that's the one way the original painted figure is great. Get that one to display, open the 2016 Cosmic Radiation one to enjoy the glow.
--Adam Pawlus
Additional Images

See more The Outer Space Men, LLC in Figure of the Day:
Day 1,525: The Outer Space Men, LLC Outer Space Men Infinity Edition Colossus Rex 2.0 Action Figure
Day 1,529: The Outer Space Men, LLC Outer Space Men Cosmic Radiation Edition Gamma-X Action Figure
Day 1,546: The Outer Space Men, LLC Outer Space Men Cosmic Radiation Edition Colossus Rex Action Figure
Day 1,600: The Outer Space Men, LLC Outer Space Men Cosmic Radiation Edition Cyclops Action Figure
Day 1,615: The Outer Space Men, LLC Outer Space Men Cosmic Radiation Edition Orbitron Action Figure
Day 1,635: The Outer Space Men, LLC Outer Space Men Cosmic Radiation Edition Gemini Action Figure
Day 1,655: The Outer Space Men, LLC Outer Space Men White Star Cyclops Action Figure

Click here to see more Outer Space Men figures in Figure of the Day.

Click here to see more Glyos Compatible figures in Figure of the Day.