Cosmic Radiation Cyclops
The Man from Beyond the Milky Way

Outer Space Men Infinity Edition Figures
Item No.: n/a
Manufacturer: The Outer Space Men
Includes: 2-piece helmet, inner helmet, 2-piece armor, twin eye blasters, alternate fists
Action Feature: n/a
Retail: $25.00
Availability: December 11, 2016
Other: Ready to Glow Crazy

PREVIOUS
RSS
NEXT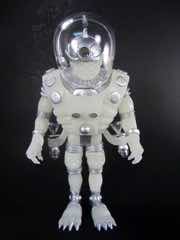 Since its rebirth, it seems we're going to be getting a few new Outer Space Men figures like Cosmic Radiation Cyclops. A complete glow in the dark lineup has been teased, but not confirmed - so far this year alone, we've received 5 figures in glow plastic. Interestingly, the non-vintage characters haven't made the transition, nor have the first two years worth of character remakes - but teaser mock-ups make me think we can expect them all next year. I'm kind of glad they're working backwards, as these designs are a little more complex and fun as stand-alone figures... plus they're massive masses of glowing plastic.
For those keeping track at home, the first few Cyclops figures came out in 2012 with the painted one hitting in 2013. It was a gorgeous figure, and the final of four Cyclops figures until now. There's this one, and in January we're told the White Star version will also go on sale.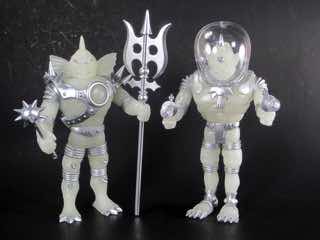 The Infinity Edition Cyclops [FOTD #696] was one of the shining gems of the line, which had few slouches. The paint job is superb, with coloring bringing you the peak of 1960s space designs merging Harryhousen creatures, contemporary mid-century space design, and the kind of coloring that would inspire Shag's many fever dreams in the 1990s and beyond. The "deluxe" figure - when painted - was part of a more expensive wave and was worth it thanks to the paint and massive paint influx. This figure has a lot less paint, but we've also seen some sincerely significant inflation courtesy of manufacturing in China and it wouldn't stun me if the geopolitical situation could make it even worse. What I'm saying is get while the getting is good.
Now cast in a glow plastic that's similar (or identical) to the previous Cosmic Radiation Colossus Rex [FOTD #1,546] and Gamma X [FOTD #1,529], this figure is third in a new series of glow-in-the-dark releases. (You might remember Metamorpho in 2010 and Electron+ in 2011, but in a different shade of glow and missing the silver.) Cyclops has silver claws on his feet, silver "joints", and a lot more ornamentation than I was expecting - the armor sports silver discs, and the body has some jewelry. The "Pheyden" on the chest is painted, and so are his underpants and neck frill.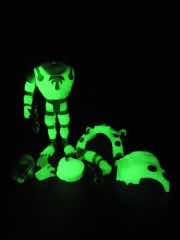 You've probably seen this figure before, but if you haven't let me point out you can pop it apart at each and every joint. You can swap parts with other Cyclops (and Glyos-compatible) figures, including Cyclops' own fists. The man from beyond the Milky Way includes open hands - which are totally useless, but look cool - and closed fists designed to hold his "twin eye blasters." I should note that the blasters are painted silver with clear caps, but lack the special painted eyes we saw on the various clear convention exclusives from 2012.
As with before, the glow is totes superb. Onell Design's factory contributes to this line, and boy howdy does glowing plastic seem to get better there every year. The 2016 batch gives off some of the brightest light I've seen on a glow-in-the-dark figure ever, which means the light quite literally drowns out the dim glimmer given off by the Playmobil Lobsters I got in the mail that very same day. It's almost upsetting just how much better Cyclops and his peers are than my many other glow toys - if you're a kook like me with a closet filled with glowing toys, you'll want to keep the Glyos glow figures separate so they don't make your other glow collection look sad.
The big unspoken flaw of most glow-in-the-dark figures is that there's a slight translucent quality to the plastic which sucks out sculpted detail - the light passes through the non-painted parts making it something of a dud in regular light but a glowing beacon of joy in the dark. I've got a lot of glowing toys, and this one shines among the brightest. If you're a glow fan, I sincerely hope you either bought this figure or are planning to do so as soon as the other two are released to TheOuterSpaceMen.com, whenever this will be. Just be sure to turn down your speakers before you go there, because for some reason it plays very loud music still.
--Adam Pawlus
Additional Images

See more The Outer Space Men, LLC in Figure of the Day:
Day 1,525: The Outer Space Men, LLC Outer Space Men Infinity Edition Colossus Rex 2.0 Action Figure
Day 1,529: The Outer Space Men, LLC Outer Space Men Cosmic Radiation Edition Gamma-X Action Figure
Day 1,546: The Outer Space Men, LLC Outer Space Men Cosmic Radiation Edition Colossus Rex Action Figure
Day 1,600: The Outer Space Men, LLC Outer Space Men Cosmic Radiation Edition Cyclops Action Figure
Day 1,615: The Outer Space Men, LLC Outer Space Men Cosmic Radiation Edition Orbitron Action Figure
Day 1,635: The Outer Space Men, LLC Outer Space Men Cosmic Radiation Edition Gemini Action Figure
Day 1,655: The Outer Space Men, LLC Outer Space Men White Star Cyclops Action Figure
Day 1,682: The Outer Space Men, LLC Outer Space Men Cosmic Radiation Astro-Nautilus Action Figure

Click here to see more Outer Space Men figures in Figure of the Day.

Click here to see more Glyos Compatible figures in Figure of the Day.