Cosmic Radiation Gemini
The Man from the Twin Star Algol

Outer Space Men Infinity Edition Figures
Item No.: n/a
Manufacturer: The Outer Space Men
Includes: Ray gun, staff with head, 3 total helmets, alternate bent/straight arms
Action Feature: Glows, pops apart
Retail: $20.00
Availability: February 3, 2017
Other: Double the pleasure, baby, triple the fun

PREVIOUS
RSS
NEXT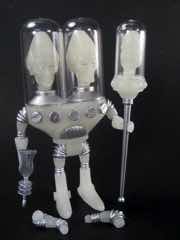 Since I first saw Outer Space Men in Tomart's Action Figure Digest when I was a wee lad, I thought to myself "Dammit, I can never afford these things." Never in a million years would I expect to be able to correspond with one of its inventors, nor that the likes of Cosmic Radiation Gemini would exist. And be affordable. It's almost unfathomable - a space race-era toy line lost to history would come back as an indie toy line, ad then cranked out in glow-in-the-dark plastic. Yet here we are. If 2017 was anything, it was certainly an example of how you really can't predict anything - and this figure was one of five new glowing The Outer Space Men. Also available are Colossus Rex, Gamma X, Orbitron, and Cyclops with more on the way. It's worth noting other glowing figures are Metamorpho and Electron+, although it wouldn't exactly stun me to see them return in this new, slightly different shade of glowing plastic with silver highlights. Mock-ups of the first eight figures were teased back in July, although it's anybody's guess if these will come out and when.
The man from the twin star Algol - which shares a common wordy ancestor with one popular Batman nemesis - this being from beyond our star has three heads and four faces. The staff is double-faced, which is hard to tell in the glowing plastic. The detail just sort of fades in to the curiously shaped design with a flared base under glass. More defined are the two heads on the main body, which are also cast in glow but have more pronounced ears and chins. They're also cone-headed creations which predate SNL's aliens from France by several years. This particular design borrows from the episode "Mr. Dingle the Strong," one of the many The Twilight Zone episodes featuring Burgess Meredith. The two-headed alien basically grant him superpowers. It's a comedy. (In all seriousness, see it because all of his episodes show his tremendous range.)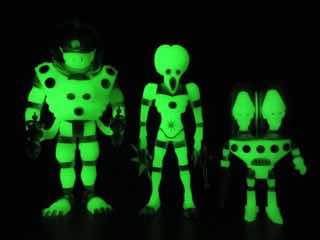 While Gemini is short, he's not the shortest figure. At a hair over 3-inches tall, this alien is sized to fit in your various Playmobil sci-fi abodes. Each domed helmet is clear, colorless, and removable. It's also so tight that by rotating it, you also rotate the little plate on which the heads rest. Articulation is somewhat limited, although you can dismantle the figure at each joint and swap parts between other Glyos-compatible figures. One of the clever ways this figure works around articulation limits is to include a pair of alternate arms. Do you want bent elbows, or straight elbows? Switch the arms, slap on the hands, and you're good to go. It's a clever and elegant solution, although I bet you'll forget that you own these parts and will eventually lose them to the great parts bin and/or vacuum cleaner in the sky.
It's worth noting the ABS parts - the staff, 3 domes, blaster, and 10 chest plugs - are all clear colorless plastic. Some pieces are painted silver, and some aren't - and the ray gun is mostly silver. They missed a few spots, but it's not obvious unless you hold it up to a light source. Parts of the fins were left unpainted, but the shadows and paint on my sample do a great job of masking this. The glow plastic does a decent job of hiding much of the great sculpted detail, like the bolts on the shoes and some detail lines on the figure's back. The silver on the accordion joints brings these out nicely, serving as a cool focal point and a reminder that those wire, bendable joints serve no actual purpose on an action figure from 2017.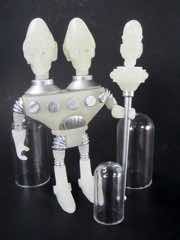 Deco is good but, given the parameters of the Cosmic Radiation colorway and glowing figures in general, it's not going to break any molds. Eyes, weapons, the various dots, and joints are painted silver and work as a nice contrast to the generous helping of glow-in-the-dark plastic everywhere else. It's a bright, green, and with two heads is a distinctive face on a shelf. I could be wrong, but this may well be the only two-headed glow-in-the-dark action figure in my stash. I'm sure Max Toy Co. has something I don't own and am not thinking of, but those are expensive vinyl things anyway.
The Cosmic Radiation Outer Space Men appeal to a certain intersection of toy fans, and I think they did a pretty good job of making a uniform color scheme more interesting. You can fill a closet with glowing figures or put them up in your room to scare away potential overnight guests. (Or figure out who the good ones are.) What I've always loved about these designs were how they traded on b-movies of the 1950s and 1960s, a great piece of pop art for kids. Today they're sold to adults online, where word-of-mouth is everything because toy companies with one or two full-time employees don't have the marketing budgets of the guys who can sell into Toys R Us or Target. If you like these kinds of indie toys, tell a friend so manufacturers can keep making more. For whatever reason nobody has decided to offer them to other stores yet, so take solace in the fact that you've read this and are aware of one of the toy world's best-kept secrets.
--Adam Pawlus
Additional Images

See more The Outer Space Men, LLC in Figure of the Day:
Day 1,525: The Outer Space Men, LLC Outer Space Men Infinity Edition Colossus Rex 2.0 Action Figure
Day 1,529: The Outer Space Men, LLC Outer Space Men Cosmic Radiation Edition Gamma-X Action Figure
Day 1,546: The Outer Space Men, LLC Outer Space Men Cosmic Radiation Edition Colossus Rex Action Figure
Day 1,600: The Outer Space Men, LLC Outer Space Men Cosmic Radiation Edition Cyclops Action Figure
Day 1,615: The Outer Space Men, LLC Outer Space Men Cosmic Radiation Edition Orbitron Action Figure
Day 1,635: The Outer Space Men, LLC Outer Space Men Cosmic Radiation Edition Gemini Action Figure
Day 1,655: The Outer Space Men, LLC Outer Space Men White Star Cyclops Action Figure
Day 1,682: The Outer Space Men, LLC Outer Space Men Cosmic Radiation Astro-Nautilus Action Figure
Day 1,703: The Outer Space Men, LLC Outer Space Men Cosmic Radiation Commander Comet Action Figure
Day 1,725: The Outer Space Men, LLC Outer Space Men Cosmic Radiation Mystron Action Figure

Click here to see more Outer Space Men figures in Figure of the Day.

Click here to see more Glyos Compatible figures in Figure of the Day.