Cosmic Radiation Orbitron
The Man from Uranus

Outer Space Men Infinity Edition Figures
Item No.: n/a
Manufacturer: The Outer Space Men
Includes: Ray gun, star weapon
Action Feature: Glows, pops apart
Retail: $20.00
Availability: January 6, 2017
Other: Glowing Transmissions from Uranus

PREVIOUS
RSS
NEXT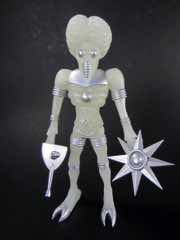 Since its debut, the Outer Space Men Man from Uranus has really grown on me as one of the best. Sure Cosmic Radiation Orbitron looks like they just cast a Metaluna Mutant in glow plastic, but there are a few differences - not the least of which is that this one is a more convincing space alien thanks to it not wearing normal pants. Now cast on glow with silver highlights, you're either going to totally appreciate yet another Cold War-era monster in radioactive glow, or you're over it. I can see it being too much of a good thing, but if you're going to give me too much of anything I'm glad that it glows in the dark.
For those keeping track at home, the first few Orbitron figures came out in 2012 with the painted one hitting in 2013. Orbitron can be had in clear pink, purple, and blue as well as a regular painted version and the Onell exclusive Diversus version - and this glow, and the White Star. That's a grand total of seven so far - which isn't quite as many as we've had for Xodiac, the reigning champ at nine flavors to date. I assume most fans don't have one of each alien, let alone all of the flavors, so odds are you aren't yet suffering from an overabundance of these retro alien toys. But even if you are, surely your glow-in-the-dark collection needs a little bolstering.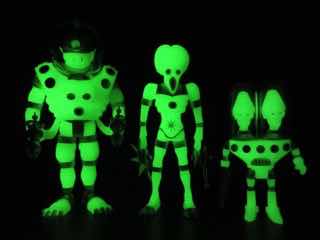 The larger figure is a lot like the previous versions. It's actually exactly like them, except for color - you get 16 plastic pieces you can pop apart, including his two weapons. The weapons are cast in clear colorless ABS plastic and painted silver - although some clear bits poke through - while the PVC is all glow, and matches the other Cosmic Radiation figures quite nicely. Silver highlights were added to the figure, which probably would have been just fine in unpainted glow plastic. Silver claws, joints, belts, and ornaments were added to make him pop - the silver chest really adds a lot to the figure, and I would not have expected it to make a big difference. The glow plastic is a wee bit translucent, so bringing the figure's body into the land of the tangible is a nice touch.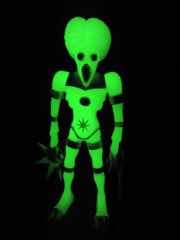 Because this is a decent figure, he has no problems gripping his star or ray-gun in his claws. Everything fits together perfectly, and the removable brain is a heck of a nice feature for no good reason. Even if you don't like Orbitron, you can buy it to steal his radioactive glow-in-the-dark brain. The silver highlights do a lot to give the body some dimension, but the banana hammock in silver is a little distracting. The belly star is nice, and the ornament on the chest - perhaps a dot, perhaps Uranus itself - looks good.
As of today, there are seven known glowing The Outer Space Men figures - eight if you count the painted glow Gamma X. (I'm not sure if I would.) I'm hoping that, with time, each and every mold will be sold in glow so you can pick up whatever suits your fancy. If you missed the other Orbitrons, I wouldn't say this is the best first version of the mold to buy - but it's definitely a close second. I love the fully decorated figures, but glowing figures are just sort of eternally dumb fun and a feature I'm very much enjoying until regulations put an end to them for one reason or another. I got an early sample of this - because, I assume, Santa knows I was more or less very good this year - so I can't say I have a single problem with it in terms of what sits in front of me. At this point, the only thing that I'd want to see is even more glowing parts. Unlike the other figures in this line, Orbitron is one of very few to not have spare hands or weapons or arms he can't use - this way you won't have to keep track of easily lost limbs or anything. It's good, he's tall, get it.
--Adam Pawlus
Additional Images

See more The Outer Space Men, LLC in Figure of the Day:
Day 1,525: The Outer Space Men, LLC Outer Space Men Infinity Edition Colossus Rex 2.0 Action Figure
Day 1,529: The Outer Space Men, LLC Outer Space Men Cosmic Radiation Edition Gamma-X Action Figure
Day 1,546: The Outer Space Men, LLC Outer Space Men Cosmic Radiation Edition Colossus Rex Action Figure
Day 1,600: The Outer Space Men, LLC Outer Space Men Cosmic Radiation Edition Cyclops Action Figure
Day 1,615: The Outer Space Men, LLC Outer Space Men Cosmic Radiation Edition Orbitron Action Figure
Day 1,635: The Outer Space Men, LLC Outer Space Men Cosmic Radiation Edition Gemini Action Figure
Day 1,655: The Outer Space Men, LLC Outer Space Men White Star Cyclops Action Figure

Click here to see more Outer Space Men figures in Figure of the Day.

Click here to see more Glyos Compatible figures in Figure of the Day.