Multiplep and Steelblade
They Fight

Gormiti Series II 2-Pack
Item No.: Asst. 01500 No. 01512
Manufacturer: Playmates
Includes: 2 figures, 2 cards
Action Feature: Steelblade changes color to clear when heated
Retail: $5.99
Availability: 2009
Other: ...and bite

PREVIOUS
RSS
NEXT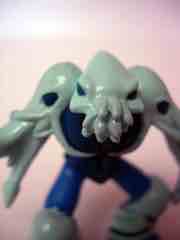 Working full-time in the toy business doesn't mean you get to see everything. I completely ignored Gormiti until recently, when I found this set on the clearance rack for under two bucks. The Playmates Gormiti Multiplep and Steelblade struck me as interesting, in part because the figures have several factions and fight, plus they're largely based on animals or things in nature. So in short, it's like Battle Beasts but not, plus it's an Italian line rather than a Japanese one. Each set has rules and cards for your figures to fight, and truth be told there's not much to them. Unfortunately I'm enamored with small animal warrior toys, and anything that's not a 3 3/4-inch super-articulated figure for adult collectors is now officially a real novelty. How could I not try this out?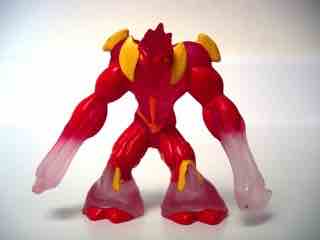 For you 1980s toy people, these are less Battle Beasts and more Monster in my Pocket, with the key difference being that these guys are actually painted. When you get right down to it, these are basically more expensive Homies, a neat collectible line with slightly smaller appeal. Kids were pretty into this line for a brief time, and it's one of those lines that goes on the aisle in between the superheroes for kids and the superheroes for collectors at the Toys R Us. Not Star Wars, not sports, but those other, weird little aisles which include 2-inch robots and other items which you'll never see again and, in 15 years, some kid is going to pine for. Each normal-sized Gormiti figure measures just about 2-inches tall, but there are larger ones. These little rubber guys could very easily appeal to the obsessive collector in you, the one that bought all the Pokemon PVCs and boxes of Kanohi from Bionicle or other little things.
The reason I bought this particular set was Octoplep, a weird little guy who (according to his trading card) is made up of five beings with one soul. You can see he's basically a squid for a head with an octopus standing in for or clinging to his various limbs, effectively giving him something like 32 arms, The figure has 3 shades of blue on his person, zero accessories, no articulation, and really, the appeal is hard to get. When I saw the guy, I thought "Oh! It's an animal monster. I would like that." Now that I opened it up, I cannot say exactly what I'm going to do with it. I really do like some of the playset designs in the line, but haven't picked up any yet-- so this thing is probably going to sit around on my desk until I move or clean up in a few months. There's not a lot of texture on the sculpt, so I think the average collector may shrug at such a figure. It's not a bad figure, it's just that the value isn't obviously there. Hasbro's new Playskool Adventures line nets you two fully-articulated figures for six bucks, so really, there's no comparison. Gormiti were capsule machine toys sold for action figure prices.
The figures are not sold individually, so the "Sea Tribe" monster is joined by the "Volcano Tribe" member Steelblade the Cutthroat. Described on the packaging as an "Atomic Color-Changing Figure," this red figure is painted yellow and red, but his red plastic pieces will turn clear when heated. I set him up on my computer so I can see visually how my machine is heating up. He has a little more texture than his blue counterpart, but the added details and scales don't make it obvious just what the heck he's supposed to be. I'm assuming it's a rock/reptile hybrid, and he has hooks for hands. Both figures stand on their own quite well, but outside the game (which I'm not going to describe) the only real play is picking one up and smacking the other with it. Which, I might add, is a classic play pattern.
As of today the product is more or less done. If there were a Kay-Bee, you'd see it there for years. As it stands Toys R Us seems to be trying to get rid of its remaining stock, and at an average price of $1 per figure they're actually quite compelling. Not that I or any of you need new toy lines to discover and purchase, but I'm largely happy with this 2-pack. (I also bought a 4-pack but haven't examined it closely yet. It has a mushroom warrior!) While they don't compete with any of the major lines we review here, and most minifigure 2-pack lines are technically superior creations, their beastly appearances are fun and endearing. I don't know why any creature would be made of squids, or why a creature made of squids would have blue "legs" and a torso with what seems to be a defined chest on it, but it exists and now it's part of the 16bit.com offices. I think it's a safe bet I will buy a few more.
--Adam Pawlus
Additional Images

See more Playmates figures in Figure of the Day:
Day 54: Playmates Classic Star Trek Spock Action Figure
Day 57: Playmates Classic Star Trek Dr. McCoy Action Figure
Day 61: Playmates Classic Star Trek Scotty Action Figure
Day 71: Playmates Classic Star Trek Uhura Action Figure
Day 81: Playmates Classic Star Trek Sulu Action Figure
Day 89: Playmates Classic Star Trek Captain James T. Kirk Action Figure
Day 105: Playmates Classic Star Trek Chekov Action Figure
Day 149: Playmates Star Trek Combat Action Worf
Day 229: Playmates Gormiti Multiplep and Steelblade
Day 237: Playmates Gormiti Blind Fury and Ancient Jellyfish
Day 243: Playmates Gormiti Florus the Poisoner and Clear Ancient Jellyfish
Day 259: Playmates Gormiti Mantra the Implacable and Clear The Severe Guardian
Day 312: Playmates Gormiti Barbataus, Tormenter, Bullrock, and Dedalus
Day 327: Playmates seaQuest DSV Darwin the Dolphin Action Figure
Day 335: Playmates Gormiti Spores, Cannon Trunk, Hypnofrog, and Carrapax
Day 342: Playmates Gormiti Alos the Hypnotiser and Clear Delos The Count of the Seas
Day 354: Playmates Teenage Mutant Ninja Turtles Mike, the Sewer Surfer Action Figure
Day 400: Playmates Teenage Mutant Ninja Turtles Raph, the Space Cadet
Day 488: Playmates Star Trek: The Next Generation Lieutenant Commander Data in First Season Uniform Action Figure
Day 513: Playmates Teenage Mutant Ninja Turtles The Mutant Raphael
Day 514: Playmates Teenage Mutant Ninja Turtles Mike as Frankenstein
Day 515: Playmates Teenage Mutant Ninja Turtles Bride of Frankenstein April
Day 516: Playmates Teenage Mutant Ninja Turtles Raph as the Mummy
Day 517: Playmates Teenage Mutant Ninja Turtles Don as Dracula
Day 518: Playmates Teenage Mutant Ninja Turtles Leo as the Wolfman
Day 519: Playmates Teenage Mutant Ninja Turtles Invisible Man Michaelangelo
Day 520: Playmates Teenage Mutant Ninja Turtles Creature from the Black Lagoon Leonardo
Day 525: Playmates Teenage Mutant Ninja Turtles Classics Michelangelo
Day 673: Playmates Gormiti Murena Den Playset with Hammer the Predator Figure
Day 731: Playmates Star Trek: The Next Generation Counselor Deanna Troi Action Figure
Day 755: Playmates Star Trek: Deep Space Nine Quark Action Figure
Day 762: Playmates Star Trek: The Next Generation Lt. Commander LaForge as a Tarchannen III Alien Action Figure
Day 767: Playmates Star Trek: The Next Generation Captain Picard in Duty Uniform Action Figure
Day 772: Playmates Star Trek: The Next Generation Klingon Warrior Worf Action Figure
Day 777: Playmates Toys Monster Force Creature from the Black Lagoon
Day 815: Playmates Teenage Mutant Ninja Turtles Classics Bebop
Day 832: Playmates Teenage Mutant Ninja Turtles Classics Rocksteady
Day 964: Playmates Teenage Mutant Ninja Turtles Classics Raphael
Day 986: Playmates Star Trek: The Next Generation Dathon Action Figure
Day 991: Playmates Star Trek: The Next Generation Ambassador Spock Action Figure
Day 1,048: Playmates Star Trek: Deep Space Nine Chief Miles O'Brien Action Figure
Day 1,061: Playmates Star Trek: The Next Generation Q Action Figure
Day 1,173: Playmates Star Trek: Deep Space Nine Morn Action Figure
Day 1,181: Playmates Star Trek: Deep Space Nine Commander Gul Dukat Action Figure
Day 1,271: Playmates Star Trek Grand Nagus Zek Action Figure
Day 1,309: Playmates Star Trek Elim Garak Action Figure
Day 1,316: Playmates Gormiti Insecticus and Branchtearer the Furious
Day 1,317: Playmates Star Trek: The Next Generation Lieutenant Worf in Starfleet Rescue Outfit Action Figure
Day 1,331: Playmates Star Trek: The Next Generation Captain Scott Action Figure
Day 1,359: Playmates Star Trek: The Next Generation Vorgon Action Figure
Day 1,701: Playmates Star Trek: The Next Generation Ferengi Action Figure
Day 1,819: Playmates Star Trek: The Next Generation Mordock the Benzite Action Figure
Day 1,854: Playmates Star Trek: The Next Generation Lieutenant (J.G.) Geordi LaForge Action Figure
Day 1,887: Playmates Star Trek: The Next Generation Lieutenant Natasha Yar Action Figure
Day 1,902: Playmates Star Trek: The Next Generation Cadet Wesley Crusher Action Figure
Day 1,923: Playmates Star Trek: The Next Generation Lieutenant J.G. Worf in First Season Uniform Action Figure
Day 1,936: Playmates Star Trek: The Next Generation K'Ehleyr Action Figure
Day 1,974 Playmates Star Trek: The Next Generation Lieutenant Barclay Action Figure
Day 2,005: Playmates Star Trek: Deep Space Nine Odo Action Figure
Day 2,020: Playmates Star Trek: The Next Generation Commander Sela Action Figure

See more Gormiti in Figure of the Day:
Day 229: Playmates Gormiti Multiplep and Steelblade
Day 237: Playmates Gormiti Blind Fury and Ancient Jellyfish
Day 243: Playmates Gormiti Florus the Poisoner and Clear Ancient Jellyfish
Day 259: Playmates Gormiti Mantra the Implacable and Clear The Severe Guardian
Day 312: Playmates Gormiti Barbataus, Tormenter, Bullrock, and Dedalus
Day 335: Playmates Gormiti Spores, Cannon Trunk, Hypnofrog, and Carrapax
Day 342: Playmates Gormiti Alos the Hypnotiser and Clear Delos The Count of the Seas
Day 673: Playmates Gormiti Murena Den Playset with Hammer the Predator Figure
Day 1,316: Playmates Gormiti Insecticus and Branchtearer the Furious
Day 1,833: Blue Box Gormiti 3D Puzzle Lord Lucas