Insecticus and Branchtearer the Furious
Carded with Cards

Gormiti Series 1 2-Pack
Item No.: Asst. 01500 No. 01502
Manufacturer: Playmates
Includes: 2 figures, 2 cards
Action Feature: n/a
Retail: $5.99
Availability: ca. 2008
Other: Ahoy Clearance

PREVIOUS
RSS
NEXT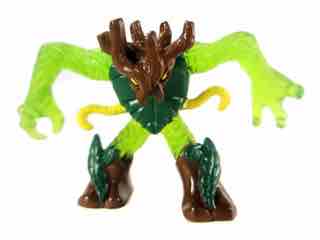 I bought a lot of Gormiti when Toys R Us was closing a store a few years ago. One of the packs that got stashed away (until now) was Gormiti Insecticus and Branchtearer the Furious. For those asking why toy companies won't make more little rubber guys, cheap toys, discount collectible figures - here's an example. This is basically Battle Beasts meeting up with M.U.S.C.L.E. with some sort of trading card game built in and a price just a smidgen too high to be a good impulse buy item. They're charming and neat, but have no articulation and zero accessories. Three bucks a figure is pretty high, especially when you consider low-run indie lines like OMFG are $2 per figure and even Super7's mini figures are roughly the same. Sure, the paint and cards add to the cost - but really, this is a low-cost item. At $1 or $2 for an unpainted, blind-bagged figure, we'd all have been collecting these.
The clear figure in the set is Branchtearer the Furious, a lengthy name and arguably a sign that Gormiti has some of the best character names this side of Robo Force. (And let's be honest, Robo Force wins. Enemy the Dictator? Vulgar the Destroyer? Awesome.)
Painted and clear (with paint) figures were made, and this one takes the plant theme to give you a plant monster with a leaf shell, complete with the imagined super powers of stretching limbs. The copy on the card seems to be the sign of a bored, young writer. "...all his limbs can stretch, chasing his enemies among the branches, catching them, and... well, it's easy to imagine!" Having seen Evil Dead, yes, yes it is and no I don't think that's appropriate for children, thank you very much. (Eh, who cares, the little buggers aren't Raimi fans.) The figure itself has "stand there and be 1 1/2-inches tall" action, with no features, no articulation, nothing. It is what it is - a nice little collectible figure.
The branchy limbs are clear green and have various grooves to represent the basic look of wood. Assuming, of course, that wood can be clear and green - let's run with this. The head is painted a gorgeous brown, and the feet match it with added leaves thrown in for good measure. Yellow tendrils are present on his waist for some reason which I care not to dwell on. The figure is a wonderfully charming hybrid of insect and plant, and is probably worth picking up on the cheap. These things are starting to get a little more expensive lately.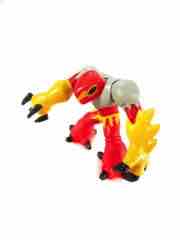 The Abbot to his Costello is Insecticus, which is an amusing name but not quite as awesome. The figure is cast in red and, like his companion, is about 1 1/2-inches tall with no articulation to speak of. The head is very turtle-like in appearance, with dark grey eyes and a yellow "mask" around his face. Each claw is painted on his hands as well as his feet, giving him a rather menacing appearance - although I can't say why one hand has 3 and one has 4 claws. As a member of the Volcano Tribe - Magma (there's also a lava faction) you won't see too much giving him a very volcanic feel. Sure, there's grey ash on his shoulders and some yellow that gives a feel of heat or perhaps the ASU Sun Devils, but as it is it's just a red turtle bug in a crop top. Muy sexy.
There isn't much detail here. While the Forest Tribe trades on leaves and wood and bark, the Volcano tribe seems to benefit mostly from color. It could just as easily be an ice monster, but it's not, so it isn't. Eh. I like it. I don't love it, but I went and got all the clearance Gormiti I could because they are absolutely worth a couple of bucks.
If you're a toy collector you probably missed a lot of stuff. This may be counterintuitive, but watching Star Wars is a full-time job - it's not like you cared about Zibits and you probably didn't care about Gormiti, either. The line is just one of many small (and popular) collector lines from Italy, where the manufacturer put out little germs and other beings to varying levels of success. If you ever see these figure sets on the cheap, buy them. You can just send them to me, I'd appreciate it. I enjoy them, they're fun. They don't do anything, but neither do a lot of smaller, cheap toys.
--Adam Pawlus
Additional Images

See more Playmates figures in Figure of the Day:
Day 54: Playmates Classic Star Trek Spock Action Figure
Day 57: Playmates Classic Star Trek Dr. McCoy Action Figure
Day 61: Playmates Classic Star Trek Scotty Action Figure
Day 71: Playmates Classic Star Trek Uhura Action Figure
Day 81: Playmates Classic Star Trek Sulu Action Figure
Day 89: Playmates Classic Star Trek Captain James T. Kirk Action Figure
Day 105: Playmates Classic Star Trek Chekov Action Figure
Day 149: Playmates Star Trek Combat Action Worf
Day 229: Playmates Gormiti Multiplep and Steelblade
Day 237: Playmates Gormiti Blind Fury and Ancient Jellyfish
Day 243: Playmates Gormiti Florus the Poisoner and Clear Ancient Jellyfish
Day 259: Playmates Gormiti Mantra the Implacable and Clear The Severe Guardian
Day 312: Playmates Gormiti Barbataus, Tormenter, Bullrock, and Dedalus
Day 327: Playmates seaQuest DSV Darwin the Dolphin Action Figure
Day 335: Playmates Gormiti Spores, Cannon Trunk, Hypnofrog, and Carrapax
Day 342: Playmates Gormiti Alos the Hypnotiser and Clear Delos The Count of the Seas
Day 354: Playmates Teenage Mutant Ninja Turtles Mike, the Sewer Surfer Action Figure
Day 400: Playmates Teenage Mutant Ninja Turtles Raph, the Space Cadet
Day 488: Playmates Star Trek: The Next Generation Lieutenant Commander Data in First Season Uniform Action Figure
Day 513: Playmates Teenage Mutant Ninja Turtles The Mutant Raphael
Day 514: Playmates Teenage Mutant Ninja Turtles Mike as Frankenstein
Day 515: Playmates Teenage Mutant Ninja Turtles Bride of Frankenstein April
Day 516: Playmates Teenage Mutant Ninja Turtles Raph as the Mummy
Day 517: Playmates Teenage Mutant Ninja Turtles Don as Dracula
Day 518: Playmates Teenage Mutant Ninja Turtles Leo as the Wolfman
Day 519: Playmates Teenage Mutant Ninja Turtles Invisible Man Michaelangelo
Day 520: Playmates Teenage Mutant Ninja Turtles Creature from the Black Lagoon Leonardo
Day 525: Playmates Teenage Mutant Ninja Turtles Classics Michelangelo
Day 673: Playmates Gormiti Murena Den Playset with Hammer the Predator Figure
Day 731: Playmates Star Trek: The Next Generation Counselor Deanna Troi Action Figure
Day 755: Playmates Star Trek: Deep Space Nine Quark Action Figure
Day 762: Playmates Star Trek: The Next Generation Lt. Commander LaForge as a Tarchannen III Alien Action Figure
Day 767: Playmates Star Trek: The Next Generation Captain Picard in Duty Uniform Action Figure
Day 772: Playmates Star Trek: The Next Generation Klingon Warrior Worf Action Figure
Day 777: Playmates Toys Monster Force Creature from the Black Lagoon
Day 815: Playmates Teenage Mutant Ninja Turtles Classics Bebop
Day 832: Playmates Teenage Mutant Ninja Turtles Classics Rocksteady
Day 964: Playmates Teenage Mutant Ninja Turtles Classics Raphael
Day 986: Playmates Star Trek: The Next Generation Dathon Action Figure
Day 991: Playmates Star Trek: The Next Generation Ambassador Spock Action Figure
Day 1,048: Playmates Star Trek: Deep Space Nine Chief Miles O'Brien Action Figure
Day 1,061: Playmates Star Trek: The Next Generation Q Action Figure
Day 1,173: Playmates Star Trek: Deep Space Nine Morn Action Figure
Day 1,181: Playmates Star Trek: Deep Space Nine Commander Gul Dukat Action Figure
Day 1,271: Playmates Star Trek Grand Nagus Zek Action Figure
Day 1,309: Playmates Star Trek Elim Garak Action Figure
Day 1,316: Playmates Gormiti Insecticus and Branchtearer the Furious
Day 1,317: Playmates Star Trek: The Next Generation Lieutenant Worf in Starfleet Rescue Outfit Action Figure
Day 1,331: Playmates Star Trek: The Next Generation Captain Scott Action Figure
Day 1,359: Playmates Star Trek: The Next Generation Vorgon Action Figure
Day 1,701: Playmates Star Trek: The Next Generation Ferengi Action Figure
Day 1,819: Playmates Star Trek: The Next Generation Mordock the Benzite Action Figure
Day 1,854: Playmates Star Trek: The Next Generation Lieutenant (J.G.) Geordi LaForge Action Figure
Day 1,887: Playmates Star Trek: The Next Generation Lieutenant Natasha Yar Action Figure
Day 1,902: Playmates Star Trek: The Next Generation Cadet Wesley Crusher Action Figure
Day 1,923: Playmates Star Trek: The Next Generation Lieutenant J.G. Worf in First Season Uniform Action Figure
Day 1,936: Playmates Star Trek: The Next Generation K'Ehleyr Action Figure
Day 1,974 Playmates Star Trek: The Next Generation Lieutenant Barclay Action Figure
Day 2,005: Playmates Star Trek: Deep Space Nine Odo Action Figure
Day 2,020: Playmates Star Trek: The Next Generation Commander Sela Action Figure

See more Gormiti in Figure of the Day:
Day 229: Playmates Gormiti Multiplep and Steelblade
Day 237: Playmates Gormiti Blind Fury and Ancient Jellyfish
Day 243: Playmates Gormiti Florus the Poisoner and Clear Ancient Jellyfish
Day 259: Playmates Gormiti Mantra the Implacable and Clear The Severe Guardian
Day 312: Playmates Gormiti Barbataus, Tormenter, Bullrock, and Dedalus
Day 335: Playmates Gormiti Spores, Cannon Trunk, Hypnofrog, and Carrapax
Day 342: Playmates Gormiti Alos the Hypnotiser and Clear Delos The Count of the Seas
Day 673: Playmates Gormiti Murena Den Playset with Hammer the Predator Figure
Day 1,316: Playmates Gormiti Insecticus and Branchtearer the Furious
Day 1,833: Blue Box Gormiti 3D Puzzle Lord Lucas