Murena Den Playset with Hammer the Predator Figure
Chomping Action

Gormiti Series 1 Playset
Item No.: Asst. 0300 No. 01301
Manufacturer: Playmates
Includes: 1 figure, 1 card, 1 playset
Action Feature: n/a
Retail: $15.99
Availability: ca. 2009
Other: Still Full Price

PREVIOUS
RSS
NEXT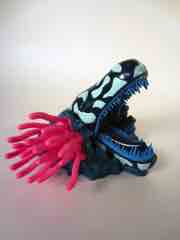 I'm largely unfamiliar with Gormiti beyond the toys released in the USA - there were more stories and tons more toys released in Italy, but here in the US it was a pretty short line that got capped out at two series with a couple of environments, one of which was the Playmates Gormiti Murena Den Playset with Hammer the Predator Figure. The amazing thing about this set is that it's been at Toys R Us for a while and seems to escape clearance purges, the 2- and 4-packs were marked down, the volcano playset got marked down, but the Murena Den? Many stores still have it, and it's still $15.99, and I'd argue it's a little overpriced for the 2008 toy market, but were this a new toy released today $15.99 seems about right. It's a bizarre sort of twisted logic, were this toy new today it's a great deal, but since it hasn't been marked down after five years it's sort of overpriced.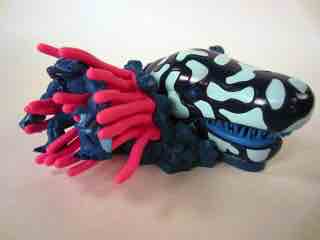 The playset is the main reason to buy the set, as the figure is basically half of a $5-$6 2-pack. While the other playset released here had numerous moving parts, reviews on Amazon were pretty abysmal. The Murena Den had no reviews on Amazon, but I can tell you it's a much sturdier and better-made toy that does a heck of a lot less. The thick plastic feels like it could take a beating, with rubbery "sharp" teeth and gums plus a pink coral trap off to the side. Mine had a fine, light whitish powder collect over the rubbery blue parts when I opened it in April of 2013... after I kept it around for about three years in the box. It cleaned right off with water using my shower head.
There's very little paint here, very pale blue on the skin and a little blue on the eye are the only deco on this toy, making it feel a little more like an older 1980s or 1990s plaything. (This is a plus.) The interior of the mouth has a huge, knobby tongue which acts as a switch to close the mouth. Just open the mouth until it clicks, and then push down on the tongue to "eat" smaller Gormiti or other figures. I think it might work well with the upcoming Mordles for the Rocks and Bugs and Things relaunch as well, as smaller figures like Fighter Pods fit right into its toothy mouth. I really wish a button off to the side controlled the jaw, but it's not like I can change anything now.
At about 5-inches long by 2 1/2-inches tall, it's not very big. A pink growth on the side gives it the illusion of being larger, these coral-like tentacles are rubbery and can grip a small figure, holding on fairly tightly. It's actually pretty surprising, I figured it'd just drop the figure but it seems to hold tightly enough to not be worthless. I'd suggest mostly getting this for its own merits, as it's kind of goofy and fun, but the normal Gormiti figures seem a little big for it.
The Murena Den comes with a Hammer the Predator figure, which is a pastiche of sea life that vaguely resembles a hammerhead shark. There's a shell on its chest, webbed Creature from the Black Lagoon fingers, a light blue Speedo, and a shoulder on his shell. There's no articulation, and two colors of paint help to decorate the figure.
It's a good set, but not fantastic. At $15.99 it's not bad, and if it were a limited designer toy you'd say "Oh, cool!" If it were from the 1980s, you'd probably like it. As it is, it's a toy that's too old to be retro cool, too expensive to be an undiscovered cheap gem, and too small to impress most people. If you're obsessed with small toys that eat smaller toys, I would suggest grabbing one of these if the price is right. Just don't expect too much from it.
Oh, and in other markets, this came with a different figure. If you love collecting international toys, Gormiti has a lot going on in Europe for you to keep tabs on. You can let me know what you find out and where to buy it if you do.
--Adam Pawlus
Additional Images

See more Playmates figures in Figure of the Day:
Day 54: Playmates Classic Star Trek Spock Action Figure
Day 57: Playmates Classic Star Trek Dr. McCoy Action Figure
Day 61: Playmates Classic Star Trek Scotty Action Figure
Day 71: Playmates Classic Star Trek Uhura Action Figure
Day 81: Playmates Classic Star Trek Sulu Action Figure
Day 89: Playmates Classic Star Trek Captain James T. Kirk Action Figure
Day 105: Playmates Classic Star Trek Chekov Action Figure
Day 149: Playmates Star Trek Combat Action Worf
Day 229: Playmates Gormiti Multiplep and Steelblade
Day 237: Playmates Gormiti Blind Fury and Ancient Jellyfish
Day 243: Playmates Gormiti Florus the Poisoner and Clear Ancient Jellyfish
Day 259: Playmates Gormiti Mantra the Implacable and Clear The Severe Guardian
Day 312: Playmates Gormiti Barbataus, Tormenter, Bullrock, and Dedalus
Day 327: Playmates seaQuest DSV Darwin the Dolphin Action Figure
Day 335: Playmates Gormiti Spores, Cannon Trunk, Hypnofrog, and Carrapax
Day 342: Playmates Gormiti Alos the Hypnotiser and Clear Delos The Count of the Seas
Day 354: Playmates Teenage Mutant Ninja Turtles Mike, the Sewer Surfer Action Figure
Day 400: Playmates Teenage Mutant Ninja Turtles Raph, the Space Cadet
Day 488: Playmates Star Trek: The Next Generation Lieutenant Commander Data in First Season Uniform Action Figure
Day 513: Playmates Teenage Mutant Ninja Turtles The Mutant Raphael
Day 514: Playmates Teenage Mutant Ninja Turtles Mike as Frankenstein
Day 515: Playmates Teenage Mutant Ninja Turtles Bride of Frankenstein April
Day 516: Playmates Teenage Mutant Ninja Turtles Raph as the Mummy
Day 517: Playmates Teenage Mutant Ninja Turtles Don as Dracula
Day 518: Playmates Teenage Mutant Ninja Turtles Leo as the Wolfman
Day 519: Playmates Teenage Mutant Ninja Turtles Invisible Man Michaelangelo
Day 520: Playmates Teenage Mutant Ninja Turtles Creature from the Black Lagoon Leonardo
Day 525: Playmates Teenage Mutant Ninja Turtles Classics Michelangelo
Day 673: Playmates Gormiti Murena Den Playset with Hammer the Predator Figure
Day 731: Playmates Star Trek: The Next Generation Counselor Deanna Troi Action Figure
Day 755: Playmates Star Trek: Deep Space Nine Quark Action Figure
Day 762: Playmates Star Trek: The Next Generation Lt. Commander LaForge as a Tarchannen III Alien Action Figure
Day 767: Playmates Star Trek: The Next Generation Captain Picard in Duty Uniform Action Figure
Day 772: Playmates Star Trek: The Next Generation Klingon Warrior Worf Action Figure
Day 777: Playmates Toys Monster Force Creature from the Black Lagoon
Day 815: Playmates Teenage Mutant Ninja Turtles Classics Bebop
Day 832: Playmates Teenage Mutant Ninja Turtles Classics Rocksteady
Day 964: Playmates Teenage Mutant Ninja Turtles Classics Raphael
Day 986: Playmates Star Trek: The Next Generation Dathon Action Figure
Day 991: Playmates Star Trek: The Next Generation Ambassador Spock Action Figure
Day 1,048: Playmates Star Trek: Deep Space Nine Chief Miles O'Brien Action Figure
Day 1,061: Playmates Star Trek: The Next Generation Q Action Figure
Day 1,173: Playmates Star Trek: Deep Space Nine Morn Action Figure
Day 1,181: Playmates Star Trek: Deep Space Nine Commander Gul Dukat Action Figure
Day 1,271: Playmates Star Trek Grand Nagus Zek Action Figure
Day 1,309: Playmates Star Trek Elim Garak Action Figure
Day 1,316: Playmates Gormiti Insecticus and Branchtearer the Furious
Day 1,317: Playmates Star Trek: The Next Generation Lieutenant Worf in Starfleet Rescue Outfit Action Figure
Day 1,331: Playmates Star Trek: The Next Generation Captain Scott Action Figure
Day 1,359: Playmates Star Trek: The Next Generation Vorgon Action Figure
Day 1,701: Playmates Star Trek: The Next Generation Ferengi Action Figure
Day 1,819: Playmates Star Trek: The Next Generation Mordock the Benzite Action Figure
Day 1,854: Playmates Star Trek: The Next Generation Lieutenant (J.G.) Geordi LaForge Action Figure
Day 1,887: Playmates Star Trek: The Next Generation Lieutenant Natasha Yar Action Figure
Day 1,902: Playmates Star Trek: The Next Generation Cadet Wesley Crusher Action Figure
Day 1,923: Playmates Star Trek: The Next Generation Lieutenant J.G. Worf in First Season Uniform Action Figure
Day 1,936: Playmates Star Trek: The Next Generation K'Ehleyr Action Figure
Day 1,974 Playmates Star Trek: The Next Generation Lieutenant Barclay Action Figure
Day 2,005: Playmates Star Trek: Deep Space Nine Odo Action Figure
Day 2,020: Playmates Star Trek: The Next Generation Commander Sela Action Figure

See more Gormiti in Figure of the Day:
Day 229: Playmates Gormiti Multiplep and Steelblade
Day 237: Playmates Gormiti Blind Fury and Ancient Jellyfish
Day 243: Playmates Gormiti Florus the Poisoner and Clear Ancient Jellyfish
Day 259: Playmates Gormiti Mantra the Implacable and Clear The Severe Guardian
Day 312: Playmates Gormiti Barbataus, Tormenter, Bullrock, and Dedalus
Day 335: Playmates Gormiti Spores, Cannon Trunk, Hypnofrog, and Carrapax
Day 342: Playmates Gormiti Alos the Hypnotiser and Clear Delos The Count of the Seas
Day 673: Playmates Gormiti Murena Den Playset with Hammer the Predator Figure
Day 1,316: Playmates Gormiti Insecticus and Branchtearer the Furious
Day 1,833: Blue Box Gormiti 3D Puzzle Lord Lucas